Mellon Scholars Conference 2023: Humanizing Education
"Humanizing Education" is a conference convened for faculty and administrators in higher education interested in teaching humanities across disciplines and supporting students transferring from community college to four-year universities. This conference is sponsored by the Humanities Mellon Scholars Program at the University of San Francisco in collaboration with Foothill-De Anza Community College District.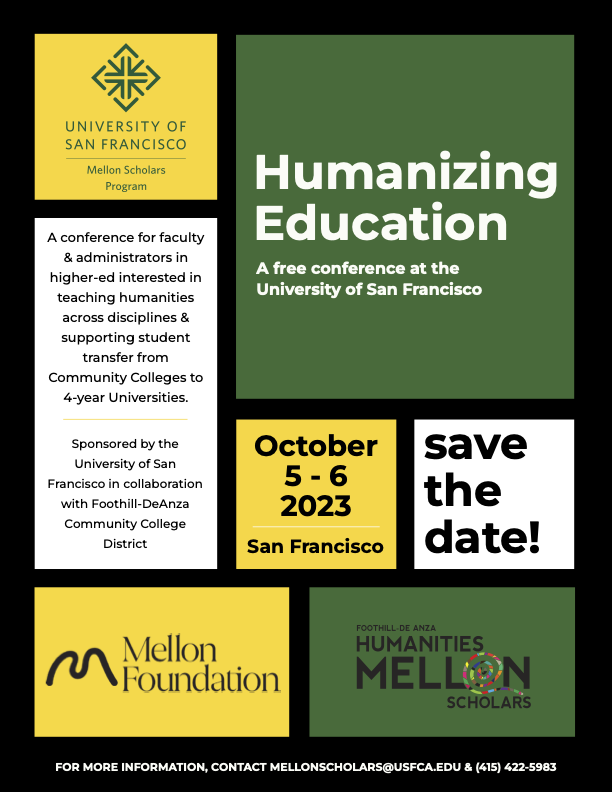 When: Thursday – Friday, October 5 and 6, 2023
Thu., October 5, with lunch and reception
Fri, October 6, with breakfast and lunch provided
Location: San Francisco, CA
University of San Francisco
McLaren Conference Center
2130 Fulton St.,
San Francisco, CA 94117
---
Register for the Conference!
Access the registration page in a new window »
Conference Lodging and Transportation
About the Mellon Scholars Program and Collaborations
With generous support from the Andrew W. Mellon Foundation, the Humanities Mellon Scholars program allows transfer students from the Foothill-De Anza Community College District to earn a four-year degree in the humanities at the University of San Francisco. The Mellon Scholars Program responds to a growing need for professionals who are skilled in innovation, critical thinking, and problem solving. Studying the humanities is a powerful way to develop these abilities. By examining the records of human experience — including the visual arts, literature, film, and philosophy — students develop a lifelong practice of inquiry that fosters deep knowledge and wisdom about the past and present, and guides them in imagining the future.