Bridging Humanities Across Disciplines
"Bridging Humanities Across Disciplines" is a conference convened by the University of San Francisco and the Foothill-De Anza Community College District. We seek to provide a space and encourage dialogue around of the teaching and study of humanities across disciplines and pathways to support transfer students' successful completion at four-year colleges. Registration for the conference is free and open to faculty, staff, and administrators in secondary and higher education, We also encourage CCUP Mellon grantees to attend and participate in the conference!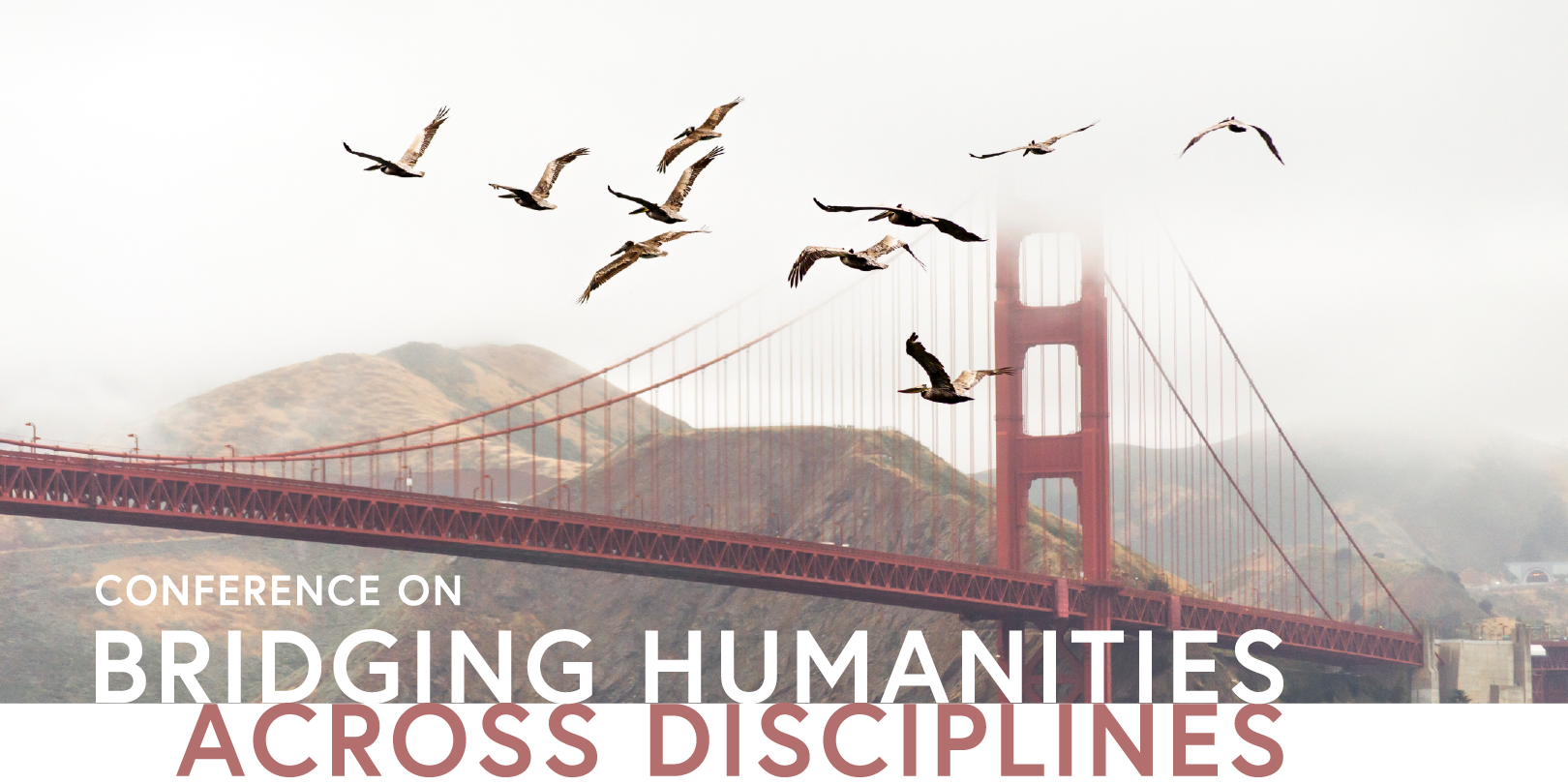 ---
When: Thursday – Friday, October 24 and 25, 2019
Thu., October 24: 12 – 6:30 p.m. with lunch and reception
Fri., October 25: 8 a.m. – 5:15 p.m. with breakfast and lunch provided
Location: San Francisco, CA
University of San Francisco 
McLaren Conference Center
2130 Fulton St. 
San Francisco, CA 94117
Online registration for the conference is now closed. Please email mellonscholars@usfca.edu with inquiries about registration.
Conference Transportation
commuting to USF:
Public transportation is highly recommended for getting to USF. From Downtown San Francisco, boarding the 5-Fulton, 21-Hayes, and 31-Balboa MUNI bus lines will drop you off near campus.
If using Uber, Lyft, or other ridesharing apps, we suggest entering War Memorial Gymnasium (2335 Golden Gate Ave) as your pickup and drop off location.
driving to the conference:
You may park in the Hayes Healy Lot (2305 Golden Gate Ave - located underground in proximity to the McLaren Conference Center) free of charge. However, spots have not been designated for attendees; please plan to arrive early as parking is limited at USF.
Please note: You will need to purchase a daily parking permit if you park in other lots on campus. Street parking restrictions will be enforced – please be mindful of street cleaning hours and hourly limits if you choose to park in the neighborhood.
staying at the Holiday Inn (1500 Van Ness Ave):
A free shuttle to and from USF has been arranged for conference attendees.
On Thursday, the shuttle will be available at USF to bring you back to the hotel at the end of the conference reception between 6:30pm to 6:45pm (we will confirm at the reception).
On Friday, the shuttle will pick up attendees from the hotel at 7:30AM and drop off at USF on time for breakfast and the panel presentation during breakfast. 
You will need to provide all other transportation (including from the airport to USF's campus on Thursday). Please note new pickup restrictions are now in effect for Uber and Lyft riders at San Francisco International Airport (SFO). 

Driving, public transportation, and parking directions are available in detail on USF's website. Please email mellonscholars@usfca.edu with any questions.
(Updated October 23, 2019)
---
About the Conference
One little conference for three big ideas:
Support the study of Humanities across disciplines in higher education
Support the transfer of community college students to 4 year universities for degree completion
Provide a space for Mellon grantees to discuss how to best fulfill the mission of Community College grants
Thus this conference is designed with those needs in mind and aims to start, continue, and grow conversations about strategies, pitfalls, best practices and more! The conference will provide an opportunity to explore how the humanities are taught across disciplines in higher ed. We are inviting proposals that include innovative practices and programs for incorporating the Humanities across disciplines and for supporting the transfer of community college students to 4 year colleges. In addition, we invite other Mellon grantees to sign up for our interactive roundtable sessions that are meant to help support one another in meeting the mission of our grants!
The conference will include keynote addresses and interactive workshops in which participants will learn and share their experiences with, approaches to, and ideas about the following topics:
Innovative Pedagogies: Interdisciplinary Pedagogy and Curricula in the Humanities
Transfer and Continuity: Pathways between Community and Four-Year Colleges
Diversity and Inclusion: Learning and Life Circumstances of the "New Majority" College Student
About the Mellon Scholar Program and Collaborations
With generous support from the Andrew W. Mellon Foundation, the Humanities Mellon Scholars program allows transfer students from the Foothill-De Anza Community College District to earn a four-year degree in the humanities at the University of San Francisco. The Mellon Scholar program responds to a growing need for professionals who are skilled in innovation, critical thinking, and problem solving. Studying the humanities is a powerful way to develop these abilities. By examining the records of human experience — including the visual arts, literature, film, and philosophy — students develop a lifelong practice of inquiry that fosters deep knowledge and wisdom about the past and present, and guides them in imagining the future.