Town Hall Meetings
The president annually invites the University community to a Town Hall meeting.
July 2020 Virtual Town Hall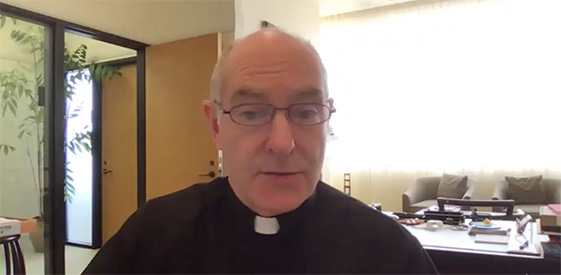 July Town Hall Questions by Topic
June 2020 Virtual Town Hall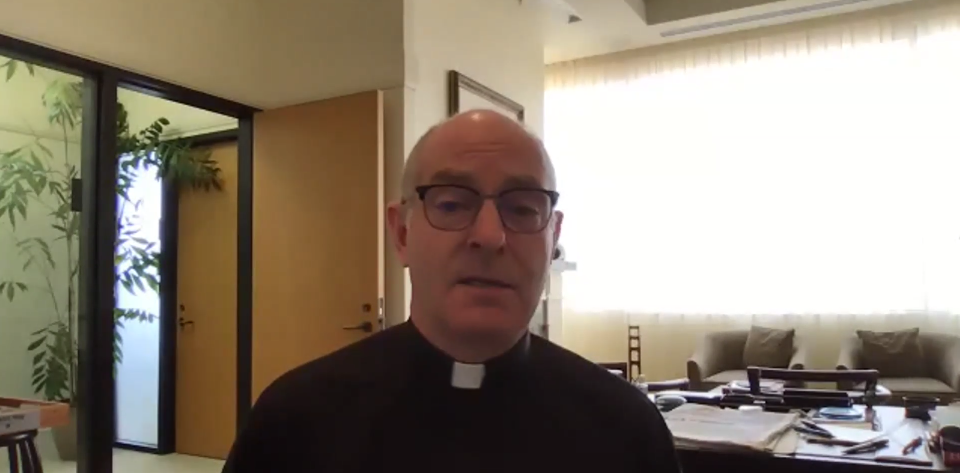 June Town Hall Questions by Topic 
Sections
00:00:11 - Welcome remarks by Fr. Paul Fitzerald, S.J., including the priorities and values guiding USF's financial and operational decisions
00:06:07 -  Black Lives Matter, anti-Black racism, institutional change
00:12:38 - Plans for opening campus for fall semester
00:23:04 - USF's financial and budgeting plan as a result of COVID-19
00:31:00 - Conversations with USFFA
00:39:42 - Questions from the community
01:28:14 - Closing remarks by Fr Fitzgerald
May 2020 Virtual Town Hall
May 2020 Town Hall Transcript »
April 2019 Town Hall Meeting
The collective bargaining process is the proper venue for this consideration.
Yes. Deans, cabinet members, and all other members of the leadership team have taken a 15 percent salary reduction. Fr. Fitzgerald, whose salary goes directly to the Jesuit Community, has taken a 20 percent salary reduction. These particular salary reductions are voluntary.
While there is not a specific timeline, as the university solidifies plans to implement savings and reduce expenses during this period of economic uncertainty, we will provide information regarding layoffs to all members of the community in a timely way and with advance notification and transparency.
Approximately 180 staff members received furlough notifications on May 14 and 15. Furloughed employees retain health and welfare benefits and continue to accrue sick and vacation time. 
(c) When is the earliest/latest that faculty/staff can expect to receive notice of being furloughed/laid off?
(a) USF may furlough employees in accordance with state and local laws. (b) Furloughs are temporary reductions in hours whereby employees are not separated from employment. At this time USF has implemented a furlough program reducing hours by 20 percent, 46.67 percent and 100 percent. This furlough program continues health and welfare benefits and employees continue to accrue sick and vacation time. (c) We will communicate in a timely way every decision and every decision point before or as we reach them. 
As of May 13, the university extended the date for employees to reduce their vacation balances to 12 days to Dec. 31, 2020. Accrued vacation hours are a liability that we must book on our balance sheet. Reducing these vacation balances benefits employees who take a break from work and benefits the university, which reports fewer obligations. 
University leadership is in conversation with USFFA leadership. We hope this will include discussion about deferral of salary increases and participation in a (hopefully temporary) salary reduction program. 
We do not yet know the total decrease in our net revenue for fiscal year 2021. As we move forward with discussions with represented employee groups, every agreement related to reduction in expenses will have an impact. Such agreements will very likely reduce the number of furloughs and permanent layoffs, but will be unlikely to eliminate them as part of the overall strategy for managing the COVID-19-related net revenue shortfall.
Yes. Employees furloughed 100 percent are eligible to file for unemployment benefits. Employees furloughed less than that may be eligible, but it is less likely they will qualify. Human Resources has been providing and will continue to provide information and assistance regarding filing for unemployment benefits.
No, we are not currently considering increased benefits to any classes of employees. 
Employees tend to take less vacation when a vacation plan is unlimited. Research shows the health benefits of taking vacation time; vacations lower stress levels and are better for mental health.
The faculty and staff members of UBAC have spent a great deal of time and effort to learn, throughout this past year, the complexity and the limitations of the university's budget. They offered thoughtful and helpful advice to the formulation of the pre-pandemic (i.e., its placeholder) budget. Administrative representatives on UBAC will keep the group apprised of the enormity of the university's budget challenges for the upcoming year. The members are asking good questions and will no doubt offer good advice going forward.
Every summer, the Center for Institutional Planning and Effectiveness (CIPE) produces tuition and fee comparison reports. These reports situate the current levels of, and recent growth rates in, both undergraduate and graduate tuition and fees. In typical years, the university would work with these reports, as well as preliminary aspects of the planning and budgeting process, to make recommendations regarding tuition and fees to the Board of Trustees in December. The current budget development cycle, and the next budget development cycle, will not be typical. All universities are navigating a time of great uncertainty. Our plans over the coming months will be shaped by our actual enrollment numbers, how well we are managing expenses against those outcomes, and how effective we are in implementing savings measures. No decisions have yet been made yet about the tuition increase for fiscal year 2022. We know that our students and families are experiencing economic losses and uncertainties. Our plans include clear communication with all members of the community, transparency around decision making, and as much advance notification of major decisions (like tuition and fee increases) as possible.