Bicycling Information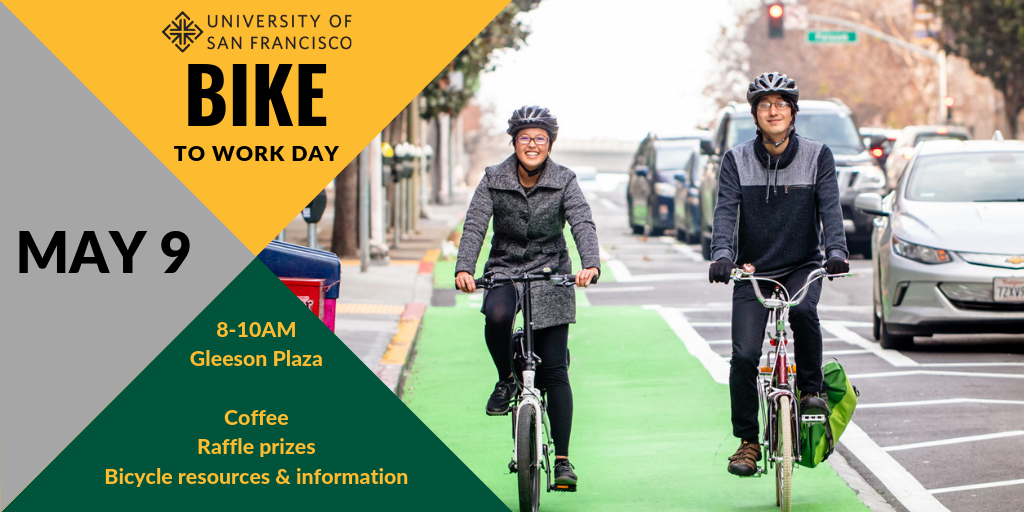 Already a regular bike commuter? Interested in learning more about biking in San Francisco and the Bay Area? Join fellow colleagues to celebrate Bike to Work Day in Gleeson Plaza on Thursday, May 9, 8-10AM. Coffee, raffle prizes, and bicycle resources and information will be available. This event is sponsored by:
Bike to Work Day is a Bay Area wide celebration of commuting via bicycle. The San Francisco Bicycle Coalition will have energizer stations throughout the City on May 9 with snacks, and giveaways! 
BIKE RACKS:
USF has approximately 60 bike racks around campus. The location of the bike racks can be found on our campus parking map. It is prohibited to secure a bicycle to anything other than a bicycle rack or to anything in an area that isn't designated by a proper bicycle parking sign. Please review the bicycle parking policy for more information regarding bicycle parking. For tips on bicycle theft prevention, click here.
BIKE ROUTE MAPS:
BICYCLE SAFETY:
BIKES ON TRANSIT:
Please review the following policies on abandoned bicycles on campus: