Dear USF Faculty and Staff,
As the university gets ready to greet the Class of 2024 and welcome back our continuing students this fall, we also are preparing for your return. The best working and learning environment is one where faculty, staff, and students feel supported in both their physical and mental well-being. I write to update you on the progress of our many working groups.
USF's Roadmap to Reopening will continue to be updated with detailed information so you can confidently transition back to the university both in person and virtually, and sometimes both together. 
Multi-Modality Instructional Delivery 
As I wrote to you in my June 8 email, we are preparing for a multi-modality model of teaching. Our deans are working closely with our faculty on a revised course schedule for fall semester. It is a tremendous amount of work in a very short period of time. I thank faculty, the deans, the Registrar's Office, the course schedulers, and others for all of the effort. The new schedule will allow us to move into more concrete planning, a very important stage in USF's pandemic response efforts. And, I also thank the faculty advisers, program staff, and CASA staff in advance for all of the work they will be doing helping students with any adjustments that need to be made. 
The revised course schedule will have one important addition. We will now see a listing for modality alongside days, times, and other course information. The modalities for fall 2020 will be: 
 
In-Person Socially Distanced Instruction 
In person instruction is what we call formats in which a class meets in-person (or "on ground") for every class session for lecture, problem solving, discussion, etc.
 
| | |
| --- | --- |
| In-Person Socially Distanced Instruction | In person instruction is what we call formats in which a class meets in-person (or "on ground") for every class session for lecture, problem solving, discussion, etc. |
| Hybrid Instruction | Hybrid instruction is what we call formats that mix in-person and remote learning. This can take a variety of forms, including: a) format in which some students are in-person and some join remotely (sometimes known as "Hyflex"); b) format in which some meetings are in-person and some are remote. |
| Remote Instruction | Remote instruction is what we call formats in which a course is taught roughly the way it was as an in-person course, but delivered remotely with mostly synchronous meetings (e.g., via Zoom) or a mix of synchronous and asynchronous learning. |
| Online Instruction | Online instruction is what we call formats in which a course has been designed specifically to be taught online, primarily through asynchronous learning with some synchronous elements. |

Please refer questions to the academic deans. 
Health and Safety Guidelines
We continue to ground our work and base our decisions on health and safety guidelines, best practices, and current scientific understanding of the virus. 
Measures that will be put in place include a required Canvas course for employees and students. This will ensure we all have accurate and timely information and that everyone understands and commits to the following campus guidelines:
Pledge for all campus community members and visitors to follow campus guidelines
Dissemination of health education and promotion materials and messages across campus
Symptom screening via questionnaire for all individuals prior to daily entry to campus buildings
The creation of a community norm and expectation that if you feel unwell you will stay home
Requirement of face coverings to be worn on campus
Continued exploration of the testing of all community members prior to a return to campus in the fall to provide a baseline
A phased return of student-facing employees to campus followed by a gradual return of additional employees
Providing options for those at highest risk of contracting COVID-19
Providing classrooms that follow physical distance guidelines and provide a safe area for faculty to teach and students to learn
Providing working spaces that follow physical distance guidelines and provide a safe area for faculty and staff to work and collaborate with one another
Preparing faculty and staff to offer courses both in-person and with remote delivery to maximize resiliency 
Phased return to campus
Your deans and unit leaders will discuss with you who needs to be returning to campus and when. Staff will be given sufficient lead time (15 to 30 days) if they need to return to campus. 
 
The phased return to campus is designed to:
Help limit the USF community's exposure to COVID-19 
Reduce density and allow departments to plan their work and workspaces accordingly
Allow Human Resources to assess and review work-at-home requests
Assist with operating under ever-changing conditions dependent on the mitigation of COVID-19 Health and Safety Measures
The university is also exploring contact-tracing technologies and symptom-monitoring technologies, including apps, which will give us the ability to assess potential cases and trace the contacts of those testing positive for COVID-19 in order for us to prevent the spread of the virus. This work is being done in collaboration with the San Francisco Department of Public Health.
Symptom Monitoring 
Currently, the COVID-19 symptoms include one or more of the following: 
Cough 
Shortness of breath or difficulty breathing 
Fever 
Chills
Repeated shaking with chills 
Runny nose or new sinus congestion 
Muscle pain 
Headache 
Sore throat
Fatigue 
Gastrointestinal symptoms that you haven't experienced before
Loss of taste or smell that you haven't experienced before
Contact Tracing
Here is how contact tracing works:
If a member of our USF community tests positive, Health Promotion Services (HPS) will work with the San Francisco Department of Public Health to determine with whom that individual came into contact in order to assess potential exposures. The most up-to-date information can be found here. 
If an employee/student has been exposed to, or has come in contact with, an individual who has tested positive for COVID-19, either at work or elsewhere, that employee/student must self-isolate. Detailed protocol will be shared with all members of the community and include where residential students will self-isolate.
The identity of employees and students who test positive will not be disclosed beyond a need-to-know basis. However, contact tracing and the need for exposed individuals to self-isolate will require revealing their identity to some individuals.
Face coverings
All persons on campus — visitors, employees, and students alike — must wear a face covering. A reusable face covering has been ordered for each student, faculty, and staff member. The university will not provide these face coverings to visitors. Visitors will not be allowed on campus if they do not have a face covering.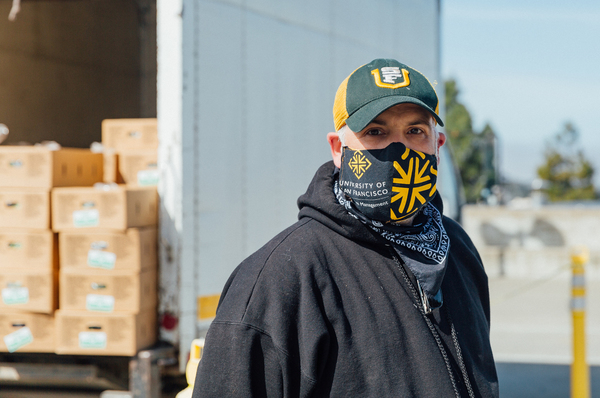 Social Distancing Guidelines
The U.S. Centers for Disease Control and Prevention (CDC) currently recommends that people remain a minimum of six feet apart. Here are some other steps we will all engage in:
Avoiding physical contact, such as handshakes or fist bumps.
Using Zoom or alternative meeting tools for person-to-person meetings, including for appointments and faculty office hours.
Limiting non-essential interaction across campuses, buildings, and work sites.
Increasing physical space between your co-workers, students, visitors, and vendors.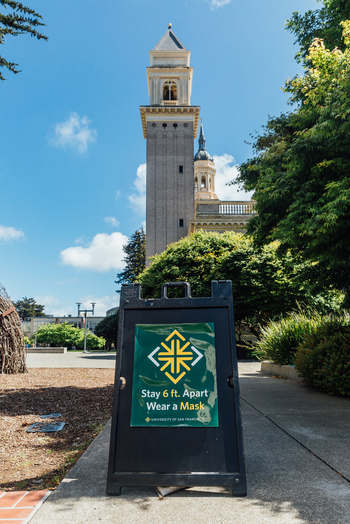 Facilities will be publishing guidelines that encompass the work of the working groups and an area lead will be appointed to work with Facilities to ensure guidelines and practices are being met. Additional information is being developed by the employee return to work group and will be shared in mid-July. This may include restrictions on outside visitors.
Signage is being installed throughout our campuses with reminders about social distancing, especially in public spaces. 
Cleaning and Disinfection
Our Facilities team will be engaging in even more frequent and robust cleaning protocols in our classrooms, residence halls, restrooms, and common areas. Additional information will be shared prior to the return to campus regarding these spaces and all work and social spaces and how we will all take care of shared spaces. We also have protocols and processes in place to perform enhanced, deep cleanings of spaces if a member tests positive for COVID-19.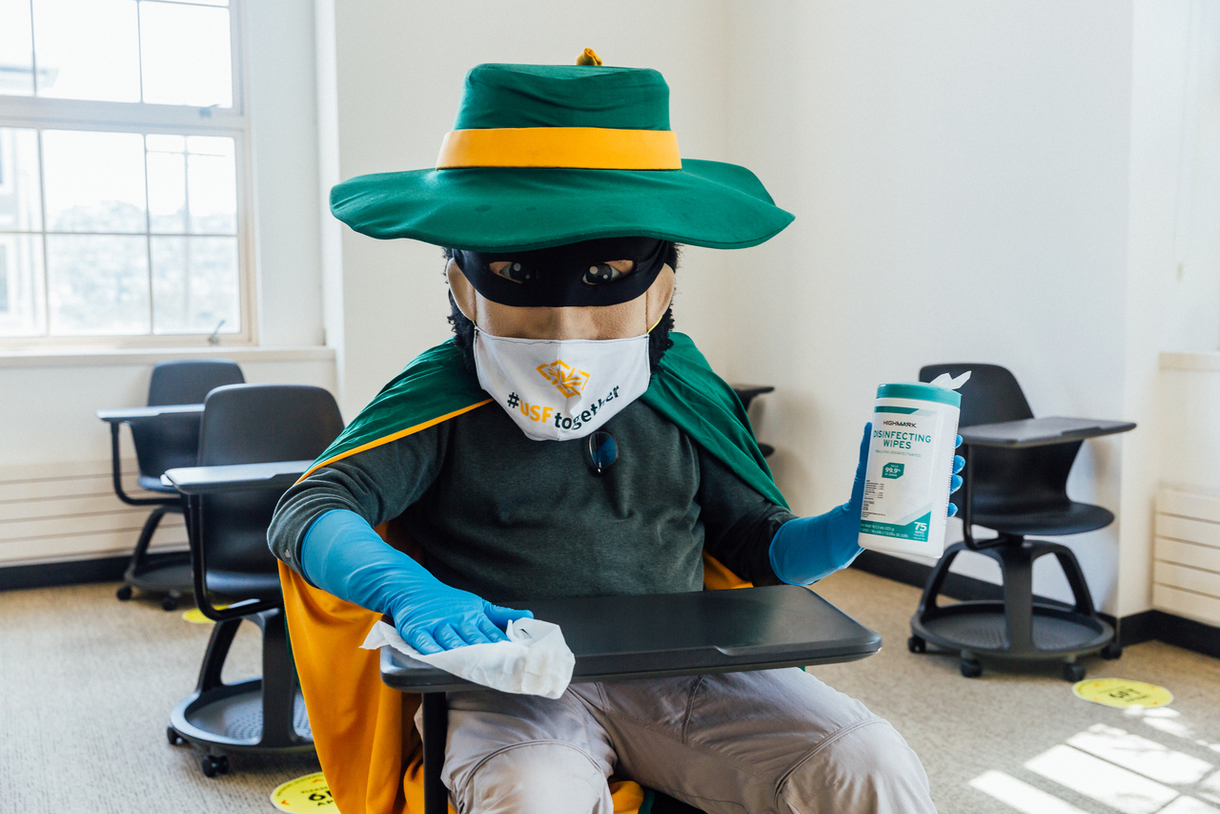 Elevators and Stairways 
The number of individuals allowed in elevators will be dictated by the social distancing rule. If six feet apart is not practical, then one person will ride at a time. Facilities will insert markers on the ground in the elevators to remind riders where to stand to promote optimal social distancing. 
The university is looking into designating stairwells as unidirectional — i.e., only used to go up or down — to help limit face-to-face passings.
Travel 
University business travel is still not permitted per USF's COVID-19 Travel Guidelines. We highly recommend that employees who must travel out of state or internationally for personal reasons via any mode of transportation log their activity using a written or app-based personal journal. This information is helpful in the event contact tracing is needed to alert you or others about possible exposure.
Additional information on all of these areas will be provided in the coming weeks and an employee return to campus guide will be provided by July 15.
Our working groups will continue to be in contact with the San Francisco Department of Public Health and will update the community on current plans to include the most up-to-date local and state guidance and protocols. We are grateful for the input and suggestions we have received to date from the community, and encourage you to continue to be in touch with the appropriate working group if you have additional suggestions.
Again, your health, safety and well-being is our highest priority. Thank you for all you do for USF at the same time you are managing challenges in your personal lives brought on by the pandemic. Together, we will be opening a new academic year under conditions we have never before experienced. Your patience, flexibility, and commitment to our students and to USF's mission, vision, and values is greatly appreciated. We will continue to keep you informed about plans and policies.
Sincerely,
Tyrone H. Cannon
Interim Provost and Vice President, Academic Affairs
Wednesday, Jun 17