Human Rights Observatory Reports
Every other month the Arrupe Observatory publishes a report in which we condense and contextualize the news regarding the Colombian Peace Process and other Human Rights relevant news. The Observatory also publishes statements, letters, and commemorations. You can read and download all our publications below. 
Voices on the Ground
Arrupe Observatory Meeting with Activists, Journalists, and Academics in Colombia.
In the past months, the Arrupe Observatory for Human Rights at the University of San Francisco has been meeting with activists, journalists, and academics in Colombia to better understand the Peace process and the diverse perspectives that encompass it.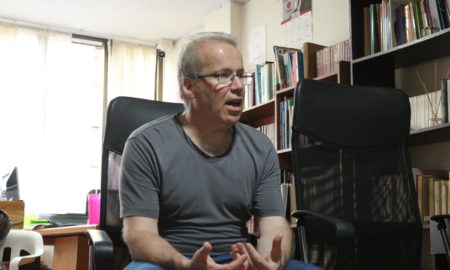 Gearóid works with social organizations in Colombia, researching and writing books that analyze the armed conflict, examining the economic interests at stake in different regions of the country. In particular, mining, African palm, oil, water among others.
On October 18, 1998 in the Machuca district, municipality of Segovia, Antioquia, a tragedy occurred that opened the door to question the destruction and lack of responsibility that oil companies have for environmental and social damages in Colombia. Gearóid O Loingsigh, an Irish journalist and author of the book with the same name of the corregimiento, decided to inquire and investigate the true events of that early October, going beyond the misrepresentation and ambiguity that the local media reported.
Recommended Resources:
Somos Defensores: A space of protection conformed by non-governmental human rights organizations Asociación MINGA, Benposta Nación de Muchachos and the Colombian Commission of Jurists (CCJ), which seeks to develop a comprehensive proposal to prevent aggressions and protect the lives of people at risk because of their work as human rights defenders, when they protect the interests of social groups and communities affected by violence in Colombia.
Machuca: The text examines the events that occurred in the Machuca Corregimiento through an exhaustive investigation. It is a work of memory that allows readers to immerse themselves in the political, social and territorial dynamics surrounding violence in the Northeast Antioquia. This research is a great effort that reveals the various factors that were conjugated at that time in the region. It looks at what happened in Machuca in context and understands that in that region there was not only the presence of the ELN, there were also paramilitaries, state forces, and oil companies.
Reports
We followed news of the Colombian peace process from 2018 to 2020.