Policies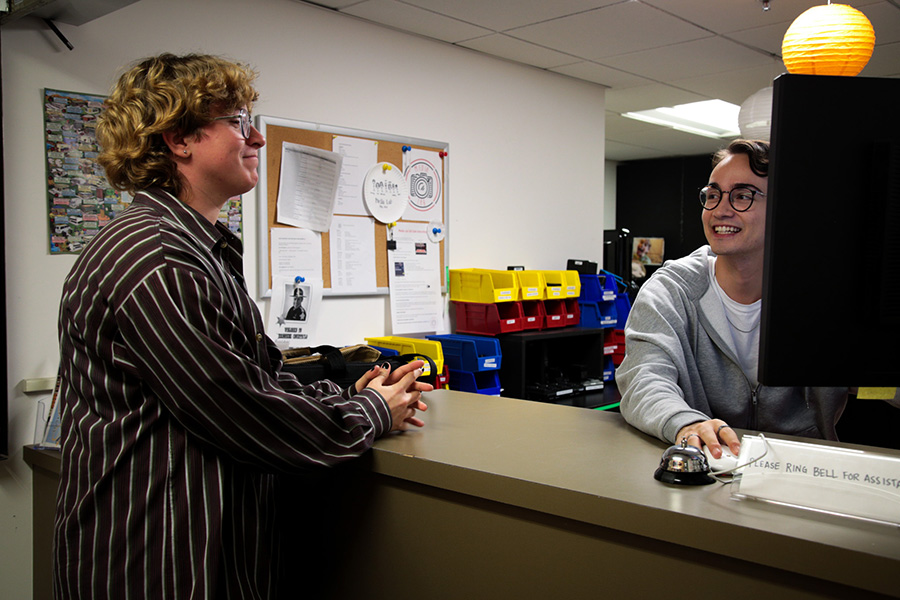 Cowell 216 Classroom Policies
Cowell 216 is a 15 seat, custom-designed, audio-video classroom and lab created for students enrolled in media production courses only.
Please save files to your drive, or create a folder with your name in the student storage folder.  Do not save files to the desktop or they could be deleted.
Food and drink in the labs are strictly prohibited. 
Please turn your cell phone or other electronic device to "vibrate". 
You must wear headphones in the lab when others are working.  
Lab monitors will be available during scheduled hours to assist you. 
Notify a lab monitor, if you find that equipment/software is not working properly. 
Do not shutdown computers, unplug or turn off equipment.
If you need assistance, contact your instructor, a student monitor, or the faculty lab director, Sheri Brenner, 422-5868, medialab@usfca.edu
EQUIPMENT USE POLICIES
Equipment Reservations
Best practice – make a reservation 10-14 days in advance
You must CANCEL unused reservations.
Equipment Checkouts
Check out period for all lab equipment is 48 HOURS.  It can be extended if available.
Equipment returned 30 MINUTES after return time will be considered LATE
Carefully check, set up, and test the equipment before leaving the lab.
Bring your own headphones.   Headphones are not provided for checkout equipment.
Equipment Check-in
Equipment should be returned in the condition received.  
Report problems at checkin.
Charge batteries that have been drained before you return if possible.
Return equipment on time or before due time.  Allow 10 minutes for checkin/out.
Late Return
Best Practice: Contact us to extend your reservation if you can't return it on time.
If your equipment is returned late, your equipment privileges maybe restricted:

(1) LATE return is recorded to your record.
(2) LATE returns will result in the restriction of reservation privileges.
(3) LATE returns will result in revocation of equipment checkout privileges.
Edit Suite Reservations
Cowell G14 through G20 private edit suites are available 24/7 with One Card Access.
Reserve an edit suite or the audio studio at the COG12 equipment counter in person, 
by phone or email.  You will be contacted to confirm your request.  
Rooms can be schedule between 9AM-12AM.   After midnight, students may continue to edit through the night, or on a walk-in basis.  
Students may reserve edit suites in four hour blocks, up to 8 hours per week. This may go down to 4hrs/week during peak usage times such as final project due dates.  
Editing time will be forfeited if scheduled editor does not show up within 15 minutes of reserced time.
Issues and Questions
The Media Lab Staff are available for technical support during lab hours.  
Media Lab Director, Sheri Brenner, is available for troubleshooting, questions, or consults re: equipment, software, or any other lab-related issue. Please contact her at: Sheri Brenner, 415 422-5868, brenners@usfca.edu.