Esther Madríz Diversity Scholars
The Esther Madriz Diversity Scholars Living Learning Community is on hiatus for 2023-2024. Interested students: we invite you to check back next fall for future plans for the 2024-2025 school year.
This living-learning community explores issues of diversity, inequality, social justice, and social change. To do so, we draw upon the idea of "crossing borders and discovering home." For us, borders refer to real and imagined boundaries placed around us as individuals, and as members of various communities. Named after the late Esther Madríz, beloved USF professor of sociology who embodied the Ignatian ideals of education of the whole person as a means toward social justice, Esther Madríz Diversity Scholars examine and challenge these boundaries to gain a fuller understanding of ourselves and the world around us.
2022-2023 Information
For 2022-2023, EMDS LLC will focus on Afro-Caribbean diasporic music, arts, and community organizing against displacement from San Francisco to San Juan. Puerto Rican art and cultural practices have played a key role in helping people survive the violence of Spanish and U.S. colonialism, and in sustaining struggles for social change on the island and in the diaspora. We will consider how communities organize for autonomy and sustainability, and the particular role of art, healing and grassroots organizing in the fight for home, whether it is to defend the earth, stay in one's home, or to migrate and begin anew. The class begins with history and sociology of Puerto Rico and the Caribbean and the importance of the Afro-Caribbean diaspora for U.S. citizenship, politics, and culture. We will pay special attention to the connections between social history and traditional Puerto Rican music, the rhythms and stories that connect diverse diasporic musical traditions and genres, from bomba to son to salsa to hip hop and reggaeton. In dialogue with creative texts, artists, musicians and community organizers, students will analyze how the politics of nationality, race, gender, sexuality, disability, intersect with market forces and economic policy, impacting artists and social movements in the Bay and Puerto Rico. What resources for hope and lessons for social justice organizing do Puerto Rican artists and activists offer non-Puerto Rican communities? What can we learn from the powerful, creative activist work in defense of home and community here in San Francisco? How can we help defend our homes and communities through political practices that are more deeply inclusive, sustainable, and joyful?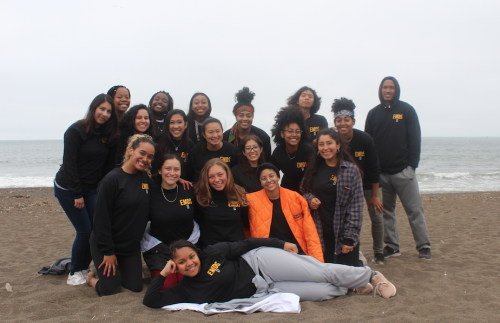 Upon successful completion of the year, Esther Madríz Diversity Scholars fulfill these core requirements:
Social Science (Core E)
Cultural Diversity (CD)
Service-Learning (SL)
Successful applicants will live in the designated space for Esther Madríz Diversity Scholars in Toler Residence Hall. All community members are required to enroll in the EMDS courses for both fall and spring semesters.
This learning community is a collaborative effort between the Sociology Department, the Leo T. McCarthy Center for Public Service and the Common Good, and SHaRE.