Faculty and Staff
Stephanie Sears, Department of Sociology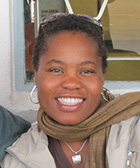 I am a sociology professor who also teaches in the African American Studies and Gender and Sexualities Studies programs at USF. My teaching and research interests focus on understanding power, privilege, oppression, and social change. I bring these interests to my work with EMDS. What I enjoy most about being a part of EMDS is building relationships with students outside of the classroom that create a more thoughtful, engaged and fun learning environment. I also enjoy stepping back and allowing students to vision, design, and implement their own social change projects. Being a part of this program is one of the highlights of my USF experience.
View Professor Sears's faculty profile
Denise Garcia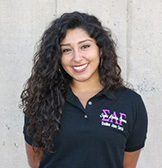 Denise received her B.A. from UC Santa Barbara in Environmental Studies with a minor in Spatial Science and her M.A. from USF in Urban Affairs. Her Master's capstone looked at how public transportation, using an equity-approach, can be a key towards governing sustainability in communities that have endured environmental and transportation injustices. Although Denise works at USF as a Resident Minister, she also works for the City of Oakland in the Environmental Services Division. She hopes to continue working for local government to serve and represent urban lower-income communities of color. Her favorite Hip Hop era is the 90's with favorite artists including A Tribe Called Quest, Biggie Smalls, Wu-Tang Clan, and Slum Village. In her spare time, she loves to dance, go record digging, and explore nature!
Bettina Francisco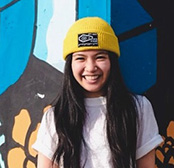 Bettina Francisco (aka T) immigrated to the states as a kid and was raised in the Bay Area in San Jose, CA. Bettina is a Critical Diversity Studies major and a Filipino studies minor. Noname, Frank Ocean, Andre 3000 and Isaiah Rashad are artists she will always have playing. You'll find them being involved in issues that center the Filipina/Filipinx experience, especially in music and in arts. Coming from an amazing experience with their EMDS Cohort 12 family, she is excited and blessed to be able to support Cohort 13 as their RA.
Natalie Mills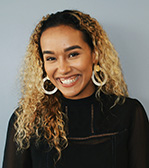 Natalie is a third year Pre-Med Kinesiology student and an EMDS Cohort 12 Alumni. She grew up in Elk Grove, CA and comes from a very loving and supportive family of four. She has always strived to fulfill her dream of touching others' lives and using her privilege for the better, selflessly. EMDS has opened her eyes and heart to social justice in so many ways and emphasized how crucial it is to fight for social justice. Natalie has shared that EMDS is the sole reason for her social and political consciousness awakening and has pushed her to explore her identity, helping to create the unapologetic person that she is today. As the ACE for Cohort 13, she looks forward to helping guide the students on their own journey and she cannot wait to see them through this process. Natalie said: "EMDS holds such a huge place in my heart and is so important to me, I am so thrilled to share my passion with the students of Cohort 13. I am so thrilled and honored to hold this position as ACE and look forward to this year."