Lone Mountain Residence Hall
Situated on the crest of a hill, Lone Mountain North overlooks the USF campus and offers students spectacular views of the surrounding areas, including the Golden Gate Bridge, Marin Headlands, and Farallon Islands.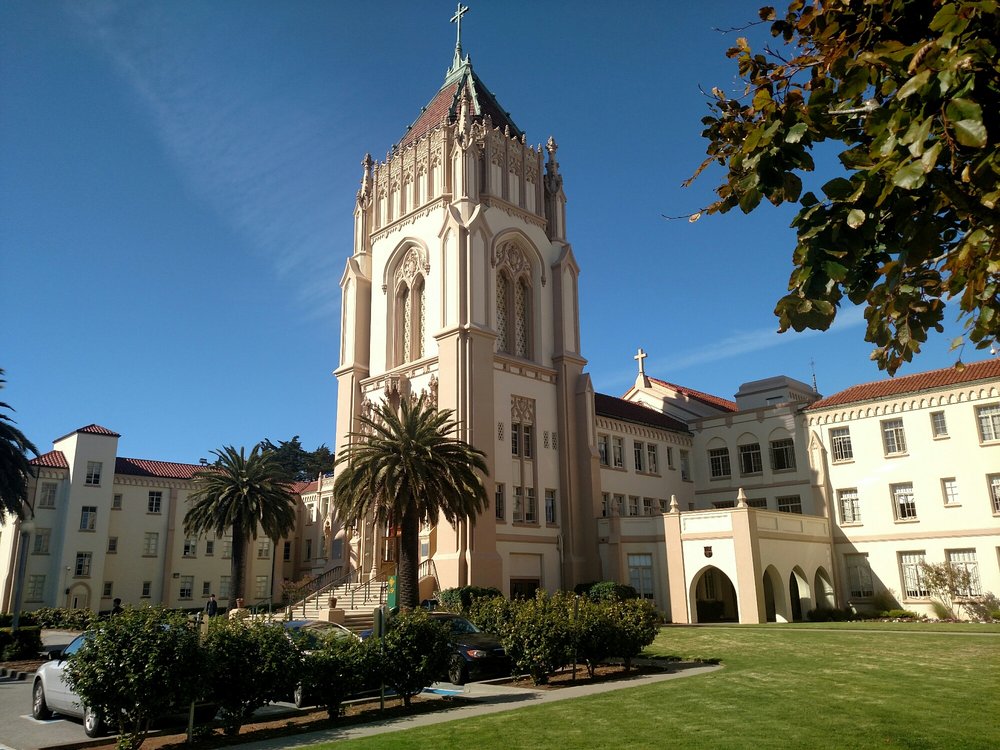 View a virtual tour of a Pacific Wing Single*, a Pacific Wing Double*, a Lone Mountain Single, and a Lone Mountain Double! 
*Please note: Pacific Wing will be offline during the 2021-2022 academic year. During this period of time, no students will be housed in Pacific Wing. 
History
Originally purchased in 1860 by Joseph Alemany, the first archbishop of San Francisco, the grounds of Lone Mountain were developed into a cemetery. By 1930, the buried bodies were removed to other cemeteries and the land was acquired by an order of Catholic nuns, the Religious of the Sacred Heart, who contracted the construction of the Spanish Gothic building and Spanish Steps that exist today. This structure was completed in 1932 and became the San Francisco College for Women, which provided college education for women until 1969. In that year, the college became co-educational and changed its name to Lone Mountain College. Facing financial problems, Lone Mountain College closed in 1978 and was purchased by USF, marking a significant expansion of the USF campus.
Facts and Amenities
Population
Lone Mountain North: Transfer and Continuing Students 
Male and female residents
350 residents
Building
Lone Mountain North: 7 floors, single-sex rooms and co-ed floors
Singles and doubles available
Permanently lofted beds on second and third floors of Lone Mountain North 
Location
Turk St, between Masonic and Parker St.
Closest dining facility: Open Door and Koret Lodge
Mailing address
330 Parker Avenue, Room #
San Francisco, CA 94118
If you are visiting campus, please use the following physical address to find Lone Mountain Hall:
2800 Turk Blvd
San Francisco, CA 94118

View University of San Francisco in a larger map
Security
24-hr front desk
Key card required to access residential floors
Key card and code required to access rooms
Internet
Ethernet ports in each room
WiFi throughout building
Community Areas
4 student lounges
2 kitchens, each with refrigerator, stovetop, oven, and microwave
Laundry room (accepts coins and Don Dollars)
Recreation
Cable TV connector in each room
Flat screen TVs in lounges
Piano