Loyola Village Residence Hall
Situated on the north face of Lone Mountain, Loyola Village is a 136-unit condominium complex that offers apartment-style living within walking distance of the campus. Here, mature students can begin the transition to independent off-campus living in a secure complex that houses other faculty, staff, and students.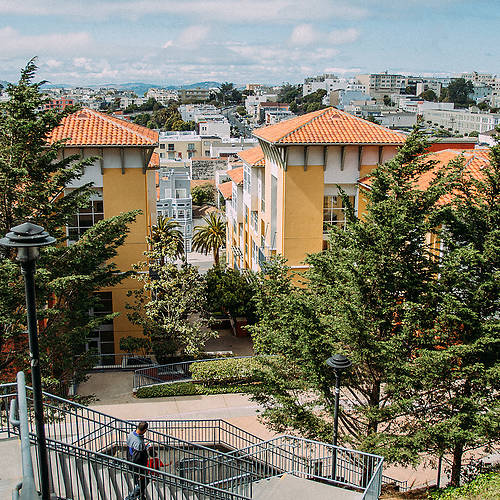 View a virtual tour of a Loyola Village One-Bedroom Apartment, a Loyola Village Type 2 Double Room, and a Loyola Village Type 3 Double Room! 
History
The construction of Loyola Village was commenced in order to provide housing for faculty and staff to purchase. However, the lack of demand for these housing units resulted in the complex being repurposed as a residence hall. Opened in 2002, Loyola Village offers apartment-style housing for students who wish to live more independently. With each unit featuring a full kitchen and furnished living room area, mature students are able to reside conveniently close to campus while maintaining a more independent lifestyle. In addition to providing student housing, Loyola Village provides temporary housing for some faculty, staff, and guests of the university and is home to the Ignatian Solidarity Network. Nestled on the north side of Lone Mountain hill, Loyola Village is a picturesque community.
Facts and Amenities
Population
Students turning 21+ during the academic year 
Rising sophomores
Male and female residents
OFFLINE DURING 2023-2024: Haven House sober living community exists for students in recovery from substance abuse. (If you are interested in this housing option or want more information visit The Haven College website or call The Haven at 310-822-1234. Space is limited so early application submissions are recommended. (Please note that the Haven House will be suspended during the 2023-2024 academic year. Students will not be placed in this community during this time.) 
Gender Inclusive Housing: limited spaces exist as an option that is intended to provide a safe, affirming, and inclusive community living option for students of the following identities and lived experiences:

Transgender students, Gender Queer students, Students who are currently transitioning from one gender to another (i.e., transitioning from male to female or female to male), Students who do not conform to society's expectations of their assigned gender at birth, Students who do not wish to be identified by any sex or gender identity, Students who are in the process of discovering their gender identity, and Students who appreciate and respect people with the above identities and lived experiences, and who would prefer to live in a community comprised of such.

Population: 300
Building
4 floors, each condo is single-sex (with the exception of Gender Inclusive units)
Studio, 1-, 2-, and 3-bedroom units available
Bedrooms are single and double occupancy (1 or 2 residents per room)
Very limited single rooms available in 3-bedroom units.
Type 1 Double Room: A shared double room in a 3bedroom/2bath unit where the bedroom is smaller than 130sq ft.
Type 2 Double Room: A shared double room located in a 2bedroom/1bath unit or any shared studio unit, or any double room that is larger than 130sq ft and smaller than 150sq ft.
Type 3 Double Room: A shared double room that has a bathroom dedicated to that room or is larger than 150sq ft.
Note that there are very limited "Single/Studio" Apartments available. Each unit houses 1 student.
Each unit in Loyola Village is unique, and varies by square footage, amenities, and configuration.
Location
Anza St, between Masonic and Parker St.
Located behind Lone Mountain
Closest dining facility: Lone Mountain Cafe
Mailing address
Building A
331 Anza Street, Unit #
San Francisco, CA 94118
Building B
341 Anza Street, Unit #
San Francisco, CA 94118
Townhouses
Unit # Anza Street
San Francisco, CA 94118

View University of San Francisco in a larger map
Security
24-hr front desk
Key card required to access building
Key card and code required to access rooms
Internet
Ethernet ports in each room
WiFi throughout building
Community Areas
Recreation
Cable TV connector in each room
Planning on living in Loyola Village? Download these handbooks for more information.