2016 Go Move Challenge: Halfway Point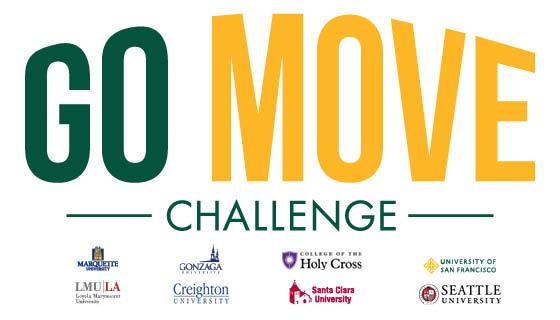 Now in its fourth year, the Go Move Challenge has expanded to include eight Jesuit universities that have been competing in February to determine which is the most active! Participating institutions include: University of San Francisco, Santa Clara University, Loyola Marymount University, Marquette University, Creighton University, Gonzaga University, Seattle University and College of the Holy Cross.
Similar to previous years, participants record their movement through Hubbub, an online and mobile wellness platform, or through their challenge administrator. Each minute of movement counts as one point, and participants can track up to 120 minutes per day. The university with the most points at the end of February wins and gets to keep the trophy until the following year. Additionally, there are two new awards this year for the university with the highest percentage of participants and for the university with the highest average of points per participant.
Historically, the winning universities have been the University of San Francisco (2013, 2014) and Loyola Marymount University (2015). With so many universities participating this year, the playing field is wide open, and the competition is friendly but determined! A little winter weather and a snow day hasn't discouraged Creighton University from continuing to exercise; many of their employees have engaged in a friendly sub-competition to see which department can track the most minutes. At Marquette University, faculty and staff have been earning movement minutes by participating in the Run with the President Group, taking free fitness classes, shoveling snow, following indoor walking maps, and engaging in various department challenges (e.g. 10,000 steps a day challenge, stair climbing challenge, pickle ball League). One of the founding institutions of the Go Move Challenge, the University of San Francisco has been promoting several lunchtime movement opportunities to encourage employees to earn their minutes together, which include fitness and educational walks, yoga and dance classes, swimming events and even obstacle courses.
A few weeks into the challenge, the leading university changes by the minute as faculty and staff continue to log minutes throughout the day. Officially, there may be three winners who have earned bragging rights at the close of the challenge on February 29, but all participants will win the grand prize of better health, fitness and strengthened or new friendships.
If you're interested in joining the Go Move Challenge in 2017, please contact Suzy Kisylia, Wellness Program Manager for the University of San Francisco.