2019 Go Move Challenge: Week Four Recap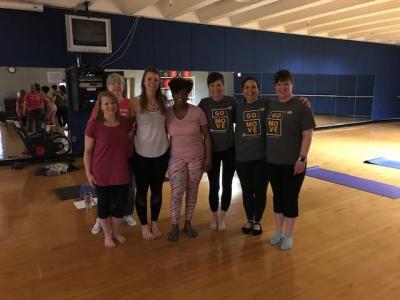 Published Friday, February 22
We're in the final week of the 2019 Go Move Challenge! Here are the latest numbers:
24 Jesuit Institutions registered, including our AJCU National Office
Over 3,000 employees participating 
1,800,000 minutes of activity accumulated
Although the minutes are constantly increasing, Santa Clara and Creighton have consistently topped the leaderboard. Saint Peter's is once again leading for the highest average of minutes per participant. A huge shout out to the following institutions who have been averaging over 600 minutes (10 hours!) per participant:
Saint Peter's University
Santa Clara University
Newcomer! AJCU
University of Detroit Mercy
Loyola University Chicago
Thank you to all who have been contributing to our social media photos. It has been a valuable way to connect by sharing how our participants are exercising across the country. Here are some of the most recent highlights:
Every week, we highlight stories that you share with us on how the Go Move Challenge has made an impact. We are excited to share the following this week:
Kristin Kipp, Marquette's Director of Employee Wellness and Go Move Challenge administrator, kicked off the Go Move Challenge with their Winter Office Olympics Event. One of the events even included a team bobsled race (office style of course - rolling desk chairs linked together with jump ropes). They also incorporated some Go Move events into their Mission Week events. They had a Sacred Spaces Walking Tour, a walking meditation, and an Ignatian yoga class. They continue to use their calendar of events as they've done in the previous 4 years and they try to fill it with lots of indoor activities to help people move in the winter. They have encountered some obstacles with the cold temperatures and Marquette shut down for a few days, but Kristin knows people are getting their movement in by shoveling snow at home!
Rachel Nivicki, Loyola Chicago's Benefits Specialist and Go Move Challenge administrator says, "Loyola University Chicago is proud to announce that we are currently in 4th place for total minutes logged, with over 15,000 minutes entered thus far. We are also in 5th place for average minutes per participant logged, currently averaging 605 minutes a person. Our university is proud to have such active participants, especially during one of the snowiest and coldest months of the year.  This is motivation and encouragement to be active 12 months of the year!"
We would love to hear from participants from every institution! Remember to share your stories and follow us on social media. Keep moving and tracking: 6 more days to go! If you have any questions, please contact the Go Move Challenge administrator, Suzy Kisylia, at skisylia@usfca.edu.