2019 Go Move Challenge: Week Three Recap
Published Friday, February 15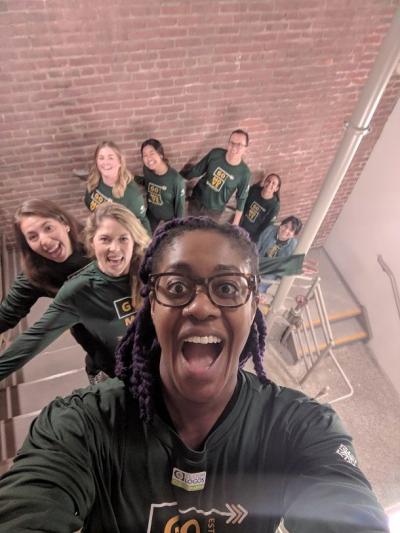 Hello, fellow movement enthusiasts! Did you have a heart-healthy Valentine's Day? Remember to track your minutes and check out the Go Move Challenge leaderboard for the latest and greatest numbers. More than 2,800 participants from 23 Jesuit Institutions have accumulated in excess of 1,000,000 minutes of activity! Let's make 3,000,000 minutes our collective goal!
Despite campuses closing due to weather, participants are still finding creative ways to move:
On Sunday, Julia Hing, USF, played 2.5 hours of tennis with her team. With her doubles partner, they won a grueling match, 7-6, 1-6, 1-0 (10-4), and her team won the overall match against cross-town rival, The Bay Club!
With the university closed due to weather on Monday, Vicki Daniels, Gonzaga, was able to get in four solid hours of skiing.
Janice DeMonsi, SCU, logged minutes walking this weekend before the next rain storm. She loves taking advantage of the extra time to walk on the weekends.
Kellie Samson, along with the GoUSF team, moved at #cycleforsurvival San Francisco to raise money for rare cancer research.
Mark Medina, St. Peter's University, participated in a 5K for a great cause.

#

SPU

#

LiveLoveRun5k
Leaderboard
The leaderboard is ever changing, so visit the Go Move Challenge website to see the most current standings! To date, the top two universities with the most minutes by region are:
East Coast: Saint Peter's, Fordham
Midwest: Creighton, Loyola University Chicago
West Coast: Santa Clara University, University of San Francisco
South: Xavier, Spring Hill
Share Your Experiences
How has Go Move inspired you? Share your experiences with us!
There are 13 more days to go before the winning institutions are announced! Keep moving and logging your minutes. If you have any questions, please contact the Go Move Challenge administrator, Suzy Kisylia, at skisylia@usfca.edu.
We would love to hear from participants from every institution! Remember to share your stories and follow us on social media. Keep moving and tracking - 13 more days to go! If you have any questions, please contact the Go Move Challenge administrator, Suzy Kisylia, skisylia@usfca.edu.