The GoUSF Holiday Half Marathon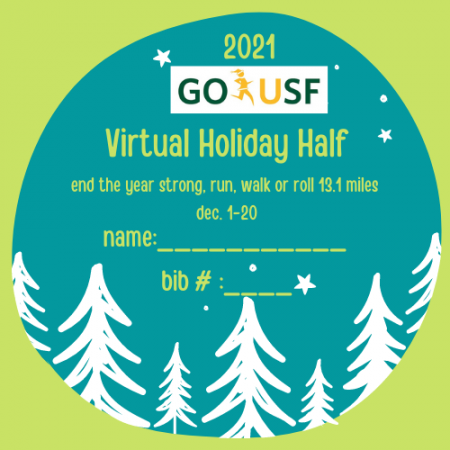 We would like to invite you to participate in the 2nd annual GoUSF Virtual Holiday Half! Not a runner? Not a problem. You can break up the 13.1 miles amongst several days and even create a team to share the miles! A team of 2 = 6.6miles per person. Team of 3 = 4.4 miles per person, etc. Or you can bike it! You have from December 1-20 to complete. Download your race bib or email skisylia@usfca.edu to have a customized bib created and emailed back to you.
The Details:
Who: Anyone and Everyone! Faculty, Staff, Students, Family Members, Friends...
What: The GoUSF Holiday Half Marathon (13.1 miles)
When: Begins Tuesday, Dec 1 through Monday, Dec 20
Where: Virtually
Why: Engage, stay active and connect with others through social media
How: Follow GoUSFca on Instagram. Print your bib and wear it proudly. Submit a photo of you participating and/or upon completion of the race via IG Direct Message (DM) or send a photo to skisylia@usfca.edu. Finishers will receive a virtual medal and their photos will be posted on our IG and FB sites!
Donate: In the spirit of the Run Wild SF tradition, please consider donating a toy to child in need through the  San Francisco Fire Fighter's Toy Program virtual toy drive.