Lone Mountain East Residence Hall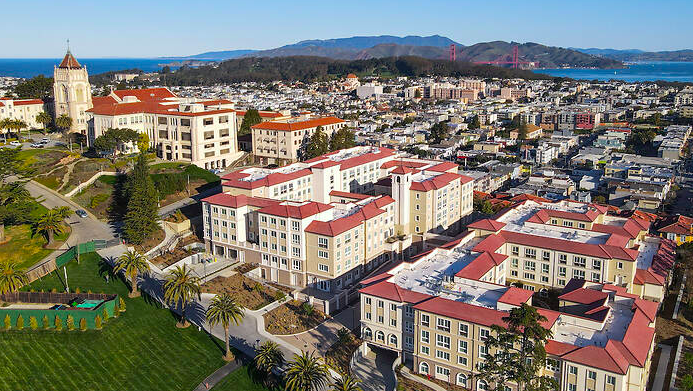 Watch a tour of Lone Mountain East here!
San Francisco is many things: a tech epicenter, a cultural mecca, the most beautiful city in the world (in our minds, anyway). It's also fairly small, land-wise: 49 square miles contains all that wonder. When space is at a premium, innovators have to get creative. And Dons are all about innovation. So, when we wanted to build a new residence hall in order to expand our student housing, we got creative and reconsidered how to use the spaces we already had. A parcel on Lone Mountain, consisting of underused tennis courts and auxiliary buildings, seemed like the perfect setting. When we landed on a building design that would work with the hilly topography and also satisfy our students' educational and social needs, construction began. Lone Mountain East now stands ready to welcome Dons back to school in the fall.
Facts and Amenities
POPULATION
Primarily second-year students
All genders
Gender Inclusive housing is available
600 residents
BUILDING
Two distinct buildings (four floors and five floors, respectively) connected by an overhead bridgeway
Co-ed floors with same-gender units (*except Gender Inclusive Community)
4bd/2ba units house four students with single occupancy in each bedroom
2bd/2ba units house four students with double occupancy in each bedroom
LOCATION
Turk Blvd., between Masonic Ave. and Parker Ave.
Closest dining facility: Lone Mountain Cafe
LIVING-LEARNING COMMUNITY
No living-learning communities currently in Lone Mountain East
SECURITY
Customer service and security desk located in each building
Key card required to access building and all residential areas
INTERNET
COMMUNITY AREAS
Student lounges and open courtyards in both buildings
Laundry room located in each building (laundry services are free to residents)
RECREATION
Cable TV available via IPTV through WiFi 
Flat screen TVs in lounges
Courtyards with engagement spaces that include a water feature, a fireplace, and a bocce court
University-provided room furnishings may differ from those pictured. For information on what you can expect in each dorm room, please visit What's in a Dorm Room?