Go Hope Summary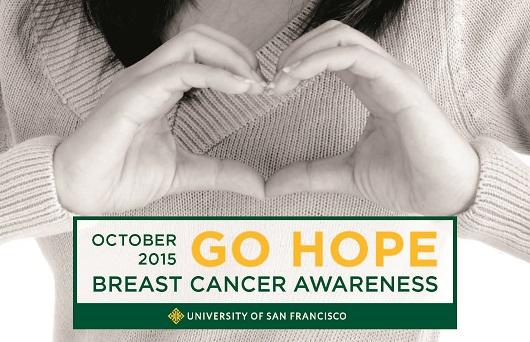 Go Hope Breast Cancer Awareness: October 2015
On behalf of GoUSF, the USF School of Nursing Health Professions (SONHP) and St. Mary's Medical Center (SMMC), thank you to the many faculty, staff and students who attended the Go Hope events this year in honor of breast cancer awareness. Go Hope focused on hope in research, education, rehabilitation, and survivorship of breast cancer with seminars led by scientists, doctors, and nurses from USF and SMMC.
Breast Cancer Research at USF Seminar
Juliet Spencer (professor, Biology) discussed how the Spencer Lab team is changing the world from here. Spencer Lab, home of the HCMV Research and the Avon Breast Cancer Study, conducts innovative research into human cytomegalovirus and its potential link to breast cancer. Juliet and her team were awarded $300,000 to develop a blood test for breast cancer based on viral proteins. The blood test under development will be useful for early detection of breast cancer, or it may help identify breast cancer patients at greater risk of their cancer spreading. Spencer Lab is recruiting volunteers for this study, needing blood samples of 150 healthy and 150 breast cancer patients. If you are a female between the age of 18 and 80, please consider volunteering for this groundbreaking study! Volunteer now »
Mammovan Tour
Mary McGinty (Breast imaging Charge Technologist, SFGH Avon Breast Center) brought the Avon Breast Center MammoVan to USF and offered tours. The van was introduced in February, 2005 and travels several times a week to the neighboring San Francisco Community Health Network clinics breaking the barriers of transportation, access, and language fluency.
Progress Against Breast Cancer Seminar
Cathy Coleman, Jo Loomis (Assistant Professors, SONHP) and Dr. David Priest (Radiologist, SMMC) led a discussion on progress against breast cancer. The emphasis was on the how far technology has come and the importance of breast cancer screening.
Breast Cancer Rehabilitation and Survivorship Seminar
Cathy Coleman (Assistant Professor, SONHP), Cheri Goudy (Oncology Nurse Navigator, SMMC), Margit Falk (Physical Therapist, SMMC) and Amy Tsui (breast cancer survivor) led the final Go Hope discussion. With the theme of this month being hope, we learned that cancer is no longer a death sentence. With early detection, patients can recover and move on to live a happy, healthy life. Navigating the cancer experience through diagnosis and treatment and having the proper support will make the experience a lot less scary.
If you want to view and/or download any of the presentations discussed at the seminars, please visit the Go Hope web page.