Go Dons Get Fit Challenge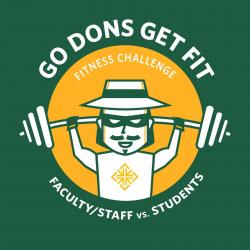 October 1-31
Participate in the 6th annual Go Dons Get Fit Challenge in Fall 2021. It's ready for you to get started on October 1st. Faculty and staff have dominated the past five years. Can we do it again?
The Go Dons Get Fit challenge is held every year throughout the month of October. In this challenge, faculty and staff compete with students to determine who is the most active.  At the end of the month, all minutes are accumulated and the winner receives bragging rights, a shout out on social media and the Cartwright Cup, named after Bill Cartwright. This year our goal is to collectively track 500,000 minutes with 500 participants! It's go time!
Exercise opportunities to do at home or on campus
For Fall 2021, all group fitness classes will remain on Zoom (except Tuesday at 5-6:30pm Yoga with Brian Davis - Combatives Room.
To request a Zoom link for virtual classes, email fitness@usfca.edu
Sponsored by GoUSF and Health Promotion Services, Kinesiology and Koret Health Recreation Center.