Go Dons Get Fit Challenge
October 1-31
Participate in the 5th annual Go Dons Get Fit Challenge in Fall 2020. It's fully remote and ready for you to get started on October 1st.
The Go Dons Get Fit challenge is held every year throughout the month of October. In this challenge, faculty and staff compete with students to determine who is the most active. At the end of the month, all minutes are accumulated and the winner receives bragging rights, a shout out on social media and the Cartwright Cup, named after Bill Cartwright.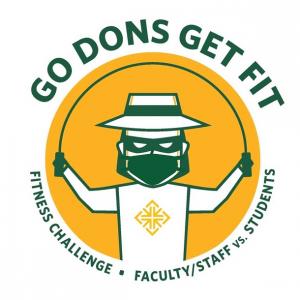 How to Play
Visit GoUSFchallenges.org 
Click "register" or "log in", using your USF email address
Find the Go Dons Get Fit Challenge
Click "learn more", then "sign up"
Starting Oct. 1, a check in button will appear on the challenge page
Click "check in" and enter your minutes of exercise through Oct. 31
Dons Spirit 100
GoUSF and HPS are challenging you to get outside, wherever you are, to complete 100 miles of running, walking, hiking, swimming or biking during the month of October in our Dons Spirit 100. That's about 3 miles per day – you can do it!
Sponsored by GoUSF and Health Promotion Services and Koret Health Recreation Center and Athletics