2021 Go Move Challenge: Week One Recap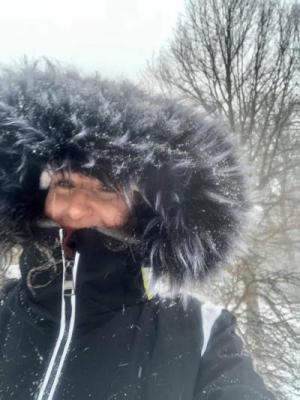 Published February 5, 2021
It's game time. Welcome to the ninth annual Go Move Challenge. We are several days into the challenge and the competition is steep even with the weather challenges, including the Nor'Easter that blanketed the east coast. The numbers continue to be impressive: over 2100 faculty and staff from 23 participating Jesuit Institutions, including our AJCU National Office staff, have accumulated more than 200,000 minutes of activity! Santa Clara, USF and Creighton prove to be the teams to beat for total number of minutes! In addition, Fairfield, Marquette, and Santa Clara are currently in the lead for average number of minutes per person. The newly introduced team component has added a new layer of camaraderie to the challenge, helping team members motivate each other to move more and encouraging each other to remember to track their minutes.
Our institutions are offering creative programming to help encourage our faculty and staff to exercise since many rec centers are limiting numbers or temporarily closed. Some examples include:
Creighton University's wellness administrator since 2005, Healthbreak, has expanded their offer of free fitness classes to all Jesuit Institutions during the Go Move Challenge to support the initiative. 112 participants from 8 universities are taking advance of this FREE offering. Learn more here.
The rec center at the University of San Francisco is offering over 30 online fitness classes a week, including, Zumba, Fitness Interval Training, Yoga, Total Body Conditioning, Core and More, etc.
Regis University is launching virtual group fitness classes on February 15th as a "Happy Valentine's Day" from Fitness and Wellness.
Many institutions have jumped on board with the newly added team component. Santa Clara has 34 teams, University of San Francisco has 28, College of the Holy Cross has 19 and Boston College has 11.
Gonzaga presents "Dance as Cura Personalis with Julianne Hough" on February 12, 7-8pm pst. All welcome. RSVP Here
As displayed on social media, participants are certainly pumped to earn their minutes:
Danielle Anderson, Fairfield University, has been shoveling lots and lots of snow to earn her minutes.
Linda Wong, University of San Francisco, is using the stairs of San Francisco as her gym, hiking up and down them for her workouts.
Matt Chesley, University of Detroit Mercy, 

is instructing/participating in fitness classes, and studying/practicing a new body building program so he can earn credits towards keeping up his National Academy of Sports Medicine certification and recruit new personal training clients.

Dale Geraldine, Le Moyne College, walks her sweet french bulldog, Ms. Hera.
To stay in the loop with Go Move Challenge happenings and to get motivated by seeing how our fellow Jesuit colleagues are moving this month, connect with us on Instagram and Facebook or use our tag #GoMoveChallenge.
Leaderboard
The leaderboard is ever changing, so visit the Go Move Challenge website to see the most current standings! To date, the universities with the most average number of minutes by region are:
East Coast: Boston College
Midwest: Creighton University
West Coast: Santa Clara University
South: Xavier University
Inspiring Colleague of the Week
Lisa Verdon from Loyola University of Chicago shares her inspiring story of overcoming and living with health challenges.
"I was diagnosed with Rheumatoid Arthritis three years ago, after being diagnosed with Lupus. When it rains, it pours.  I was still having such awful right knee pain and swelling and fatigue that I thought it was due to the lupus, to the marathon training, momming hard to the kids, working as a nurse and being on my feet a lot. I was wrong.

Since being diagnosed, I've been on a cocktail of oral medications and injectable medications that have kind of helped with my symptoms. I am still so exhausted, my knee is still swollen and angry most of the time, my blood work is still kinda out of whack. I am SO thankful that I have amazing health insurance and drug coverage.  I trust my group of doctors, my heart, kidneys and lungs have been unaffected, I work out when I have the energy and strength, so there is the silver lining! It could always be worse!!!

I have learned to listen to my body, slow down a bit, nap when I need to and I am getting MUCH better at saying "no" to volunteering and over doing it, which will only lead to flare ups.
I hope sharing my story encourages others to get up and move to be healthier, in mind, body and spirit, "Cura Personalis" as our Jesuit spirit says!"
Thank you Lisa. You are an inspiration with all you've gone through and are going through! Way to be strong and hang in there. Follow Lisa on instagram @lisarunschicago.
Is your colleague an inspiration for the Go Move Challenge? Do you have a personal wellness journey that you would like to share? Share the story for your colleague or yourself here.
Share Your Experiences
Sue Lawler, Boston College, shares how the challenge has been going for them.
"The start of the Go Move Challenge brought some additional "challenges" with a Nor'easter that blanketed our coast!
The silver lining to that was folks were able to use their shoveling time to add minutes to the challenge. BC Campus Recreation has reopened and offers a variety of virtual fitness opportunities that make exercise options readily available to everyone across campus. We also have the benefit of online resources from our benefits provider that change weekly. Looks like everyone can find something to get them moving indoors or outdoors this winter!"
Thanks for sharing, Sue!
How has Go Move inspired you? Share your experiences with us!
---
There are 23 more days to go before the winning institutions are announced! Keep moving and logging your minutes. If you have any questions, please contact the Go Move Challenge administrator, Suzy Kisylia, at skisylia@usfca.edu.