Share the Warmth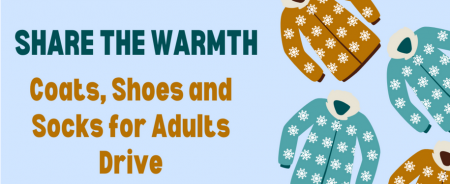 Share the Warmth! Donate your shoes, jackets, and/or socks to help those in need
Did you know that our Public Safety team has been providing clothing items, shoes, and gift cards for warm drinks to those in need for the past 10 years? They saw a need in our community and took it upon themselves to help. This year, times are tight, and items are not as readily available as they once were. This is where you come in. GoUSF has partnered with Public Safety in Student Life to offer a donation drive, Share the Warmth.
Here are the Details:
When: January 17 - February 17, 2023
Who: Faculty, Staff and Students
What: Donation of adult items — coats and jackets, athletic shoes, socks, sweatshirts, and sweatpants for those in need
How: Bring your donated items to your workspace on campus and call the Public Safety Dispatch Center, 415/422-4201 and an officer will come to collect the items.
Why: To help those in need. Participants will also get the chance to meet one of our superstar public safety officers when they come to pick up your donation items.
Questions? Contact Suzy Kisylia
Background of Public Safety Helping Those In Need
- Kevin Dillon, Lieutenant, Public Safety
USF Public Safety officers have always engaged with unhoused visitors on our USF campus. Some people might be looking to enter a building for a warm, dry place to sleep and others bring tents intending to set up residence. We have always encouraged our officers to practice the values of DPS and the University when assisting these individuals. We realize that in addition to making referrals to community and city resources, officers often give money to individuals so that they can buy a cup of coffee of even a meal. We know officers have given their personal shoes and other pieces of personal clothing to people in need.
About ten years ago, we realized that a pair of dry socks, a warm jacket, or a pair of athletic shoes might help the officers assist these individuals without giving them money or their personal clothing items. Although everyone does not want assistance, the majority of the people are appreciative of any items of clothing the officers can provide.
The specific items needed are: warm coats and jackets, athletic shoes, socks, sweatshirts, and sweatpants.
Thank you Public Safety for silently helping those in need for all of these years. We look forward to supporting your efforts!