Black Student Leadership Fellowship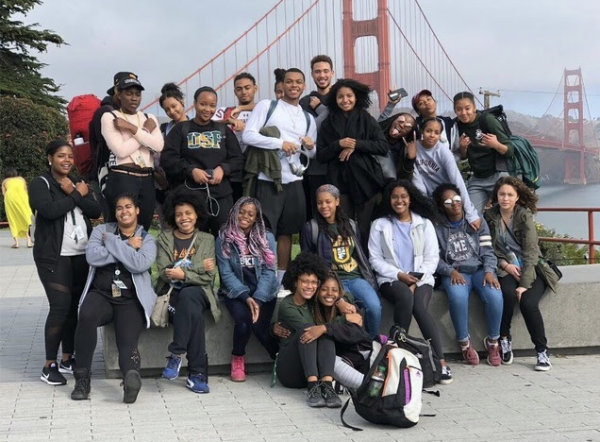 The Black Leadership Fellowship was a new and critical initiative offered through the Black Resource Center to develop Black students' understanding and practice of ethical leadership through a year-long program providing fundamental skills, frameworks, and strategies needed to create an equitable and ethical impact as a leader. Black students achieved this through a two-day leadership retreat, year-long personal and leadership development workshops, and a 6-8 week summer internship with a Bay Area organization.
Lead Offices on Campus
Black Achievement, Success, and Engagement (BASE) Initiative
Black Resource Center
Black Living-Learning Residential Community
Black Scholars Program
Other Campus Partners
Campus Housing
Individual faculty and staff (mentors)
Purpose of the Fellowship
The Black Leadership Fellowship:
Enhanced students' individual personal growth and capacity to create change
Empowered Black students with the tools to reach their full leadership potential
Strengthened the engagement of Black students at the University and the surrounding Bay Area community
Created pathways for Black students to move successfully through their University careers and into rich and rewarding professional careers
Built a more inclusive, equitable, and diverse group of campus and national leaders practicing ethical leadership
What is Ethical Leadership?
Ethical leaders champion value-based approaches in their personal and professional lives in service of the common good. Ethical leaders are driven by respect for ethics and values, as well as the rights and dignity of others. The concepts of honesty, authenticity, integrity, trust and fairness are all critical to ethical leadership.
What are the benefits of the Black Leadership Fellowship?
Learning a values-based approach to leadership 
Recognizing your own assets and value  
Networking among aspiring and practicing student leaders
Developing supportive relationships with community mentors and industry leaders
Securing fellowships with an organization of your choice
6-8 weeks of Summer Housing
Stipends up to $2000
Who participated?
The Black Leadership Fellowship was open to select rising sophomore students who were interested in developing and practicing a value-based approach to ethical leadership over the course of one academic year at USF.  We looked for students that are committed to our mission, to engaging with value-based organizations, and to bringing their whole selves to the experience of this program. 
Expectations of the Black Leadership Fellowship Program
The fellowship ran from September 2021 through July 2022. Upon summer internship placement, fellows received a stipend of up to $2000 and were offered USF Summer Housing for 6-8 weeks. BASE staff assisted students with finding the right fellowship opportunity to match their interest and skill sets.
Students were expected to:
Attend the two-day leadership retreat held in September 2021
Attend all quarterly personal growth and leadership development workshops throughout the year
Be able to work a minimum of 20-30 hours/week with a for-profit/non-profit organization.
Connection to the Jesuit Foundation Mission
The Black Student Leadership Fellowship integrates cura personalis, magis, and a faith that does justice.  The program attends to the holistic development of Black students, including cultivation of scholarly and professional skills, development of reflective practice, construction of a support network on and off campus, and funding to pay for students' housing and living expenses during the summer. Through the program, USF cares for the students while also supporting them in caring for themselves. Further, the curriculum on leadership, combined with the direct practical experience of community engagement through the summer internship will build students' capacities to implement a sustainable praxis that combines social analysis and action. Students will learn explicitly through practices informed by Ignatian spirituality, guiding them to determine the intersections of their own faith traditions, the urgent social issues and needs of our community, and their individual gifts and talents. 
Timeline
November 2020: Recruit local leaders and summer placement opportunities 
Spring 2021: Development of Program Components & Application Process 
May 2021: Application Deadline 
Fall 2021: Fellowship Launch 
Fall 2021 and Spring 2022: Personal Growth and Leadership Development Workshops 
Summer 2022: Summer Fellowship