In Memoriam:
Fr. John J. Lo Schiavo, S.J.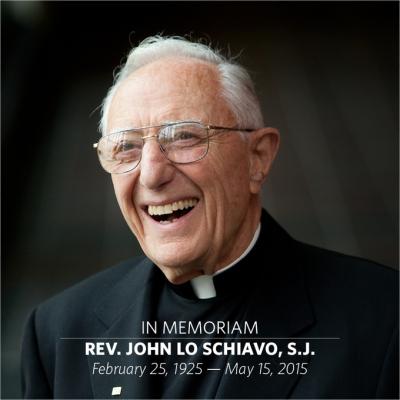 Remembrances:
Obituary:
John Lo Schiavo, S.J., 90, former president of the University of San Francisco who presided over a financial, academic, and co-curricular resurgence of the university, died peacefully on Friday, May 15, 2015, in the infirmary at Sacred Heart Jesuit Center in Los Gatos.

Fr. Lo Schiavo was born in 1925 to Italian immigrants in San Francisco, graduated from Star of the Sea Grammar School and St. Ignatius High School, joined the Society of Jesus in 1942, and later earned bachelor's and master's degrees in philosophy from Gonzaga University, and an licentiate of sacred theology from Alma College in Los Gatos. His 65-year association with USF began in 1950, when he became an instructor of philosophy.

His career path soon took him into administration. He served as vice principal of Brophy College Preparatory School in Phoenix from 1958-1961, as USF's dean of students from 1962-1966, and as USF's vice president for student affairs from 1966-1968. This was followed by a seven-year term as president of Bellarmine College Preparatory School in San Jose. During much of his time at Bellarmine, he simultaneously served on the USF Board of Trustees, including chairing the board from 1970 to 1973. When Fr. Lo Schiavo was elected USF's 25th president in 1977, he had a deep appreciation for the institution's great legacy in San Francisco, as well as the many challenges it faced.

Chief among the challenges at USF when Fr. Lo Schiavo became president was the institution's precarious financial situation, including a deficit of $1.7 million and an endowment of only $4.6 million. Under Fr. Lo Schiavo's leadership, an accurate accounting system was established and the REACH capital campaign was launched. The campaign brought in $26.8 million by 1982, USF's largest fundraising effort to that date. This enabled USF to add a wing to the School of Law's Kendrick Hall and to purchase the Lone Mountain College property, one of the most significant land acquisitions in the institution's history. Another capital campaign, which raised an additional $18 million in the mid-1980s, underpinned the construction of the Koret Health and Recreation Center in 1989.

Fr. Lo Schiavo's presidency was also marked by significant growth in the university's endowment (from $4.6 million in 1976 to $38.7 million in 1991) and by the elimination of the university's long-standing cumulative debt. Beginning in 1980, every annual budget under Fr. Lo Schiavo was balanced, and by the time he left office in 1991, USF was on a solid financial base.

A host of new academic programs was developed during Fr. Lo Schiavo's presidency, including degrees in hospitality management, Judaic studies, Asia Pacific studies, sport management, and nonprofit organizational management. Fr. Lo Schiavo was instrumental in the development of the College of Professional Studies (now merged with the School of Management) in the early 1980s, and he initiated the development of the Center for the Pacific Rim.

No issue during Fr. Lo Schiavo's presidency gained more attention than did his decision to suspend the university's Division I men's basketball program in 1982. A former all-city basketball player at St. Ignatius High School, Fr. Lo Schiavo felt he had no alternative but to suspend the program after repeated violations of National Collegiate Athletic Association (NCAA) rules. These violations predated Fr. Lo Schiavo's administration and extended into his term of office. His decision, premised on ethical principles, was strongly supported by university trustees and executive officers. After the decision was announced, hundreds of letters poured into the university, more than 90 percent in support the president's action. Editorials were published throughout the nation regarding Fr. Lo Schiavo's decision, the vast majority of which were highly laudatory. In 1985, Fr. Lo Schiavo restored the basketball program under new leadership and more stringent guidelines. More than 30 years later, Fr. Lo Schiavo's decision to suspend the university's basketball program is still being referenced in articles examining ethics and sports.

Fr. Lo Schiavo stepped down as president in 1991 after 14 years. Following in the footsteps of Fr. Charles Dullea, Fr. Lo Schiavo became USF's chancellor, serving as a significant leader in alumni relations and fundraising. The John Lo Schiavo, S.J., Center for Science and Innovation, which opened in 2013, is a high-tech facility with state-of-the-art science laboratories in the heart of the campus. It is a lasting memorial to one of the university's greatest leaders.

As iconic to San Francisco as the Golden Gate Bridge, Fr. Lo, as he was affectionately known, was gracious, funny, with a knack for naturally connecting with people. He touched more lives than anyone in USF's storied history, presiding over countless funerals, baptisms, and marriages for generations of San Franciscans, saying mass regularly for the Carmelite nuns, and golfing with civic leaders and friends.

Fr. Lo Schiavo was recognized by many organizations with awards for his leadership, service, and integrity. These awards included the Torch of Liberty Award from the Anti-Defamation League of B'nai B'rith, the Unity Medal from the United American Hebrew Congregation, and the Koret Foundation prize for contributions to higher education. In 2004, Fr. Lo Schiavo received the USF Alumni Association's first Lifetime Achievement Award. The award was named in his honor, and future recipients of the John Lo Schiavo Lifetime Achievement Award will be individuals who exemplify the Jesuit ideals of courage, integrity, and selflessness and have acted on their convictions for the benefit of others irrespective of personal sacrifice.

In a letter to the USF community announcing his retirement from the presidency, Fr. Lo Schiavo addressed the university's legacy and promise for the future. "Catholic education is more relevant today than ever before," he wrote. "The need for moral and ethical standards in every sector of modern society has never been more evident."

He is preceded in death by his parents, Joseph and Anna, and his sisters, Lina and Josephine. He is survived by his cousins Gina Asaro Busalacchi, Mary Asaro, Mary Duryee, the Honorable Lynn Duryee, Sam Re, Sal Re, and other Re cousins who reside in Alabama, Arizona, California, Florida, Rome (Italy) and the Island of Salina.

A Vigil Service will be held Monday, May 25 at 7 p.m. at St. Ignatius Church on the campus of the University of San Francisco at 650 Parker Avenue, San Francisco, 94118. A Requiem Mass will be held at St. Ignatius on Tuesday, May 26 at 11 a.m., with a reception following.

In lieu of flowers, contributions may be made to the John Lo Schiavo, S.J. Endowed Scholarship Fund. Donations may be made... by calling USF's Office of Annual and Special Giving at (415) 422-6638.  To Plant Memorial Trees in memory, please visit our Sympathy Store.
Published in San Francisco Chronicle from May 16 to May 17, 2015.