Black History Month, February 2023
This page honors the University-wide events, programs, conversations and opportunities to celebrate Black History Month. The events will be updated throughout the end of February. Please check this page regularly to celebrate Black Joy, culture, community, strength, and Black futures.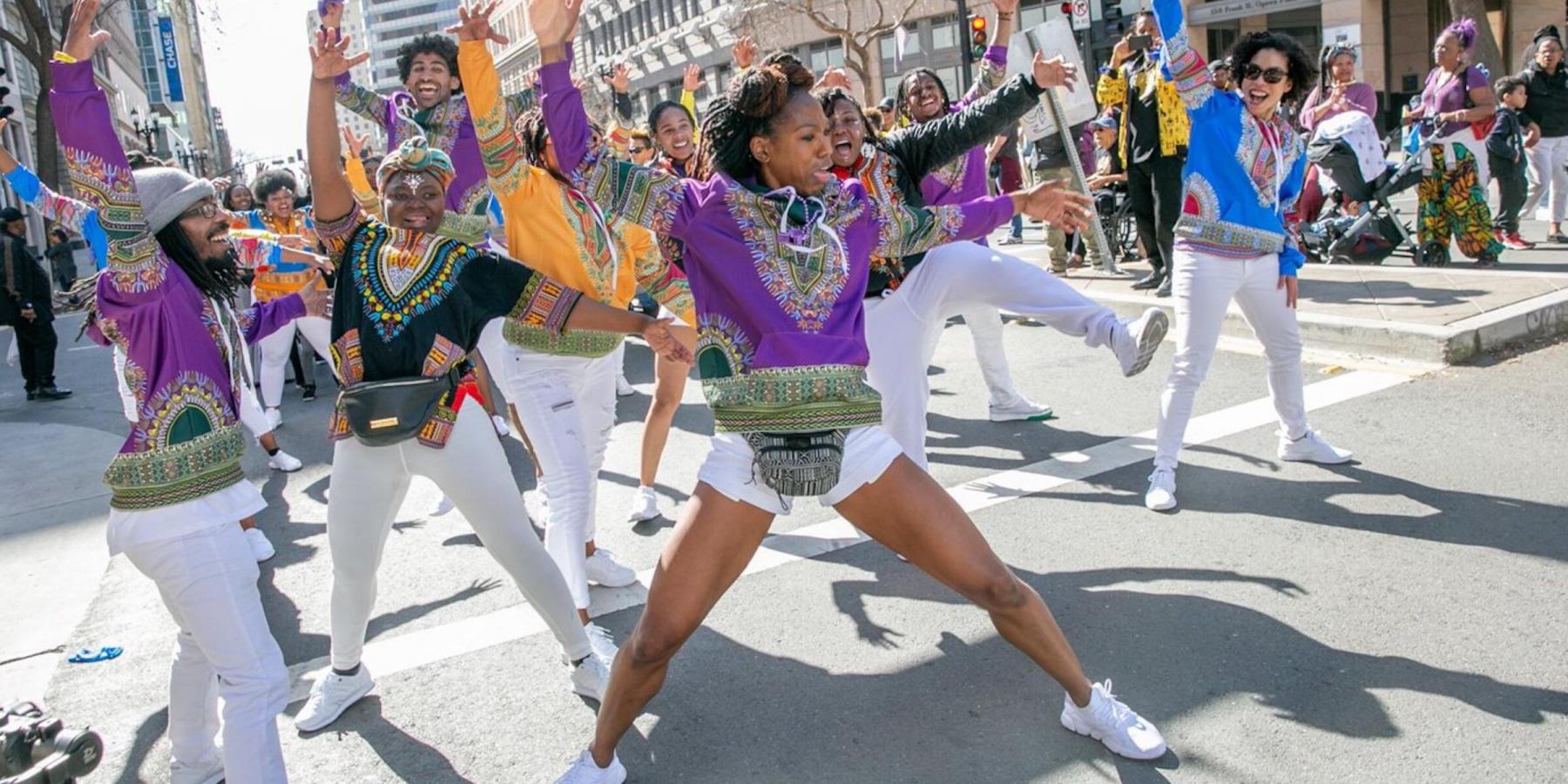 Join students, staff, faculty, and the USF Black Alumni Society at the Black Joy Parade.
Realizing the Beloved Community in a World of Ecological Peril
Date: Thursday, January 26
Time: 11:45 am - 12:45 pm
Location: McLaren 251 / Zoom
Office/department: USF Institute for Nonviolence and Social Justice
Join us for a community gathering to carry forward the vision of Beloved Community shared by Dr. Martin Luther King, Jr. and Thich Nhat Hanh, by Pope Francis in Laudato Si', and by all of us united in the struggle to protect the earth we share with all beings.
Panelists and Discussants:
The Rt. Rev. Marc Handley Andrus, bishop of the Episcopal Diocese of California; Pastor, Grade Cathedral; and author, Brothers in the Beloved Community: The Friendship of Thich Nhat Hanh and Martin Luther King Jr.
Fr. Paul J Fitzgerald, President of the University of San Francisco
Dr. Chinyere Oparah, USF Provost and Vice President of Academic Affairs 
Dr. Sheila Smith McKoy, USF Vice Provost of Equity, Inclusion and Faculty Excellence
Jonathan D. Greenberg, Director, USF Institute for Nonviolence and Social Justice
Dr. Kouslaa Kessler-Mata, Associate Professor in the USF Politics Department, member of California Governor Newsom's Truth and Healing Council, and co-founder of the California Indian Land Institute.
My Beautiful Black Hair Community Forum
Date: Thursday, February 2
Time: 6:00 - 8:00 pm
Location: Fromm 115
Office/department: BASE
Contact: Emille Lawrence
Come to a community forum led by filmmaker and author, St. Clair Detrick-Jules, on hair as an entry-point for conversations on self-love, anti-Blackness, healing from racial trauma, feminism, and more. Food will be served. All are welcome.
Lyricist Lounge
Date: Friday, February 10
Time: 7:00 - 9:00 pm
Location: UC 4 Lounge
Office/department: Cultural Centers
Contact: Ann Le
Lyricist Lounge is a monthly open-mic night hosted by our Lyricist Lounge & Arts Intern, Brandon Gagante. In the month of February, Lyricist Lounge is centering Black student voices in conjunction with BHM.
This space for student expression is an outlet for their stories of triumph, joy, sorrow, and community. Students often perform in spoken word, rap, comedy, or singing. Lyricist Lounge is centering Black student voices in conjunction with BHM. The theme for this Lyricist Lounge is "Heroes." They could be historical figures who've made impacts on our reality, community members who try to leave the world a little bit better than it was each day, or they could be the friends and family who always do what they can to support you. Regardless, they are people we can rely on. Even if we don't acknowledge it, sometime in our lives we serve as heroes for other people as well. This Lyricist Lounge we ask you, what makes a hero to you? What forms them? We encourage you to tell their story, to celebrate, give gratitude, or even comfort the hero you recognize in your own life. Students are free to align their performance with the theme or not, there's no strict barrier. 
Drumbeats, Heartbeats: Communities as One, A celebration of Black History Month and the Lunar New Year
Date: Wednesday, February 15, 2023
Time: 5:00PM
Location: San Francisco Public Library, Koret Auditorium, 100 Larkin Street
This event is in partnership with The Human Rights Commission and the San Francisco Public Library, along with the Booker T. Washington Center, Both Sides of the Conversation, USF's Leo T. McCarthy Center, the APA Heritage Foundation, and the Chinese Historical Society of America. 
BHM Drop-In Spaces @ Gender & Sexuality Center
Dates: February 24, 2023
Time:1:00 PM - 2:00 PM
Location
: Gender and Sexuality Center Room, UC 413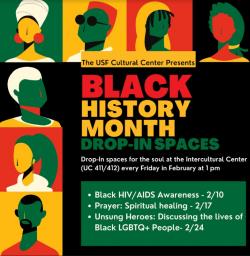 How are you celebrating Black History Month on campus? The Cultural Centers are hosting our last Black History Month Gender & Sexuality-themed drop-in space on February 24th in room UC 413. This week's theme will be discussing the unsung heroes in the Black LGBTQ+ community from the civil rights movement to now. You won't wanna miss out on these rich discussions and community!
Please feel free to invite your community on campus!
BHM_Black Graduate Students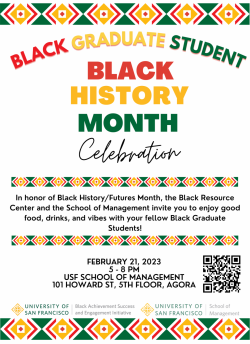 Dates: Tuesday, February 21, 2023
Time:5:00 PM - 8:00 PM
Location
: USF School of Management, 101 Howard Street, 5th Floor AGORA
In honor of Black History / Futures Month, the Black Resources Center and the School of Management invite you to enjoy good food, drinks, and vibes  with your fellow black graduate students  
Tales of the Town- Film Screening & Panel
Date: Wednesday, February 22, 2023
Time: 6:00 pm
Location: FR 120 - Xavier Auditorium
Join us for a short film "Tales of the Town: The Film" screening and a panel discussion featuring the Co-Founders of People's Programs, Abbas Muntaqim and Delency Parham.  This short poetic documentary captures the spirit of The Town and the experiences of the community, the landscape, and generations of Oaklanders.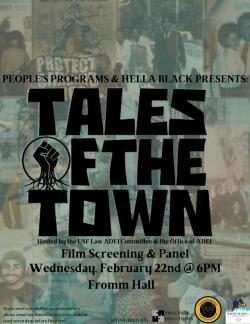 For further questions, please contact atesfaye2@usfca.edu
If you need disabilities accommodation, please email lawstudentaffairs@usfca.edu at least 7 days before the event.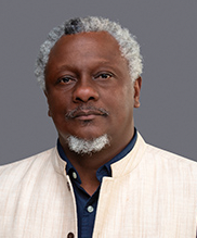 Robert Moses, Distinguished Artist-in-Residence and Associate Professor, Performing Arts
Choreographer, Writer and Composer Robert Moses has created over 100 works of varying styles and genres for his highly praised dance company, and has composed many of the sound and narrative scores for his works since 2008. Moses has choreographed for dance, opera, and theater companies including Alvin Ailey American Dance Theater, San Francisco Opera, Olympic Arts Festival, Ailey II, Philadanco, Lorraine Hansberry Theater, Cincinnati Ballet, Eco Arts, Transitions Dance Company of the Laban Center in London, African Cultural Exchange (UK), Bare Bones (UK), Oakland Ballet, New Conservatory Theater, Los Angeles Prime Moves Festival (L.A.C.E.), Moving People Dance, and Robert Henry Johnson Dance Company, among others. Prof. Moses is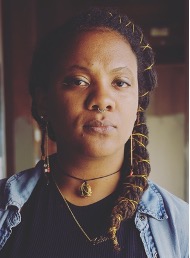 Rivka Valérie Louissaint, Art + Architecture, College of Arts & Sciences
A graduate of the California College of the Arts BFA program and the University of California, Berkeley's MFA Program in Art Practice, Rivka is a rising Haitian artist who powerfully deals with questions of race, capitalist critique, and social justice in her studio practice and teaching. The recipient of UC Berkeley's prestigious Outstanding Graduate Student Instructor Award in 2022, she has already exhibited her mixed-media work in solo and group exhibitions in the Bay Area and New York City, including at the Hubbell Street Gallery, SOMArts Cultural Center, and the Yerba Buena Center for the Arts in San Francisco. She received the prestigious Gerardo Marin Fellowship at USF in 2022.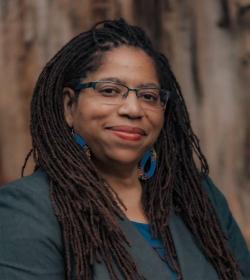 Sheila Smith McKoy, Vice Provost, Equity, Inclusion and Faculty Excellence 
Sheila Smith McKoy is Vice Provost of Equity, Inclusion and Faculty Excellence. Dr. Smith McKoy leads the university's efforts in advancing ADEI (Antiracism, Diversity, Equity, And Inclusion), shared governance, and other strategic diversity initiatives for the university. She is responsible for assuring that USF's commitment to inclusiveness is reflected in the faculty experience, including faculty development, recruitment, retention. Dr. Smith McKoy works with schools and colleges on teaching excellence, research and creative endeavor, tenure and promotion of faculty and librarians. She also partners on initiatives and programs focused on student inclusiveness, diversity and belonging. Prior to joining USF, Dr. Smith McKoy served as Provost and Vice President for Academic Affairs at Holy Names University. She also served academic leadership positions at Kennesaw State University, North Carolina State University, and Vanderbilt University. As a consultant, she also worked with universities, colleges, and community colleges to build and support equity processes. In addition to her work as a higher education leader, she is a scholar, poet, fiction writer and filmmaker.
Black Joy @USF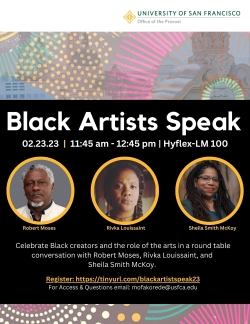 Date: Friday, February 24
Time: 5:00 pm
Location: McLaren 250
Black Joy is an event where Black talents on campus are showcased. Join us for a night of performances, food, giveaways, and more.
Throughout Black History Month
Black Mental Health Matters Group
Date: Thursday, January 26 - Thursday, February 23
Time: 1:15 - 2:45 pm
Location: Zoom
Office/department: Counseling and Psychological Services 
BMHM is a therapy space for Black scholars where we connect, support, and hold dialogues on multiple aspects of Black Mental Health.
Black Resistance: A collaboration between Gleeson Reference and Outreach Student Assistants
Date: Wednesday, February 1 - Tuesday, February 28
Time: All day
Location: Gleeson Library, Reference Nook
Office/department: Gleeson Library
Contact: Chanda Briggs
This collaborative display is a retrospective of Black Resistance through many modalities. This will be accompanied by performances, spoken word, and an in-person panel discussion. The dates for these events will be announced on Gleeson LIbrary's social media accounts.
BHMH includes mindfulness meditation practices and group exploration focused on leaning into our ancestral strengths, finding empowerment through intersectional identities, and re-envisioning self care to represent self-soothing, acceptance, self-compassion, and internal systemic rebellion.
Off campus events
 
To Celebrate Black Joy: Oakland Edition
Date: Sunday, February 26
Time: 11:00 am - 1:00 pm
Location: Oakland Museum of California 
Office/department: BASE
Black faculty, staff and students are invited to connect and celebrate Black art at the Oakland Museum of California. Afterwards, join us at the annual Black Joy Parade through the streets of downtown Oakland. RVSP required for complimentary museum ticket.
Northern California Fulbright Chapter-In-Person MOAD Tour
Date: Friday, February 24
Time: 12:00 - 1:00 pm
Location: Museum of the African Diaspora (MOAD)
Office/department: School of Management
Contact: Monika Hudson
This includes a docent-led tour of MOAD, an introduction to the Fulbright Association, and opportunities for students to engage with Fulbright representatives.
Black Joy Parade, USF Black Alumni Society Contingent
Date: Sunday, February 26
Time: 12:00 - 7:30 pm; parade from 12:30 - 2:00 pm
Location: Downtown Oakland, near the 12th St. BART stop
The University of San Francisco Black Alumni Society will be marching in the parade in Downtown Oakland as a contingent. Students, faculty, staff, librarians, and alumni are invited to join at no cost.