2022 Conference Program
The goal of this conference is to provide an intergenerational space for womxn of color to come together to build individual and community capacity towards justice. This year we want to reaffirm our commitment to providing a space committed to racial justice. These current times are challenging and we recognize that our current moment requires us to uplift and center the voices and experiences of those that are most marginalized.
Keynote Speaker: Zamora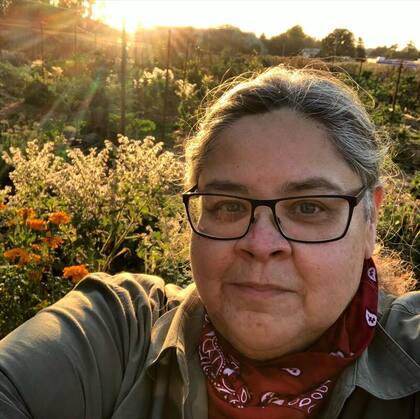 Zamora is a Two Spirit Yaqui and Tongva community educator, organizer and drumkeeper. Zamora has been honored to learn from other singers, drummers, and drum elders through Native women's drumming circles, sharing prayers, songs and traditions.  Z has been a ceremonial singer for many years in their Two Spirit prayer community. After years of drumming with Turtle Women Rising and the BAAITS Drums, Zamora is now the drumkeeper for the Wakan Wiya Two Spirit Drum. Wakan Wiya and Zamora are co-founders along with Lorena Pena, of Casa Tia Luna, a medicine house of healing for our BIPOC communities. Z also serves as drumkeeper for Spirit Root Medicine People: Indigenous Two Spirit Lifeways, an Indigenous BIPOC wellness project for Two Spirit TGNC LGBQIA+ community based in the Bay Area. Zamora has worked in community-based non-profits in grant management, and has taught college classes in Chicana/o Latina/o and Latin American Studies, QPOC Queer Theory, & Oral Traditions of the Americas at CSU East Bay, University of San Francisco and Stanford University. She is currently administrator for the Department of Race, Gender and Sexuality Studies at Mills College. Follow Casa Tia Luna on Casa Tia Luna on Facebook and Instagram. Follow Spirit Root Medicine People on Facebook and Instagram.
Session Block Descriptions
Session Block 1: Self-Care | 11:10 AM-12:00 pm
Movement has the potential to alleviate symptoms of mental disorders. Functional movement is a program designed to bring awareness to the body-mind connection. Through Pilates, we will work to develop a deeper connection to your body and how this deeper understanding can lead to a healthy mind.
Facilitator: Aikaeli Kitilya (she/her/hers)
Aikaeli Kitilya or Aika (eye-cuh) as she prefers to be called, joined the Health Promotion Services team back in 2020. She comes from a health and fitness background where she has been a Pilates instructor for the past 7 years. Originally from Southern California, Aika moved to San Francisco to receive her Masters in Public Health and Master's in Science in Behavioral Health from the University of San Francisco achieving this goal in August 2020. She enjoys working closely with students and is always excited to talk about all things health!
Join this space to learn how music is a self-care liberated practice and how we all use music for self-care. We will form community within each other as we navigate this journey together.
Facilitators: Blanca Moncada (she/her/ella) & Carmen Gonzalez (she/her/ella)
Blanca Moncada is an Assistant Residence Director on campus in the Lone Mountain North Residence Hall and Saint Anne's Graduate Housing. She is also a first-year graduate student in the Higher Education & Student Affairs Masters program. Blanca recently graduated from Santa Clara University with her Bachelor in Ethnic Studies and Psychology. Her identity as a first generation, Latinx, Central American, non-Black woman of color affirms her passion for creating equitable spaces and resources for BIPOC students in higher education. Her passions lie within social, racial and gender justice, first-generation student experiences, diversity, equity, and inclusion. 

Carmen Gonzalez serves as the Assistant Residence Director (ARD) for Gillson Residence Hall within the Office of Community Living. Carmen is originally from San Diego, CA, and identifies as a first generation Latinx woman. Carmen has recently graduated from California State University, Fullerton (CSUF), with two Bachelor degrees in Criminal Justice and Sociology. Carmen is currently enrolled in the Higher Education & Student Affairs (HESA)  program at the University of San Francisco (USF).  Her passions lie within social justice, higher education, and more.
A big part of self-care is learning to love yourself, in whatever form that takes. The first step towards that self-love journey is learning to listen to your needs and honoring who you are as a person. In this workshop, we will be practicing writing love letters to ourselves and getting comfortable with showing ourselves love in different ways.
Facilitators: Soumya Ayelasomayajula (she/her/hers) & Zonia Diaz (she/her/ella)
Soumya Ayelasomayajula is an Assistant Resident Director for Residence Life at USF and a second-year graduate student in the Higher Education & Student Affairs Masters program. She graduated in 2020 from Western Washington University with a degree in Human Services along with minors in Psychology as well as Education & Social Justice. Soumya identifies as a South-Asian immigrant and first-generation student which guides her passion for bringing social justice education and student development to higher education. Outside of work and school, some things Soumya does for self-care is eating good food, spending time with friends, dancing, and trying out new crafts like crocheting or painting.

Zonia (zo-nya) Diaz is an Assistant Residence Director for the Office of Community Living and a second-year graduate student in the Higher Education & Student Affairs Masters program. After graduating from Sonoma State University, she spent her gap year working as the Inter-Club Council Advisor at the Santa Rosa Junior College and as a Preschool Teacher at Tiny Tots Petaluma. Her identity as a Queer Latina and first-generation student has impacted her passion in promoting a human first mentality, especially in challenging the generational trauma BIPOC communities hold. Her passions lie within radical love, transparency, racial and social justice, and community engagement.
Session Block 2: Community Care | 12:10-1:00 PM
Family. Friends. Neighborhood. School. Work. Hobbies. Volunteer. Social. Civic. Spiritual. These are just a few of the "bubbles"of communities in which we often float. Sometimes those bubbles intersect. But in many cases, womxn of color keep those bubbles separate, sometimes out of preference, other times out of self-preservation. We may not want others to "see" us beyond the self we choose to present in a particular bubble. By keeping the boundaries of our communities rigid, we may not be able to show up for our sisters of color or allow them to see us in our time of need. In this interactive workshop we will explore the ways in which we think of community; unpack what comes up for us when we think about seeing and being seen authentically across the community bubbles; and how we can take action to expand and re-imagine our definition of "community" to help advance womxn of color.
****Please come prepared to share an item that represents one of your identities. ****
Facilitators: Dr. Vanessa George (she/her/hers) & Dr. Monika Hudson (she/her/hers)
Dr. Vanessa George, Psy.D., MBA., is an organizational psychologist, executive coach and educator. She is currently Director of USF's Master's Program in Organization Development. Previously she spent over eight years as Associate Director of Graduate Career Management and Adjunct Professor in the School of Management at University of San Francisco. Vanessa has spent the past 15 years coaching and teaching women leaders/entrepreneurs strategies to advance their careers and grow their businesses through her work in higher education; leading community-based organizations dedicated to the advancement of women; and as an independent career consultant. Previously, Vanessa spent 16 years working in marketing and fundraising at leading organizations including Oracle, Pacific Bell/AT&T, Verizon, and Goodwill Industries. Vanessa received a BA in English Literature from Stanford, an MBA from Georgetown and a Doctor of Psychology in Organization Development from the California School of Professional Psychology. Her research focuses on the advancement of women of color in the technology sector.

Dr. Monika Hudson is an associate professor at the University of San Francisco and teaches entrepreneurship, family business, organizational behavior and public administration on both the graduate and undergraduate levels.  She directs USF's Gellert Family Business Center, which promotes and supports family firms in the Bay Area.  She is also the Area Coordinator for USF's undergraduate international business program.  Dr. Hudson's research interests include entrepreneurship, identity and behavior and the strategic implementation of the same within the private, public and nonprofit sectors.  Dr. Hudson received her undergraduate degrees from Northwestern University, Illinois; her master of business administration from the University of San Francisco; her doctor of business administration from Case Western Reserve University, Ohio; and her doctor of education from University of San Francisco.  A 2017-18 Fulbright Scholar, she is currently conducting entrepreneurship research in Cali, Colombia; Montevideo, Uruguay and Jinan, China.
As womxn of color, our experiences, feelings, and thoughts have been historically discredited and invalidated. It is time we disrupt this narrative. Through the use of storytelling, we will find meaning in our experiences, hope in our healing, and solace in one another. 
Facilitator: Adeline Diaz (she/her/hers) & Dulce Martinez (she/her/ella)
Adeline Diaz is a Graduate Student Coordinator for the Cultural Centers and a first-year graduate student in the Higher Education & Student Affairs Masters program. After graduating from Saint Mary's College, she spent her gap year serving as an Americorps VISTA member at St. Mary's Center in Oakland. Her identity as a Filipina-American first generation student has impacted her passion to co-create spaces centered on the needs of BIPOC students within higher education. Her passions lie within collective healing, social justice, racial equity, and community engagement.

Born in Mexico, Dulce Martinez grew up in the Bay Area where she attended College of San Mateo then soon after transferred to UC Riverside allowing her to get a B.A. in 2018. Being a first-generation undocumented Latina has influenced Dulce and motivated her to pursue a degree in Higher Education and Student Affairs Masters program at USF. As Dulce takes on her second year in the HESA program, she is currently working in the Cultural Centers as a graduate student intern, is part of the Working Group to Support Undocumented Students, as well as part of a graduate student organization, Dismantling Walls. When Dulce is not busy, she enjoys going on walks and binging on the latest shows and movies. 
This program will focus on intersectional environmentalism and it's connection with community healing. We will go through the development of intersectional environmentalism by touching upon topics such as ecofeminism, queer ecology, and eco-ableism. Throughout this discussion, we will be drawing parallels to the oppression of nature and womxn from years of living under a patriarchal, heterosexist, and racist society. By working together to heal the environment, we also heal our communities and ourselves.
Facilitators: Frances Capupus (she/her/hers) & Krystel Salvador (she/her/hers)
Frances Capupus is a current Senior Nursing major, minoring in Gerontology. She spends her time serving her community through the Culturally-Focused Clubs Council, as their Vice President of Marketing and Communications. She also works with the Northern California Pilipinx American Student Association as one of their Pilipinx Cultural Night Chairperson. You may also see Frances participating at Mabuhay Health Center, as their Fundraising Chair.

Krystel Salvador  is a Junior Nursing major. She is currently the Vice President of Community Development for the Culturally-Focused Clubs Council and Class Representative for Kasamahan. Through these organizations, she aims to serve not only her own community, but also other cultural organizations where she hopes to cultivate a space where individuals support, uplift, and empower each other while facing political, cultural, and social issues. Lastly, she also supports Camp Kesem as one of their Make the Magic Directors. 
Featured Performer: Lalin St. Juste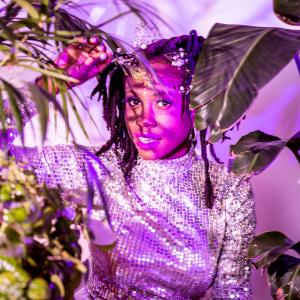 Her roots stem from the crossroads of the Western world. She has learned to dance with sounds slithering in her mouth; painting the world with the blood of words she births with ancestral magic. Commonly described as "mesmerizing" and "hypnotizing" when she performs, Lalin St Juste shifts the atmosphere with her voice, inviting you into her cosmic underworld.
Lalin has recently begun to devote more time to her solo work as an artist. In 2021 Lalin released her first solo recordings on 7000COILS, a queer + black owned record label she has co-founded that centers the African diasporic experience through the creation of intentional and innovative portals.
Lalin St Juste isn't one sound. Lalin is a range of experiences and emotions that are inviting you in. There is space for you and all that you feel in her offerings. She is more than a mood, she is both memory and future colliding in the present moment.