Debate Team
Rhetoric for Social Justice
Developing leaders through experiential education, competitive and non-competitive activities, and civic engagement.
Become a part of a team of outstanding students and compete in intercollegiate debate against the top University programs in the nation.
Engage in advocacy about social justice, government policy, philosophy, socio-economics, and much more. 
Take Rhetoric 298, "Practicum in Debate," and earn up to 16 units towards your degree.  
Travel to locations steeped in history and tied to event topics and themes. 
Lead dynamic campus events.
Collaborate with diverse individuals and become a thought leader. 
Develop empathy, worldliness, and eloquence as you grow as a scholar and speaker.
Be inspired by an extracurricular that law and grad schools look for.
No experience required!
Contact: Robert R. Boller, Ed.D. Director of Debate - boller@usfca.edu
---
Events
Debate has traditionally been a leading progressive community in promoting diversity and inclusion. At USF, this tradition persists and is reflected in our activities.  
Competitive events:
Civic Debate Conference
Northern California Forensics Association
World Universities Debating Championship (British Parliamentary)
National Parliamentary Debate
On Campus:
St. Ignatius Dialogues Civic Debate Tournament
Diversity in Campus Policing Forum
Open campus debates 
Upcoming Events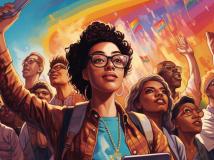 USF St. Ignatius Dialogues Debate tournament
Saturday, September 30, 8:00 AM - 5:00 PM
Fromm Hall – 120 - Xavier Auditorium
---
Our Values 
Discernment
Discernment is at the heart of Ignatian spirituality. Discernment is when you are pondering a difficult choice and there is a vacillation between reason and emotion, between logos and pathos.  Calm and respectful debate, free from hostility and ego, is akin to discernment. We reject the "debate as war" metaphor. We believe debate is a collaborative public dance of discernment.  
Cura Personalis
Cura Personalis is defined as: "Care for the whole person." Our talents, health, hearts, faith, and minds are all equally worthy of care and attention. USF Debate is where we integrate these qualities and learn how to argue for the values that complement the intellect. We seek to develop the whole person through competitiveness and cooperation, so we can be advocates for change.
Eloquentia Perfecta
We strive to be eloquent when communicating our values to change the world to be more just, inclusive, and supportive in the constructive clash of diverse points of view. We seek to "Change the World From Here."
---
Testimonials
We're a team of open-minded individuals that encourage diverse opinions" -  Nandika Murugavel, Business
 

 
My experience with the USF debate team has been nothing short of transformative. It has served as a treasured catalyst, significantly amplifying my commitment to compassionate, logical discourse, on a diverse range of pressing issues." - Peter Perry, Computer Science
 

 
Joining the debate team has been deeply rewarding. I am growing personally and forming a community with teammates that care about social justice.  I am developing useful logical and communicative skills that will give me an edge in my academic and professional career. I'm also having a ton of fun." - Kendrick Lacerda, Philosophy  
 

 
USF Debate offers a platform to diverse perspectives in an inclusive environment to create modern solutions towards a more equitable world" - Alana Beltran-Balagso, Politics