Core A2 Rhetoric & Composition Courses
All undergraduate students must complete a Core A2 Rhetoric and Composition course at USF to meet the graduation requirement. Completing this requirement may take 1-3 courses depending on Directed Self Placement* (DSP) results. Students can enroll in their rhetoric placement course any time during their years at USF except RHET 195 and RHET 295, which must be taken in the first or second semester. Please review the First-Year Seminars page for more info.
International students may be required to take AEM courses. Check your test scores page if you are an international student to see if you are eligible to complete DSP.
*Directed Self Placement does not critique and grade students' writing skills; rather, it allows students to make a self-assessment and pick a rhetoric placement that they think best fits their writing ability instead of being placed according to standardized test scores.
***Please note that some sections of RHET 195 are Public Speaking courses carrying core A1 credit. These Public Speaking versions of RHET 195 do NOT count as prerequisites to RHET 120. If you take a RHET 195 that carries Core A1 credit, you must still pass a writing course (RHET 110) in order to take RHET 120 or its equivalents.

The following Fall 2023 RHET 195 courses will count as a prerequisite for Core A2:
RHET 195 - 03: Language and Power
RHET 195 - 04: Women, Rhetoric, & Power
RHET 195 - 05: Writing about Human Rights
RHET 195 - 06: Language and Power

The following Fall 2023 RHET 195 courses are NOT part of the composition curriculum requirement and will only fulfill Core A1:
RHET 195 - 01: Sports Talk
RHET 195 - 02: Podcasts: Eloquentia & Audio
---
Our department has courses specially designed for transfer students. RHET 295 must be taken in the first or second semester. RHET 250 is a general writing class for transfers. Depending on transfer students' DSP results, they may start their rhetoric courses at RHET 106 or RHET 110, or they can go directly into a core A2 course.
We also offer core A2 courses specialized for certain disciplines. First-year students who have completed the prerequisite and transfer students may complete their core A2 requirement in the following courses.
---
There are core A2 courses required for certain majors. Please consult with your academic advisor if you have questions on your major requirements.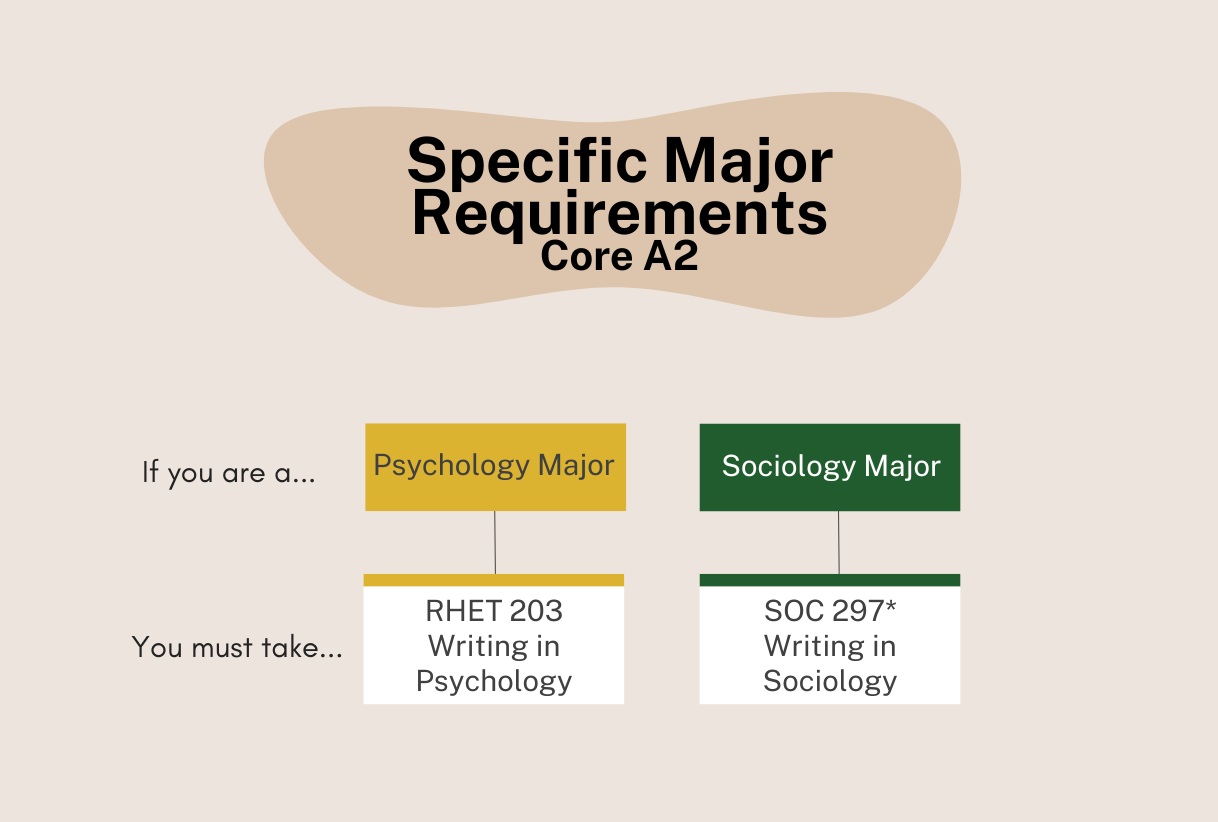 *Sociology majors should contact the Sociology Department with questions about SOC 297.
---