Environmental Justice - Get Involved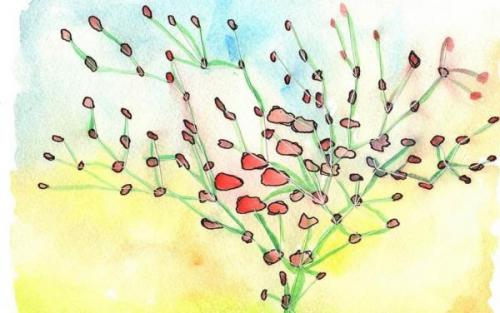 "Illustrating Regeneration" created by Professor Rachel Beth Egenhoefer,
Department of Art + Architecture
How to Support Environmental Justice Everyday
We can all become advocates and allies in this fight to ensure there's a redistribution of decision-making power back to vulnerable communities that are systematically impacted by environmental racism. We have provided a list of opportunities available at USF and in our community to either help you get started or to continue on the environmental justice journey.
All members of the USF and surrounding community are invited to join our weekly Garden Harvest Days on Thursdays, 11 am - 3 pm. Whether you are a seasoned pro or merely gardening curious, join us to learn new skills and meet new friends. And for your labor, you can go home with a bag full of fresh, organic produce from the garden.
Borrow seeds from the USF Seed Library
Volunteer for a local organization:
Keep SF clean with Refuse Refuse: A grassroots volunteer effort dedicated to trash-free neighborhoods.
Public Works has many opportunities for volunteers to clean and green San Francisco.
Together SF: A recurring opportunity to help keep Ocean Beach clean. Every Saturday, 10am-12pm.
Volunteer in a local SF park. Volunteers participate in a variety of park maintenance projects, including weeding, planting, mulching, habitat restoration, trash pickup, painting, and trail work.
Volunteer opportunities at Golden Gate National Recreation Area are as diverse and abundant as the natural and cultural resources of the park.
Challenge Yourself
Go waste free by refusing single-use disposables and choosing reusable options whenever and wherever possible
Go plastic free! Here are 100 ways. Refusing single-use plastic products is a great start. When considering options, glass, aluminum, and stainless steel are more easily recycled than plastic. Sustainable materials such as bamboo and hemp are compostable and rapidly renewable.
Personal challenge: Can you reduce your meat consumption by one day a week? More? Try Meatless Monday or go Vegan before 6. Guide to ideas on CO2 impact,
Recycling
SF Residents, Hilltop and Downtown campus employees can refer to sfrecycles.org. SF residents can request a free compost pail.
Recycling and Composting information for residents in:
Avoid wishcycling! Recycle and compost according to what is locally accepted by your community's resource recover program:
Home
Conserve water with these easy tips! Upgrade your fixtures with water saving devices:
Consider switching to 100% renewable electricity at home through your local Community Choice Aggregation program.
Own your own home? Consider replacing old gas appliances with efficient, all-electric appliances and apply for home and electrification rebates through BayREN.
Commute, Cars, and Travel
Bike or take public transportation. Rather than purchasing a personal vehicle, use a car share option, if you only drive occasionally.
If you do purchase a personal vehicle, consider an electric vehicle or plug-in hybrid. You may qualify for federal income tax credits as well as state and local rebates. PG&E offers a helpful electric vehicle comparison tool as well as a map of public charging stations in the Bay Area.
Consider buying carbon offsets when you travel.
Community