Go Move Challenge: February 1–28, 2023
Calling all faculty and staff! Help USF win the 11th annual Go Move Challenge by recording your minutes of movement to determine which Jesuit institution is the most active. With 23 Jesuit universities and colleges participating this year, including the AJCU staff, every minute truly counts!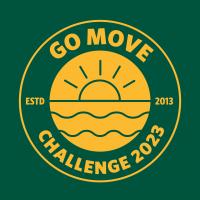 How to Join the Challenge
You must create a new account each year that you participate
Visit www.GoMoveChallenge.org
Click LOG IN / REGISTER on the top menu bar
In the REGISTER box, enter your valid university email address and other required information; then click SUBMIT 
You will receive a confirmation email with your user email and password
How to Log Your Minutes
Starting Feb. 1, visit www.GoMoveChallenge.org
Click LOG IN / REGISTER on the top menu bar
In the LOG IN box, enter your email address and password
In the LOG MY WORKOUT box, select the type of movement activity, enter the number of minutes, and select a single date or date range for logging multiple days
Click LOG IT
Keep moving and logging your minutes until Feb. 28
How to Win
There are three possible ways to win: (1) the university with most minutes (2) the university with the highest average number of minutes per participant and (3) the region with the most minutes. The winning institutions will be announced on the www.GoMoveChallenge.org website.
Challenge Rules and Tips
When you register, be sure to include your department. We will have shout outs throughout the month to the departments who are standouts.

Looking for a way to build camaraderie and have fun? Create a team of up to five players to help motivate each other. The team that averages the most number of minutes at the end of the challenge wins a prize!

If you are one who prefers to write down their exercise and track when convenient, please use this handy dandy exercise tracker

.

Did you know that Koret offers over 30 fitness classes a week? Check out their schedule. They have something for everyone.
Check out the Go Move Challenge resources webpage for suggestions on how to get and stay moving throughout the month.
In this challenge, we are tracking intentional minutes. Looking for examples? Check out our exercise list.
Have questions? Check out the Go Move Challenge FAQ or email Suzy Kisylia.
Enjoying the challenge? Contact GoUSF to receive weekly emails with wellness opportunities throughout the year!
Prizes, Prizes, Prizes
Who gets prizes? The biggest prize of all will be if USF can win the challenge. However, we know material incentives help. So, the USF team with the highest average number of minutes at the end of the month win a prize. In addition, we will have a weekly drawing where five people a week win a prize that can be picked up on campus. If you have logged at least 200 minutes for the week, you will automatically be entered.
Terms and Conditions    
By participating in this challenge, you agree to the following:
I agree to log my minutes honestly, demonstrate good sportsmanship, and have fun!
I certify that I am a faculty, staff, or board member of a Jesuit university or college.
I certify that I am in good physical condition and am able to safely participate in the Go Move Challenge. I understand that my involvement in this Challenge as a faculty or staff member of my university shall be construed as a strictly personal, voluntary activity and not part of my faculty or staff member responsibilities or job duties as an employee, agent, or volunteer of the university.
Questions? Email Suzy Kisylia, the GoUSF Senior Wellness Manager.