2021 Go Move Challenge: Week Three Recap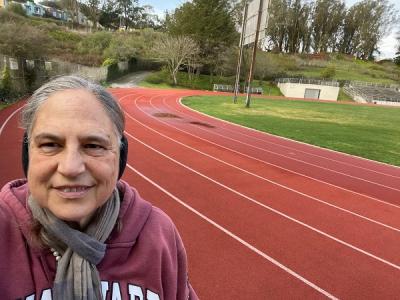 Published February 19, 2021
Hello, fellow movement enthusiasts! There are only nine more days left in the challenge. Remember to track all of your minutes by Sunday, 2/28 at 11:59pm. This year we will have the grace period of Monday, 3/1, 11:59 p.m. to track our final minutes. In the meantime, check out the Go Move Challenge leaderboard for the latest and greatest numbers. Despite the additional challenges this year, including extreme winter weather, Mardi Gras being cancelled and the limited or non existent use of university rec centers, we finding more creative ways to move. Our collective numbers are impressive. More than 2000 participants from 23 Jesuit Institutions have accumulated in excess of 1.5 million minutes of activity!  Let's make 2 million minutes our collective goal!
Participants share their creative ways they've been moving:
Molly Paige, Creighton University, was finally able to get a run outdoors with the weather reaching the teens, not including wind chill!
At Spring Hill College, participants are invited to participate in Yardi Gras, a parade of walking to view homes and yards that are decorated for Mardi Gras, since the annual festivities have had to be canceled.
For our Mid-West and East Coast institutions, shoveling snow has been a common theme.
Janice DeMonsi, Santa Clara University, shares, "

Parking lot strength classes are all the rage in Northern California- thankful we do not battle snow and negative temps- was cold at 6:00 am & it was 35 degrees!

"
Matt Chesley shares, "

Detroit got a solid 7 or 8 inches, but campus is cleared enough to make it to the fitness center. You just have to brave the 14° air."
Leaderboard - Change to the Regional Home Page
The regional home page is now based on average number of minutes rather than total minutes. This has leveled the playing field! The leaderboard is ever changing, so visit the Go Move Challenge website to see the most current standings! To date, the top universities with the most minutes by region are:
East Coast: Fairfield University
Midwest: Marquette University
West Coast: Santa Clara University
South: Xavier University
Share Your Experiences
Alexandra Amati, USF, has consistently been our #1 athlete
for the past 3 years of the Go Move Challenge. She shares what she's doing to rack up her minutes...
Actually for me since Covid started I have exchanged commute time with more exercise. I start my day by going to the track of a high school nearby and run or walk briskly for about an hour/an hour and a half. Then if I have zoom meetings like faculty meetings or board meetings, I will often "walk them" meaning I attend from my phone while doing laps in the track. In the late afternoon I will then either take a salsa class (outdoors in a basketball court or on zoom) or go on a further walk or hike (my favorites are walking from glen park down and back up to Clipper and then back, or walking up and down Glen Canyon. Weekends are often 2-3 hour walks on Ocean beach.
Alexandra is a true inspiration for our USF community!
How was Go Move inspired you? What have you been doing to stay active? We would love to hear from participants from every institution! Remember to share your stories and follow us on social media.
Weekly Recaps
As we have been reporting each week, participants have been as excited as ever to share their feedback on how the Go Move Challenge has positively influenced their month of February and beyond. If you missed any stories from previous weeks, you can access them, along with pictures, at any time:
There are nine more days to go before the winning institutions are announced! Keep moving and logging your minutes. If you have any questions, please contact the Go Move Challenge administrator, Suzy Kisylia, at skisylia@usfca.edu.