Lo Schiavo Chair in Catholic Social Thought
The Lo Schiavo Chair in Catholic Social Thought is an endowed professorship for distinguished scholars who promote the Jesuit, Catholic character of USF through research and teaching. The chair is a joint appointment between USF's Department of Theology and Religious Studies and The Joan and Ralph Lane Center for Catholic Social Thought and the Ignatian Tradition.
"The task of the Jesuit university is to be that place where the Church and world sit down to speak to one another."
-REV. STEPHEN SCHLOESSER, S.J., LO SCHIAVO CHAIR IN CATHOLIC STUDIES AND SOCIAL THOUGHT, 2005-2007
2020 LO SCHIAVO CHAIR: 
Mary Johnson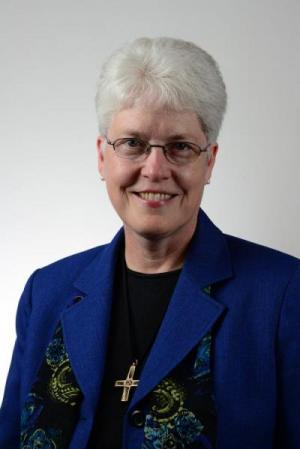 Sister Mary Johnson is a Sister of Notre Dame de Namur and a Distinguished Professor of Sociology and Religious Studies at Trinity Washington University in Washington, D.C.  At Trinity, she is also co-director of the Billiart Center for Social Justice. Previously she was on the faculty of Emmanuel College in Boston. She holds Research Associate status at the Center for Applied Research in the Apostolate (CARA) at Georgetown University.

Sister Mary holds an M.A. and Ph.D. in Sociology from the University of Massachusetts at Amherst, and a B.A. from Emmanuel College. She speaks nationally and internationally on issues related to Catholicism, religious life, and Catholic Social Teaching. She has authored numerous articles and book chapters, and has co-authored three books: Young Adult Catholics: Religion in the Culture of Choice (University of Notre Dame Press, 2001), New Generations of Catholic Sisters: The Challenge of Diversity (Oxford University Press, 2014) and Migration for Mission: International Catholic Sisters in the United States (Oxford University Press, 2019). She is a member of the Society for the Scientific Study of Religion and the Catholic Common Ground Initiative.
FORMER CHAIRS
2018-2019
William O'Neill, S.J.
2014-2017
Thomas Massaro, S.J.
2012-2013
James Hanvey, S.J.
2009-2011
James Stormes, S.J.
2008
Bishop Robert McElroy
2005-2007
Stephen Schloesser, S.J.