Lane Center Staff
Erin Brigham
DIRECTOR
 
Erin Brigham has taught Catholic theology and social thought at the University of San Francisco since 2008. She completed her PhD at the Graduate Theological Union with her dissertation on the implications of Jürgen Habermas's critical theory on ecumenical dialogue. Her current research focuses on theological questions that emerge in moments of dialogue especially ecumenism, contemporary Catholic ecclesiology, and religion in the public sphere. Recent publications include: See, Judge, Act: Catholic Social Teaching and Service Learning (Anselm Academic, 2013), Sustaining the Hope for Unity: Ecumenical Dialogue in a Post-modern World (Liturgical Press, 2012), "Women's Voices as Critical Resources for Reading the Signs of the Times," in The Church in the Modern World Fifty Years After Gaudium et Spes: Reading the Signs of the Times, Erin Brigham, ed. (Lexington Press, 2015), and "Women Religious and the Public Voice of Catholicism," in The Journal of Feminist Studies in Religion, Vol 31/2 (2015).  VIEW ERIN'S FULL PROFILE
Mary Johnson
LO SCHIAVO CHAIR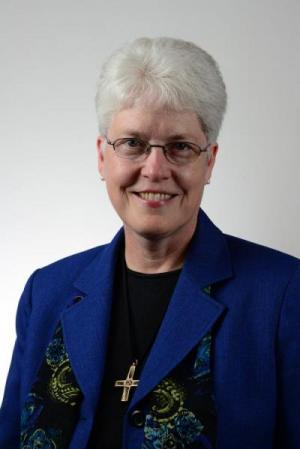 Sister Mary Johnson is a Sister of Notre Dame de Namur and a Distinguished Professor of Sociology and Religious Studies at Trinity Washington University in Washington, D.C.  At Trinity, she is also co-director of the Billiart Center for Social Justice. Previously she was on the faculty of Emmanuel College in Boston. She holds Research Associate status at the Center for Applied Research in the Apostolate (CARA) at Georgetown University.

Sister Mary holds an M.A. and Ph.D. in Sociology from the University of Massachusetts at Amherst, and a B.A. from Emmanuel College. She speaks nationally and internationally on issues related to Catholicism, religious life, and Catholic Social Teaching. She has authored numerous articles and book chapters, and has co-authored three books: Young Adult Catholics: Religion in the Culture of Choice (University of Notre Dame Press, 2001), New Generations of Catholic Sisters: The Challenge of Diversity (Oxford University Press, 2014) and Migration for Mission: International Catholic Sisters in the United States (Oxford University Press, 2019). She is a member of the Society for the Scientific Study of Religion and the Catholic Common Ground Initiative.
Kimberly Rae Connor
FACULTY CHAIR FOR MISSION INTEGRATION
 
Kimberly Rae Connor is the author of Conversions and Visions in the Writings of African American Women (Tennessee, 1994) and Imagining Grace: Liberating Theologies in the Slave Narrative Tradition (Illinois, 2000), which was selected by Choice as an outstanding academic title for 2000. She has written extensively on African American religious life and cultural production and multicultural and Ignatian pedagogy. Connor has also been active as an editor for Oxford University Press and in service to the American Academy of Religion. She is a weekly field trip leader at 826 Valencia, an organization dedicated to helping children and young adults develop writing skills. Although trained in the humanities, Connor has brought to the School of Management an appreciation for how literary and philosophical inquiry can help develop the careers of students in management. She blogs for The Huffington Post on the same topic. VIEW KIMBERLY'S PROFILE
Barwendé Médard Sané, SJ
JESUIT GRADUATE FELLOW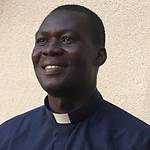 Barwendé Médard Sané, SJ is a Jesuit Priest from Burkina Faso who graduated from Santa Clara University (CA) in 2013. Before receiving an S.T.L. and Th.M. in Social Ethics from Santa Clara, he earned degrees in Theology and Philosophy from African universities. He has fourteen years of experience in African conflict regions (Democratic Republic of Congo - Chad - Ivory Coast - Central Africa Republic), including five years as director of the University Catholic Centre of Bangui, Central African Republic. He helped address the political and religious crisis, which occurred in 2013, by founding two civil organizations: Le Réseau des Volontaires de la Paix and Le Conseil National de la Non-Violence Active. In 2018, the President of Central African Republic, Faustin Archange Touadera, awarded Barwendé the honorary medal for excellence in educational programs. His research interests are in Pan-Africanism, revolutions and peace-building education. Barwendé is the author of four books largely exploring revolutions, human rights, positive change, and peace-building education: Révolution pour une Afrique Nouvelle, 151 Pyramides pour fonder les États-Unis d'Afrique, (Paris, l'Harmattan 2013), Réaliser les droits humains avec Martin Luther King, Jr., (Paris, l'Harmattan 2014); From the Inner Mountain to the Common Good with Howard Thurman and Martin Luther King, Jr., (Mauritius, Editions Croix du Salut, 2017); and Manuel d'éducation à la paix à l'usage des formateurs en Centrafrique, (Bangui, Éditions-jésuites-CCU, 2018). He is currently pursuing a doctorate in education at the School of Education, University of San Francisco (USF) and living in the USF Jesuit Community.
Juman Khweis
PROGRAM ASSISTANT (PA)
 
Juman has been a PA at University of San Francisco since 2015. Before serving the Mission Council and Lane Center, she was a PA for graduate students in the School of Nursing & Health Professions (SONHP). She is also pursuing her Master of Arts in Counseling Psychology (with a Concentration in Marriage and Family Therapy) at the School of Education (SOE).