Roommates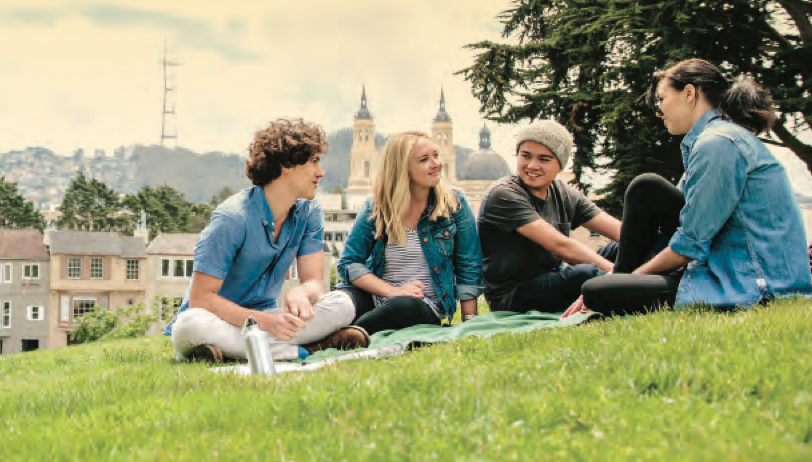 USF Community Resources
Off Campus Student Services offers a Roommate Finder Resource on our online rental listing service available for USF students to post and search for other roommates. Please stay tuned for our new interface coming soon! 
Facebook Groups
You can also visit the USF Facebook groups:  OC Student Services, Housing, and Graduate Student Housing. View the user guide to utilizing Facebook to find off campus housing.
Room8
USF OCSS partnered with CSAA Insurance Group to bring you Room8, a roommate-finder app, which you may use to find someone you would feel comfortable living with. 
Download Room8 from the app store
Life is too short to live with the wrong person. Helping USF students find a perfect match from the San Francisco Room8 community.
Roommate Selection Evaluation Process
One of the first steps to finding a roommate that is right for you is to determine your own style of living and compare it to the style of living of your potential roommate. Have an open conversation with your potential roommate to get to know each other better and share lifestyle preferences. Below is a list of a few questions to ask each other:
Living Habits:
Do you identify as messy or more organized?
How long do you typically spend in the bathroom getting ready in the morning?
Do you like to wake up early or stay up late?
Personal Habits:
Do you smoke/drink/stay up late?
Social Habits:
Do you tend to be more quiet or outgoing?
Do you like to have friends come over frequently?
How do you feel about overnight guest?
Do  you want a community living feel or do you own thing?
Pets:
Do you have any pets? Can you live with someone who does?
Do you have any allergies to pets?
Background:
Have you ever lived off-campus before (in an independent lifestyle environment)?
If so, do they describe their experience as positive or negative, and why?
Financial:
Are you financially reliable?
Do you have a job and control your own finances (have your own bank accounts)? Or is someone else (e.g. parent) going to be paying your bills?
Have you ever had utilities or phone bills in your own name?
Conflict Resolution:
If one roommate has a lifestyle preference that the other disagrees with, what steps would you take to address the concern?
How do you plan on communicating your concerns to your roommate?
Shared Lease Agreement
Once you have found a roommate, it's important to talk more and make sure you are both compatible. Keep in mind that having a great friendship does not always translate to being great roommates.
We strongly encourage you to fill out the agreement located in the back of this booklet and discuss these topics before you sign a lease together.
Questions to think about:
How will we divide household chores?
What's your expectation of common areas?
Who will set up the utilities accounts? Rent payments? Trash?
What's your view on smoking? Social time? Pets? Etc…
This document is designed to provide its users the opportunity to establish some guidelines   related to the details of their living arrangements. Users are encouraged to spend quality time discussing each section, being as forthright and honest with their opinions as possible.
Tip: Treat this lease agreement as you would the roommate agreement you signed when living in the USF residence halls.
Roommate Tips
As mentioned before, once you've found your roommate, we highly encourage you to complete a written living agreement that clearly states expectations regarding the house, including but not limited to who will be in charge of paying the rent and utilities. 
Please note that making a room or roommate switch becomes more complicated after the lease has been signed. Although it is possible to move out of an apartment before a lease has expired, this decision will come with a set of financial consequences. Therefore, it is extremely important you sign onto a lease with roommates you trust. 
One key to a good roommate relationship is open communication and respect for one another. If you're not doing either, you are bound to have issues, which will make your experience difficult. If you are in need of help, please contact OCSS to discuss our mediation and conflict resolution services. 
DISCLAIMER:
THE UNIVERSITY OF SAN FRANCISCO PROVIDES INFORMATION REGARDING HOUSING IN THE SAN FRANCISCO AREA FOR YOUR CONVENIENCE ONLY. THE UNIVERSITY MAKES NO REPRESENTATION AS TO THE CONDITION OR SUITABILITY OF ANY OF THE LISTED RESOURCES OR ESTABLISHMENTS, NOR DOES IT ASSUME RESPONSIBILITY FOR THEIR CONDITION OR RELIABILITY, OR FOR ANY AGREEMENTS YOU ENTER INTO WITH THEM. THIS WEBSITE IS NOT INTENDED TO PROVIDE LEGAL ADVICE, AND IT SHOULD NOT BE USED AS SUCH.