Rights & Responsibilities
Top Five Rights to Know
Your landlord can't raise your apartment rent as often or as much as they want: The current legal rent increase (through Feb. 29, 2020) is 2.6 percent. Rents can only be raised once every 12 months. If an owner does not raise the rent for at least 24 months, those increases can be "banked" for a future, larger increase.
You can't evict your roommates, unless you are the master-tenant: If all tenants are on the original lease, one tenant cannot evict another tenant. However, when there is a master tenant and a subtenant and the building falls under rent control, the master tenant acts as the landlord to the subtenant. Just like in a landlord-tenant relationship, the master tenant cannot evict the subtenant for no reason, but can evict for nuisance, nonpayment of rent or other "just-cause" reasons.
You can get a rent reduction if rental repairs are not made in a timely manner: 

The rent board 

suggests

 notifying landlords of needed repairs with 

both

 a letter and a phone call. If those requests go unanswered, reach out again and let the landlord know that you can report them to the city's health and/or building departments if the repairs go unfixed. 

Residents should make sure their requests are dated and keep copies; it will come in handy if a rent board hearing is required for a reduction in rent due to a substantial decrease in housing services.

Your landlord can't enter your apartment without proper notice: 

The landlord is allowed to enter if the tenants are not home, but only for certain reasons and with the proper notice. For example, a landlord or a landlord's agent can make agreed-upon repairs to the unit with at least 24-hours written notice. If the purpose of the visit is to show the building to possible buyers, the landlord only needs to give the notice verbally 24 hours in advance. 

In case of an emergency, or with the tenant's okay, the landlord can enter immediately.

 You get an inspection before you move out so that any necessary repairs or need for cleaning are made clear before deductions are taken out: Security deposit law is set by the state, not the city, and requires landlords to notify their tenants that they have the right to an inspection of the unit within two weeks before they depart so that any necessary repairs or need for cleaning are made clear. Deductions can be made for any damage beyond "normal wear and tear" or any unpaid rent or bills. The refundable amount must be paid to the tenant within 21 days of moving out.
Quick guide to knowing your rights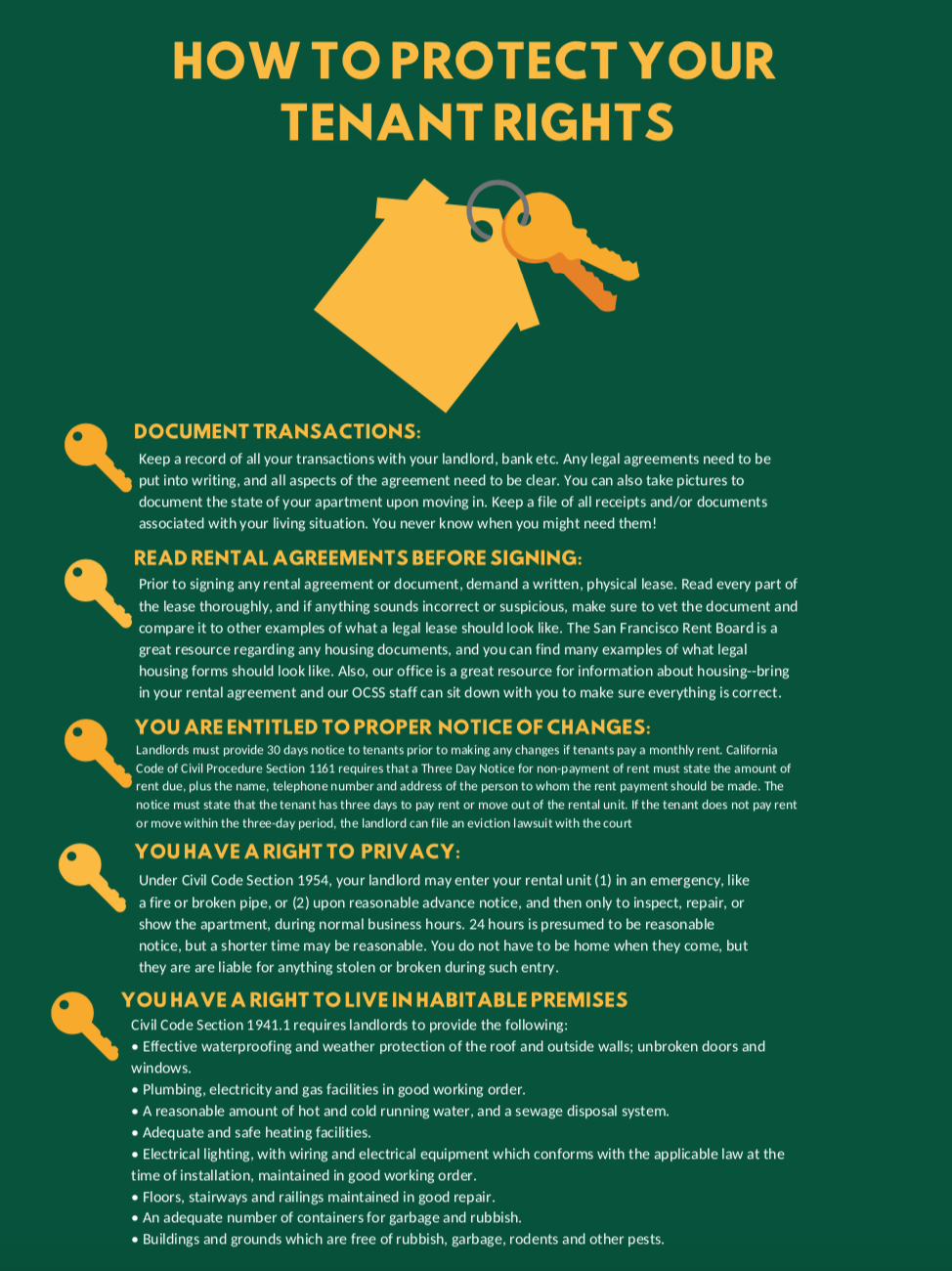 Off-Campus Conduct Policy
Students are expected to demonstrate respect for all members of the local community regardless of their place of residence. Check out the USF Fogcutter for further information. 
guidelines for all USF students: 
Be respectful to local community residents. 
Prohibited behavior includes but is not limited to littering, loitering, destruction/trespassing of private property, public urinating, public nudity, using rude or abusive language. 
Operate stereos or other electronic equipment at reasonable sound levels, especially late at night or early in the morning and in-line with San Francisco Police Code Article 29 Section 2909 
Maintain an orderly residence. Examples of a disorderly residence include, but are not limited to violating drug and alcohol laws, hosting parties where there is public drunkenness, excessive noise, or other behavior in disregard of the rights of others, violating the Sexual and Gender Based Misconduct guidelines as defined in the Fogcutter Student Handbook. In all cases involving student misconduct off-campus, the University reserves the right to invoke the student conduct process. 
University Terrace Association (UTA)
Remember that our neighbors live here year around and this is their home. Since USF is unique in that we surround residential housing we ask that you pay special attention. While commuting through these neighborhoods/streets, especially the pathways to Lone Mountain and our Education Building . These streets are: Roselyn, Chabot, Kitterage, Tamalpais and Annapolis.
Please be respectful
No loitering, smoking, drinking, loud noise, or littering within most outdoor areas. 
Community Agreement
I have chosen to live in a residential neighborhood and I understand I have specific rights and obligations to both my fellow students and non-student neighbors. 
I understand and agree to these policies and requirements as listed in the Code of Student Conduct and outlined in OC resource manual.  I also understand 
I have the right to live in safe living conditions.