McGrath Scholars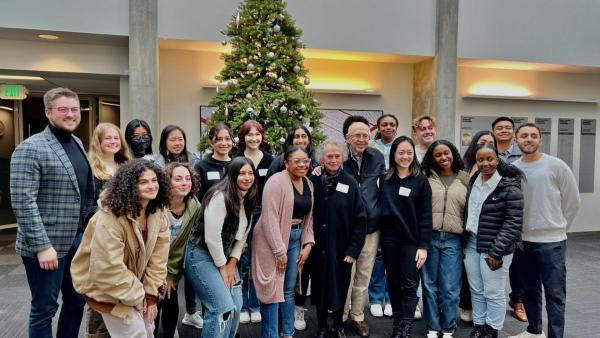 2023 McGrath Scholars Capstone Project Presentations
Monday, April 3
Xavier Auditorium, Fromm Hall
6:30-7 p.m. | Welcome Reception
7-8:30 p.m. | Presentations
RSVP now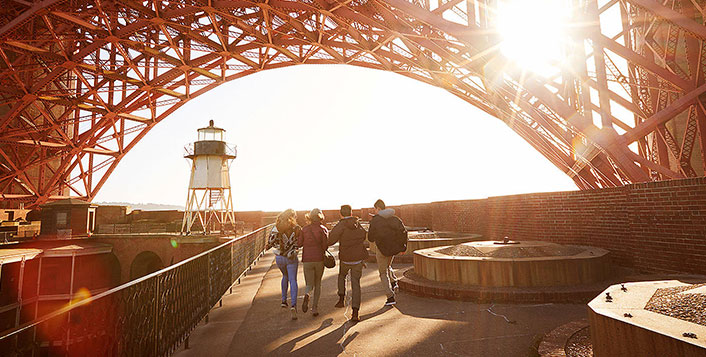 Our Mission
The McGrath Scholars Program of the Change the World From Here Institute was created to develop critically aware and goal-oriented system thinkers who are motivated to change their communities for the common good.
The program will facilitate and nurture leaders who practice cooperative, collaborative and inclusive leadership; engage in both courageous and compassionate action; cultivate changes in values by re-framing and reinterpreting situations, and practice contemplative self-reflection. 
Benefits
The McGrath Scholars Program is an opportunity for students to enroll in a unique, 2-credit leadership course and join an exceptional cohort of peers, further enhance their skills, and engage in an experiential project.
Resume builder as a McGrath Scholar

Accelerated short-term class, Monday evenings: January through April.
Retreat opportunity, two days off-campus in the Marin Headlands

Enhanced learning through peer-to-peer interactions and networking

Special recognition as a McGrath Scholar at graduation
Invited to an annual McGrath Scholar alumni network
 event
Curriculum
The McGrath Scholars complete a two-credit leadership course (USF 300) that approaches leadership through the holistic development of the student via academic lessons, skills and engagement taught through a leadership retreat, and leadership mentoring through peer support.
Self-transformation
Vision and Systems
Courageous Action
Change and Collaboration
Experiential Learning Outcomes
Identify and model personal values of integrity and ethical leadership, and engage with those ideas in larger scales and contexts
Demonstrate key leadership and personal values through community relationship-building with courage and compassion
Manage ambiguity and work in a self-directed way
Incorporate creative thinking and innovation in daily leadership practice
Demonstrate the ability to problem solve and recommend solutions for systems, problems, and issues that challenge the common good
McGrath Scholar Eligibility
USF Juniors and Seniors from all schools and colleges are welcome and encouraged to apply.
All registered Juniors and Seniors enrolled in Spring 2024 will apply in Fall semester 2023. Acceptance into the program will require an essay-based application and an interview with the course faculty or a member of the McGrath Scholars Interview Team.
The cohort of McGrath Scholars will be limited to roughly 25 undergraduate students. In order to be selected, you must apply to be considered. Have a question about the program? Email us at: mcgrathscholars@usfca.edu
Application Process
In order to be considered for the McGrath Scholars Program, all applicants must complete the online applications which include: 
Resume Upload 
Letter of Recommendation (emailed to mcgrathscholars@usfca.edu or uploaded with your application)
4 Essay Response Questions
We strongly encourage letters of recommendation to come from staff/faculty who can speak to your academic and/or leadership performance. Letters can be written by USF and non-USF affiliates who can best speak to these qualities.
2022 Capstone Projects
Each cohort of McGrath Scholars is broken down into smaller teams that work together through the semester to develop a capstone project. Each project must produce a plan for a tangible outcome that benefits the common good in our city, country, or worldwide community.  Scholars are encouraged to be innovative in their project development by designing new technologies, products, or services unseen in societies.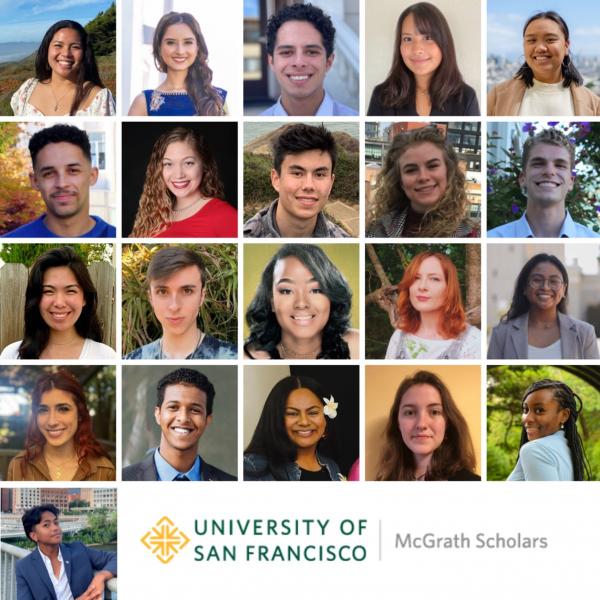 2022 McGrath Scholars Capstone Projects
Take a look at the capstone project focuses from our 2022 McGrath Scholars as well as copies of their slide shows from our annual Capstone Project Presentations. 

Members: Priana Aquino, Aboye Efebo, Miles Goodman, and Cullen Smyth
GAP's defined project proposal is to create a USF-based student organization that would provide affordable, comfortable, weather-appropriate, professional, and fashionable gender-affirming clothes for students to address observable needs in our USF community. 
Members: Anna Veronica "AV" Bourke, Ethan Lee-Bellows, Angela Richards, and Kiera "Kiki" Scott
Our proposal will foster the creation of a structured program that provides additional volunteers for understaffed after-school programs where low-income students of color from within the Bayview Area District attend. Our project is titled "Buddies On-The-Go," a mobile/on-call volunteer service partnered with local after-school programs located in Bayview District.
Members: Adrian Aguinaldo, Sadasha Dixit, Marisol Hernandez, and Shayan Irvani
We brainstormed ways through which we can reduce the stigma around substance use and keep USF students informed about this ongoing issue and think that one of the most effective ways to reach social networks would be through training on naloxone administration and fentanyl test strip distribution in colleges and universities after introducing harm reduction to college students.
Members: Sunshine Joyce Batasin, Alana Beltran-Balagso, Kai Jacobs, and Christina Weatherford
We are proposing that USF promote EBT for its eligible students and survey how many students experience food insecurity. Through this effort, the university can evaluate how many students experience food insecurity both on and off-campus. Once this need is identified, we have provided a framework to decrease food insecurity in a sustainable way.
Members: Camille Bailon, Erin Brown, Jacqueline "Jacqui" Green, Frances Talino, and Basilos "Bas" Tesfai
The P.I.E. Workshop Series provides bi-weekly educational workshops for students and parents after school. Each two-hour workshop will have a different topic and will be led by (college student) volunteers. Here we can work hand in hand with these students and their families to be a source of strength to build these familial relationships and bring necessary individual knowledge about the world.
McGrath Scholars Mailing List
Stay up to date with program recruitment, events, and announcements by joining our mailing list!