McGrath Scholars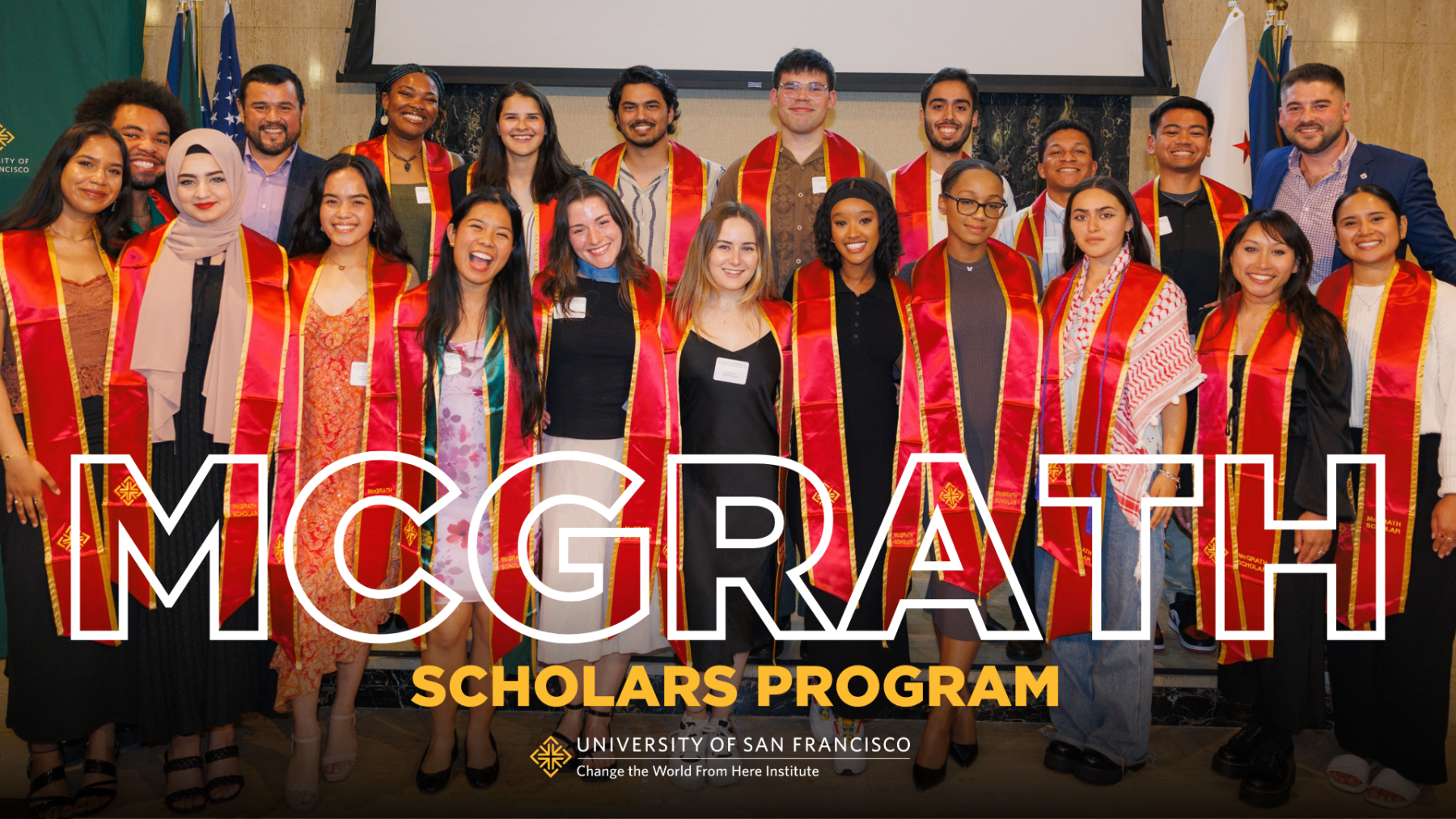 Our Mission
The McGrath Scholars Program of the Change the World From Here Institute was created to develop critically aware and goal-oriented system thinkers who are motivated to change their communities for the common good.
The program will facilitate and nurture leaders who practice cooperative, collaborative and inclusive leadership; engage in both courageous and compassionate action; cultivate changes in values by re-framing and reinterpreting situations, and practice contemplative self-reflection. 
Benefits
The McGrath Scholars Program is an opportunity for students to enroll in a unique, 2-credit leadership course and join an exceptional cohort of peers, further enhance their skills, and engage in an experiential project.
Resume builder as a McGrath Scholar

Accelerated short-term class, Monday evenings: January through April.
Retreat opportunity, two days off-campus in the Marin Headlands

Enhanced learning through peer-to-peer interactions and networking

Special recognition as a McGrath Scholar at graduation
Invited to an annual McGrath Scholar alumni network
 event
Curriculum
The McGrath Scholars complete a two-credit leadership course (USF 300) that approaches leadership through the holistic development of the student via academic lessons, skills and engagement taught through a leadership retreat, and leadership mentoring through peer support.
Self-transformation
Vision and Systems
Courageous Action
Change and Collaboration
Experiential Learning Outcomes
Identify and model personal values of integrity and ethical leadership, and engage with those ideas in larger scales and contexts
Demonstrate key leadership and personal values through community relationship-building with courage and compassion
Manage ambiguity and work in a self-directed way
Incorporate creative thinking and innovation in daily leadership practice
Demonstrate the ability to problem solve and recommend solutions for systems, problems, and issues that challenge the common good
McGrath Scholar Eligibility
USF Juniors and Seniors from all schools and colleges are welcome and encouraged to apply.
All registered Juniors and Seniors enrolled in Spring 2024 will apply in Fall semester 2023. Acceptance into the program will require an essay-based application and an interview with the course faculty or a member of the McGrath Scholars Interview Team.
The cohort of McGrath Scholars will be limited to roughly 25 undergraduate students. In order to be selected, you must apply to be considered. Have a question about the program? Email us at: changeinstitute@usfca.edu
2024 Recruitment PROCESS
The recruitment process for Cohort 6 of the McGrath Scholars Program begins in the Fall semester. The recruitment process begins with nominations followed by written applications. Applications serve as the first round of our selection process followed by an interview process. Not all applicants will be offered an interview. Once interviews have been completed, the Selection Team will convene to determine the next cohort of McGrath Scholars. Below is the Spring 2024 (cohort 6) recruitment timeline: 
Applications Open: Tuesday, August 22 |
Applications Due:  Tuesday, October 3 by 11:59 p.m.
Virtual Interview Offers: Friday, October 13 by 5 p.m.
Interview Period: Monday, October 23 - Thursday, October 26
Program Offers: Friday, November 10 by 5 p.m.
Application Process
In order to be considered for the McGrath Scholars Program, all applicants must complete the online applications which include: 
Resume Upload 
4 Essay Response Questions
We strongly encourage letters of recommendation to come from staff/faculty who can speak to your academic and/or leadership performance. Letters can be written by USF and non-USF affiliates who can best speak to these qualities. 
If you would like to include a letter of recommendation, have your letter writer email it to us directly at changeinstitute@usfca.edu
2024 McGrath Scholars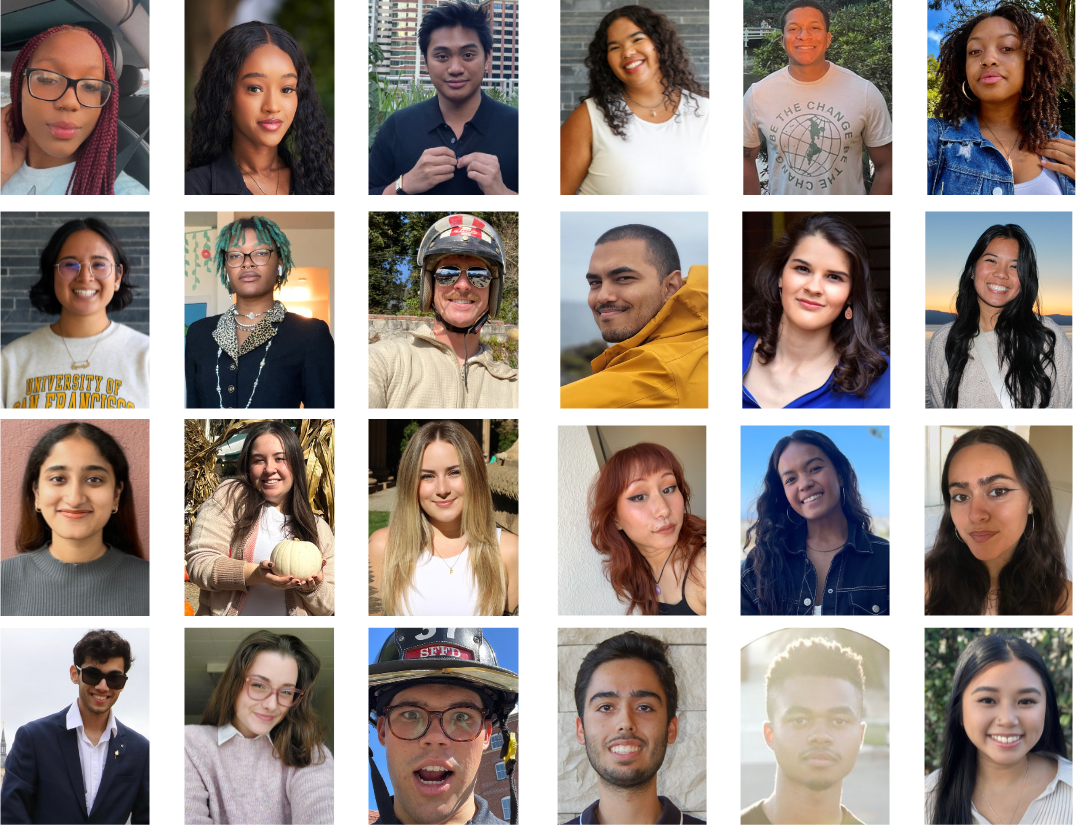 2023 CAPSTONE PROJECTS
Each cohort of McGrath Scholars is broken down into smaller teams that work together through the semester to develop a capstone project. Each project must produce a plan for a tangible outcome that benefits the common good in our city, country, or worldwide community.  Scholars are encouraged to be innovative in their project development by designing new technologies, products, or services unseen in societies.
Take a look at the capstone project focuses from our 2023 McGrath Scholars as well as copies of their slide shows from our annual Capstone Project Presentations. 
Members: Natasha Reddy, Bryn Harris, Andrew Love, Dominique Cadenas Calvo
 The zine, The Gold Pages, includes opportunities for students to volunteer at organizations, businesses, and restaurants they can purchase from and support, and student spotlights, all divided by the different neighborhoods in the city. Our VolunteerMatch website guides students through their volunteer match journey by connecting them with organizations based on their interests and weekly time commitment. The website is a mobile location holding the same type of information as the zine, but it will be updated weekly, as opposed to our zine which will have new editions with updated opportunities printed every semester.
Members: Amida Nigena, Belinda Tang, Kren Stipe
Our group wanted to focus on drug overdose on campus because we recognize that there is a lack of knowledge on how to use drugs safely due to the predominant focus on drug abstinence education, and we have each seen firsthand the potential dangers of drugs being used by others. We identified a blank space within the student body wellness and health and we wanted to step in and provide resources to address the rise of potentially lethal recreational drug use and promote contemporary harm reduction and education surrounding this topic.
Members: Metyia Phillips, Joseph Perez, Megan Escobar, Victoria Spak
We looked at food insecurity in San Francisco. We conducted 7 interviews throughout various marginalized neighborhoods to learn about the root causes of food insecurity. We discovered that the lack of volunteers is the main issue plaguing the city and we created a 2 phase prototype centered on retaining more volunteers for the community food insecurity resources.
Members: Fiza Shaikh, Janellee Hall, Samilla Larkin, Vanessa Louis-Jean
At Project Pathway we are focused on creating long-term partnerships with BIPOC youth where they are able to explore their interests in terms of career advancement in a concentrated educational setting. In addition to exposing inner city youth to nature immersion trips to understand the world through diverse experiences.
Members: Aaliyah Cunningham, Alaia Zaki, Paavani Lella, Valerie Lam
Our project aims to create immediate tangible change at USF and be replicable at similar private universities with class sizes of 20-30 students and values cura personalis. Suggestions presented in this project are meant to be adaptable by all departments to achieve the goals of establishing meaningful relationships between members of the classroom, increase accessibility in the classroom, and promoting relevant critical skills for the changing work landscape. Many of the following ideas are already present on our campus, and we hope to standardize these practices universally to some degree.
Members: Angelo Resayo, Natalie Ng, Yliza Ortiz
There are not enough culturally relevant foods to accommodate the identities of the affected populations. Our project is intended to give a voice to this population and allow the distributing groups in the San Francisco area to distribute food that is culturally relevant to these groups that are in need of such accommodations. The goal of this project is to raise awareness about the specific stakeholders associated with the situation and bring to light a prototype to share with the community to try to bridge the gap between the consumers and distributors.
McGrath Scholars Mailing List
Stay up to date with program recruitment, events, and announcements by joining our mailing list!