Be More. Be MAGIS!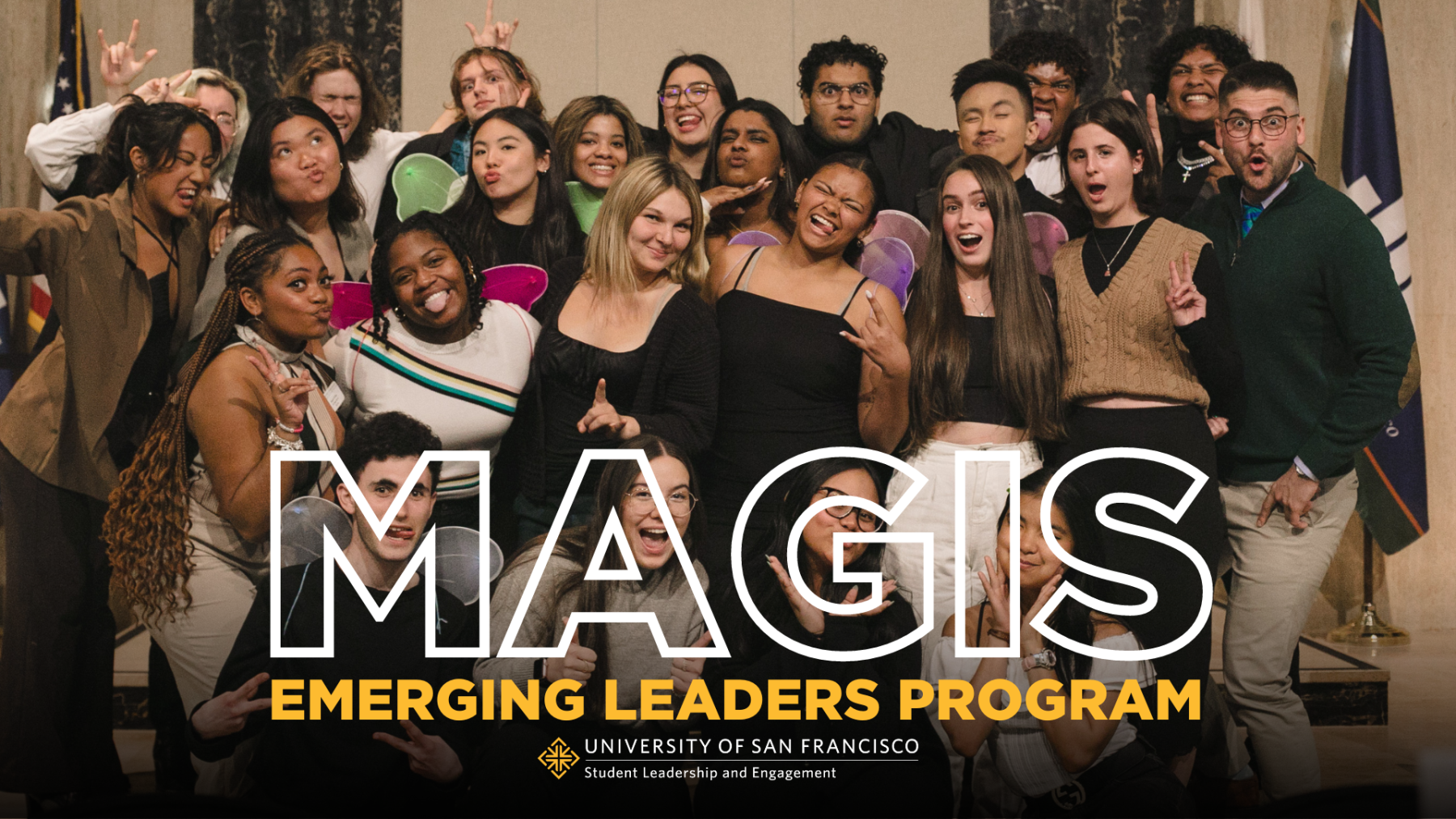 ---
Our mission
Guided by our Ignatian values and the Social Change Model of leadership development, the Magis Emerging Leadership Program is a year-long fellowship for first-year students at the University of San Francisco. The program is rooted in the concept of Magis, meaning "more" in Latin, which challenges our Fellows to strive for excellence. The program engages the Fellows through workshops, group challenges, and other leadership development opportunities which ultimately foster socially responsible leaders who focus on working with others for the public good.
How we define leadership
We believe that leadership is a relational process of people working together to accomplish change or make a difference that will benefit the common good.  We source our guiding principles from the National Clearinghouse for Leadership Programs. 
What are the benefits of becoming a Fellow?
Create tangible change within your first year at USF
Leadership coaching that enhances the college experience and preparation for life after college
Networking with current first-year students, upperclassmen, and alumni of USF who have participated in the program
Mentorship from upperclassmen who engage in socially responsible leadership practices
Access to multiple assessments that aid in better understanding self and others (i.e. True Colors, Clifton Strengths, Conflict Management Styles, Love Languages, etc.) 
Access to the Magis Alumni LinkedIn Network
Induction into the Alumni Society upon completion of the Program
Opportunity to become a Mentor for future cohorts of the Program 
See our full list of FELLOWSHIP Components & Requirements
Who can participate?
The Magis Emerging Leadership Program is open to select first-year students who are interested in developing and practicing leadership skills over the course of their first academic year at USF. No prior leadership skills are necessary to be considered for the program! What is necessary, is a strong desire and commitment to our mission. We look for individuals who have been involved in organizations, played sports, held part-time or full-time jobs, participated in social activism, and/or those who have never held a formal leadership role but want to become leaders.
HOW TO APPLY 
Each year, 25 first-year students are selected to participate as fellows in the program. In order to be selected, you must apply to be considered. Applications can be found on our "How to Apply" page.

Each year, the Leadership Team works together to review applications and make determinations on who to offer fellowship to. The Leadership Team aims to select as diverse a cohort as possible by examining the following:
Academic Major(s) and Minor(s)
High School involvement experience
Areas of interest for USF involvement experiences
Areas of passion/interest
Identities
Program Involvement at USF 
Housing Location (on/off campus)
Motivations for pursuing a fellowship with Magis
---

What do alumni say about Magis?
Autumn Bruketta, 2023 Fellow
"About a week ago, the fact that Magis was ending was painful. Now, I don't think I have anything other than gratitude and pride for the whole of this year's experience. I appreciate each and every person here, and everything I've gained from it. I don't know if I can yet say that we've changed the world, but I know that, in the best way, Magis has changed my world."    
Amanda Macalaguing, 2023 Fellow
"The Magis Emerging Leadership Program has provided me with a family away from home. I was able to find my way at a new school as well as find who I really am as a person. As long as you keep an open mind and are open to making new deep friendships, Magis is a perfect place to learn more about yourself and your relationships with the people in your life." 
Gray Moxley, 2022 Fellow
"I definitely learned a lot and grew as a person during Magis. I would do it again in a heartbeat. Without the feedback I was given, I don't think I would have had the success I had my freshman year."
Shi Belcher, 2021 Fellow
"There is no perfect way to explain how transformative Magis is for students at USF. Especially for first-year students who come into the university thinking that leadership is a position and/or title you get. Magis really makes you think about yourself and reflect on how you show up in space and how others perceive you in that space. Kudos goes out to the Leadership Team for putting on a fully virtual Magis experience, which was unprecedented. I personally want to say thank you all for being part of my remarkable first year of college!"
Sun-Hee Wong, 2020 Fellow
"Magis has given me a family at USF. It has been one of the most consistent things in my life while at USF and was something that I always looked forward to going to every Tuesday. The connections that I was able to make while being there were so special and ones that I will cherish and continue to cultivate in the coming years. I would highly suggest Magis to any upcoming Freshman at USF."
Kaelyn Arcilla, 2019 Fellow
"I am so incredibly grateful for my experience in Magis. Looking back, I have learned so much about myself, my values, and my needs. It was also extremely helpful to learn about my CliftonStrengths because I am able to look at my abilities in a new light which helps to boost my self-efficacy."
Dori Do, 2018 Fellow
Magis helped me realize so much about myself, others, and the community through the lenses of Leadership and Social Justice. Because of Magis, I do not hesitate to speak my mind, be more courageous with facing new ideas and changes in my life, and how important teamwork is in daily life. 
Lexy Anderson, 2017 Fellow
"The Magis Emerging Leadership Program is an amazing opportunity for us in many different ways. The program allowed us to immerse ourselves in an introspective, calming environment, which gave us the opportunity to understand more about ourselves and our future at USF. The program also successfully aided us in developing better leadership skills, as well as pushing us to try new things."
Juliet Baires, 2017 Fellow
"Magis is being able to think and do more. The word itself means more. This program allows you to do that. It allows you to identify who you are as a leader and stretches and challenges you to work with others who have different leadership styles."
Melania Ghitas, 2016 Fellow
"Before Magis, I thought leadership was only observed when others take initiative and lead the group towards a common goal. After Magis, I learned that leadership is heavily influenced by values. I also learned that there are many types of leaders, each leading in their unique way, this is what makes society beautiful. Furthermore, I learned that the background, or "roots", of an individual impact the way they lead."
Jose Esquer-Romero, 2015 Fellow
"My favorite part about the program is all the connections you make at the retreat. You go in as a freshman wanting to be a leader and end up leaving with so many resources and people that you can rely on. Some of the people that I met through the program have come to be some of my best friends. And even if I do not constantly see them, I can run into them on campus and have a full conversation with them."