Tutoring Program
The University Ministry Tutoring Program at the University of San Francisco grants USF students the opportunity to provide tutoring and academic support to students at ICA, St. Anthony, St. Peter, and St. James parochial schools in San Francisco's Mission District. The program provides mutual benefits to both the University and parochial school students. USF tutors gain skills in academic development, leadership, and mentorship. The parochial students get tutoring and other essential support that enhances their academic achievement.
During the Spring semester University Ministry brings students from ICA, St. James, St. Peter and St. Anthony to the USF campus for a field trip. As is in line with the mission of this program, we believe it's important for students to become familiar and comfortable with being on a college campus, to begin envisioning themselves here, and to start planning the path they will take to successfully complete college – preferably here at USF. 
The University Ministry Tutors receive an hourly wage compensation for their time. In addition, the tutoring retention program continues to offer a discount to attend a University Ministry retreat or immersion trip to a USF tutor who returns for a consecutive semester (up to $500) or to a USF tutor who has completed two years of tutoring (up to $1,000).
The goals for the tutoring program is to promote and support active and independent learning; develop a positive approach to learning; aid in developing a higher student competence and confidence in a particular subject; create an encouraging environment where learning takes place at the student's pace; provide mentorship and guidance; and foster holistic development through academics. 
We also offer formational opportunities for our tutors to grow holistically. The scholarship programs allow our tutors to engage in the many opportunities that University Ministry offers such as the Arrupe Immersion program, Retreats, and the ISN Family Teach-In.
For more information, please email Mauricio Diaz de Leon.
---
Tutor Coordinator
Erika Landa Sarmiento
eilanda@dons.usfca.edu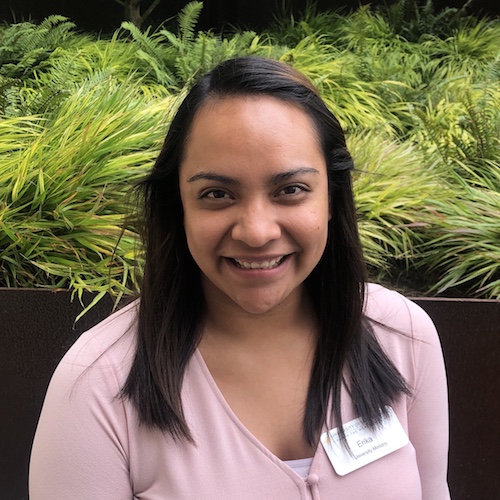 Cualli tonalli. Thank you to the indigenous peoples' of the lands our university is on, our Ohlone relatives.
My name is Erika Landa I am a first generation, undocumented, Indigenous graduate student obtaining a Masters of Arts in Migration Studies. This year I am serving as the Tutoring Coordinator for University Ministry. Through our program we create leaders to be the change we want to see and train our tutors to be culturally competent educators. Our program focuses on four schools in the Mission District providing this community with extra tools to thrive in academia. My passion comes from my own upbringing in a community like the Mission District. My experience with educators who cared beyond academics contributed to my own educational successes. My goal as a Tutoring Coordinator is to help our students be that hope for the students we tutor. Tutoring through a Social Justice lens.
Tlazocamatli. Thank you.