Humans of USF Project
Sharing the everyday stories of our extraordinary campus community.
Do you know a campus community member whose story you think should be shared with the USF community? Inspired by Humans of New York, the Humans of USF Project aims to share the everyday stories of USF students, staff, and faculty - a way to lift up one another, honor our histories, and celebrate our diverse ways of being.
---
Story # 1 - April 13, 2020
Chanel Ortiz (SOE '21)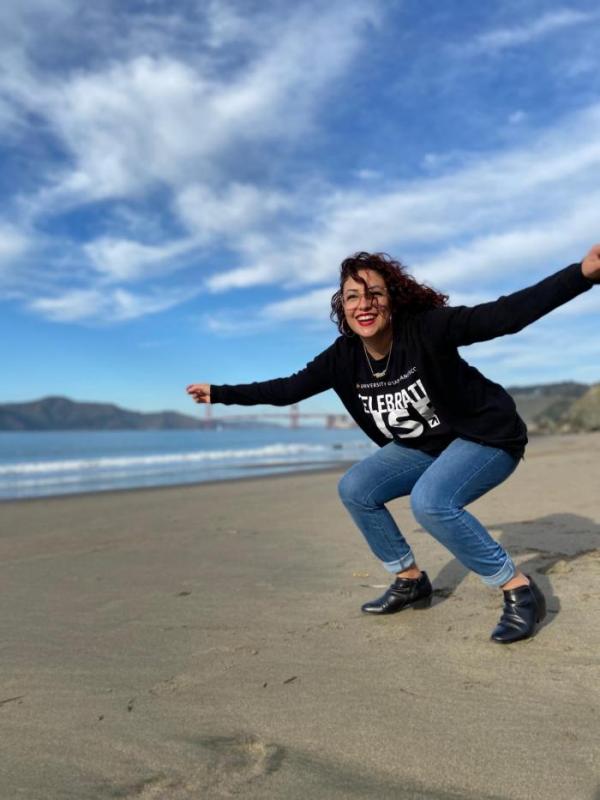 "I'm a Queer, Puerto Rican, from North Philadelphia and that's a really specific distinction to me because North Philly is heavily populated by Black, Caribbean Latinos, and different Asian communities and all of that mix helped build who I am. I am very East Coast, so being here on the West Coast I usually notice it the more I step outside of where I'm from. I'm like 'Oh okay, I'm a little different than the people around me' which is okay and it's also something that I love but I definitely pride myself in. I generally feel like I am more of a...like a background person. Like I've always been a support system and a producer versus like an executor. Whether it's like being a Doula and being there when people become parents for the first time or being a wedding officiant and being there when people get married, everything that I've done, even on a small scale has been about being there for people in big moments, whether they're hard or easy. I love to see other people in their shine, like I really do, I geek out when other people are like doing the thing that brings them the most passion. I love flowers and street art, it's literally one of the reasons I love to spend so much time in the Mission District. The murals remind me so much of what I love about Philly. I love food, good food makes me so happy, it very much brings me joy! Sunshine for sure, I am my happiest in spring and summer. I think USF is a big part of my story, and the journey to get to USF is kinda interesting for me. It's not like I took all this huge amount of time off and I'm here to preach like 'it's never too late start over' but it's true, there's a part of me that by 25-26 I was like 'What am I doing with my life? What do I want to be when I grow up? It's too late to go back to school' so did I think at 28, 29 and 30 I was gonna be in grad school? Living in Cali? Absolutely not! There is no way that I thought this was going to be it for me so that's exciting, sometimes I will wake up like "what?! You're in San Francisco! That's wild!' I don't know, I think when I look back in 10 or 5 years even ill be like 'oh this is a huge part of my story.'"