December 2023 Commencement Information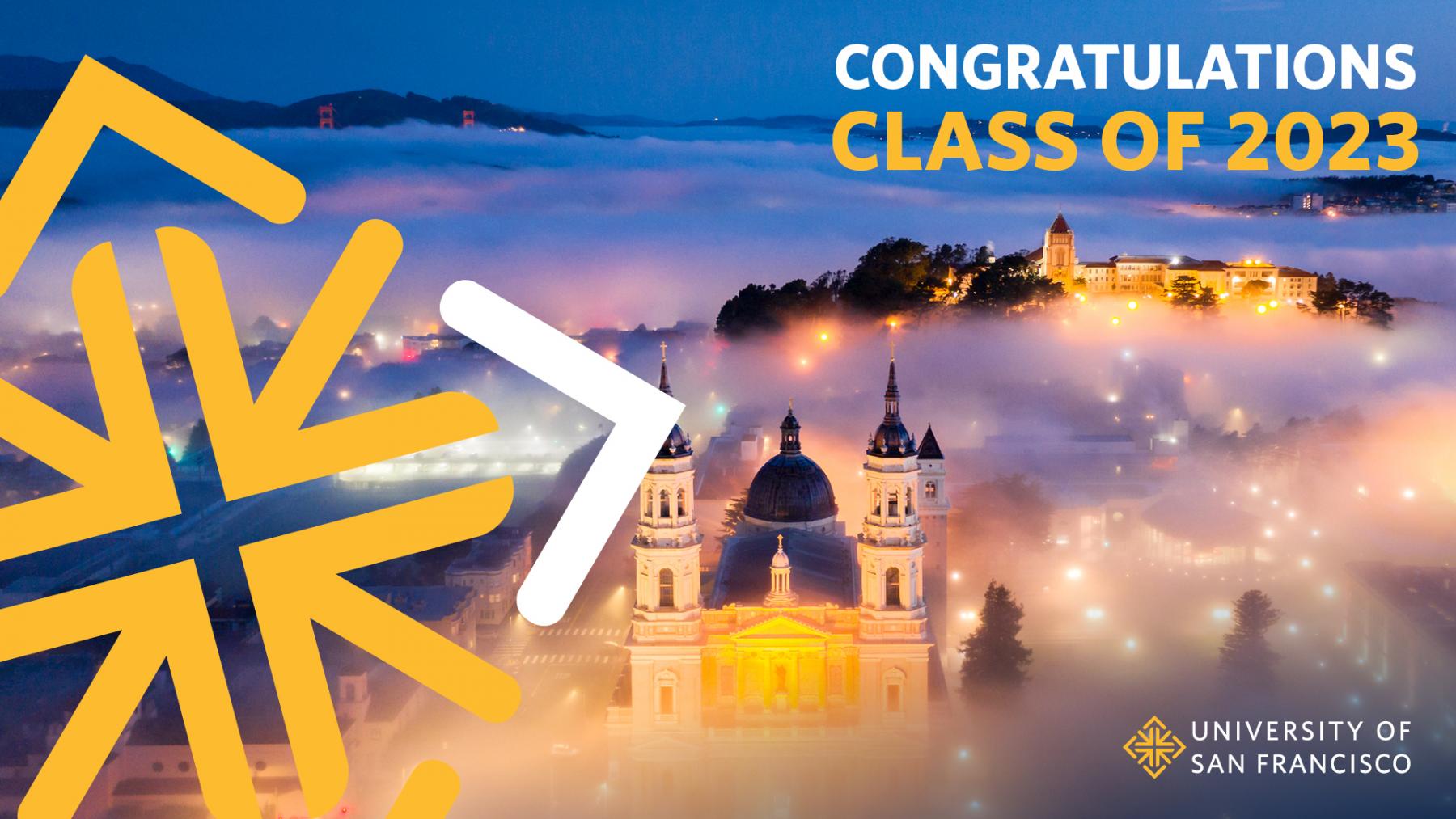 Commencement - December 15th 
The 165th Commencement Ceremonies will be held in-person at St. Ignatius Church 
All ceremonies will be streamed virtually on USF's website and YouTube. 
*We are continuing to monitor COVID-19 with our partners at the San Francisco Department of Public Health and will make any necessary changes if required to do so. Currently wearing a mask is optional for students and guests and is subject to change. 
---
Commencement schedule - Friday, December 15th
9:30 a.m. - Commencement Mass
Homilist: Rev. Paul J. Fitzgerald, S.J., President of the University of San Francisco.
Guest Tickets: Tickets are not required to attend.
12:00 p.m. - College of Arts and Sciences Ceremony
Honorary Degree Recipient and Commencement Address: Randall Stuart Kline, Founder, SFJAZZ
Guest Tickets: 4 guest tickets per student. Overflow seating available in Cowell 106/107.
3:00 p.m. - School of Nursing and Health Professions Ceremony
Honorary Degree Recipient and Commencement Address: Frederick Angulo, DMV, Ph.D., Lead, Scientific Affairs, Tick-Borne and Enteric Diseases, Pfizer Vaccines
Guest Tickets: 4 guest tickets per student. Overflow seating available in Cowell 106/107.
6:00 p.m. - School of Management Ceremony
Commencement Address: Joe Allanson, Executive Vice President of Finance ESG (Environmental, Social, and Governance), Salesforce
Guest Tickets: 4 guest tickets per student. Overflow seating available in Cowell 106/107.
*Fall 2023 School of Education students will be invited to the Spring 2024 ceremony. 
---
Grad Finale Event Schedule - Regalia Pickup
Eligible graduating students will be sent an email to their USF account on November 1st inviting them to attend the Grad Finale (November 17 and 18) to pick up their academic regalia. Students do not have the option to have their regalia mailed, but can utilize the Proxy Form outlined below. 
Location: San Francisco Campus - Lone Mountain Main 100 (Handlery Room)
Friday - November 17, 2023 from 10 a.m. to 6 p.m.
Saturday - November 18, 2023 from 10 a.m. to 1 p.m.
Students may attend the Grad Finale event on either Friday or Saturday, this is a drop-in event not a full day event. These are the ONLY times you will be able to get your regalia before Commencement so please plan accordingly and/or utilize the Proxy Pickup Authorization Form. 
Please note that all School of Education students are only permitted to participate in the May 2024 ceremony and will be distributed their regalia during the April 2024 Grad Finale.  
*Photo ID and your signature will be required to obtain your academic regalia. If someone other than yourself is picking up your regalia, please provide them with the Proxy Pickup Authorization Form. This is the only acceptable document for picking up graduation items. Form must be printed, signed, and dated — no other forms or electronic signatures will be accepted.
During the Grad Finale, students will be able to:
Obtain their Academic Regalia - No Fee

Regalia will include; mortarboard cap, gown, hood, and tassel.
Eligible undergraduate students receiving University Honors will also be distributed an honors sash. Please note that Honor sashes will not be distributed after commencement to students who later became eligible for University Honors after final grades are submitted. However, the appropriate University Honors designation will be indicated on both the transcript and diploma.
Purchase a Green USF commemorative stole ($45 including tax), which can also be purchased online on Josten's website. There will be a very limited number available at the Grad Finale so we suggest coming early. 
Place an order for USF College Rings and Graduation Announcements
---
Students Unable to Attend the Grad Finale Event: 
Students who did not attend the Grad Finale event can pick-up their academic regalia during the times below.
Please note these are the ONLY times students will be able to receive their regalia post Grad Finale.
Location: Gleeson Library - Atrium 
Thursday - December 14, 2023 from 12 p.m. to 6 p.m.
Friday - December 15, 2023 from 8 a.m. to 6 p.m.
---
Guest Tickets & GradPass - Monday, November 27 
Students will receive an email on 11/27 with instructions on how to register for their ceremony, print their GradPass, and claim/send their guest tickets through our ticket vendor, Marching Order. The email will come from gradcenter@usfca.edu
Register for your ceremony and claim your tickets as soon as possible to ensure that everOnce the tickets are claimed, students will be able to print and/or forward individual tickets to their guests. 
NOTE: Guest tickets can ONLY be scanned ONCE. The first time the guest ticket is scanned will allow entry into St. Ignatius Church. All subsequent attempts to scan the same guest ticket will result in persons not being allowed into the church. NO EXCEPTIONS! All guests above the age of 2 are required to have their own ticket.

Click HERE for an Informational Video on how to Register for Commencement, Print your GradPass, and View/Send your Guest Tickets!
---
Degrees and Diplomas
Fall 2023 degrees will be awarded by February 15, 2024 with diplomas arriving by April 1st for domestic deliveries and by June 1st for most international deliveries. 
Please confirm and/or update your diploma mailing address in your myUSF portal, under the Personal Information tab, no later than Friday, December 22nd to ensure a timely delivery of your diploma. 
---
Class Rings & Announcements
Order a USF Class Ring and Announcements on the USF Jostens Page.
---
Flowers and Leis
Pre-order from Commencement Flowers and/or pick up at a campus booth during commencement. 
---
Commencement Parking
Parking till be available in all USF lots, unless otherwise marked, free of charge. In addition, there will be street parking available around campus. Parking is limited so we suggest carpooling, taking public transportation, and utilizing ride-share programs.
---
Accommodations
USF accommodates individuals with disabilities. If you need a disability-related accommodation or wheelchair access information, please contact Will Vitagliano, Associate University Registrar, at wbvitagliano@usfca.edu . We recommend that requests be made as soon as possible, or at least 14 days in advance of the event (by December 1st) to best ensure that the requested accommodation can be implemented.
Accommodation FAQs can be found on the Commencement Accommodation page.