Career Resources for International Students
International students have access to a variety of career resources at USF. These resources include the career centers for all students but also resources that are specific to international students.
USF has three career resource centers and you should use the one that is specified for your program. It is important to utilize the services at these centers to help prepare your materials and conduct the job search.
International students spend a significant amount of time upskilling and preparing for their career goals and walk many immigration tightropes. A crucial part of the international student experience is to network and make valuable industry connections and friends, especially with people who have been in their position before, in order to secure the best career opportunities. Join the International Student and Alumni Network on NetworkUSF; a rich community of celebrated USF international students and alumni, to seek industry knowledge and advice, reconnect with old friends, and learn more about navigating immigration in the US.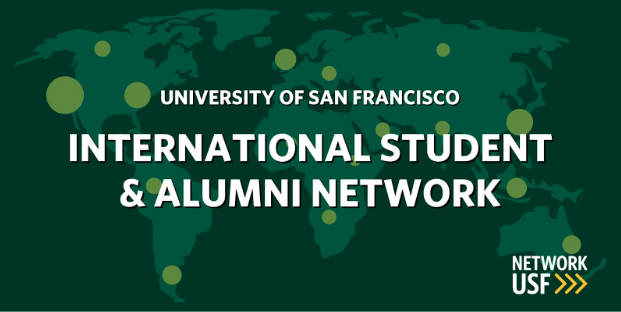 ISSS offers a variety of employment and practical workshops through the academic year, designed to help international students navigate the complex US job market and understand the regulations and options surrounding work authorization  and maintaining their F-1 status. Attending these workshops can help students feel more confident and informed as they study and pursue their career goals in the US.
Here are some examples of the workshops that ISSS offers:
Optional Practical Training (OPT) workshops: OPT is a 12-month work authorization that international students can utilize during or after their studies. ISSS offers OPT  workshops that provide information on OPT eligibility, application procedures, and reporting requirements. Attending this workshop is mandatory for students who want to apply for OPT. 
H-1B and Green Card visa workshops: The H-1B visa is a common work visa for international professionals. ISSS invites a professional immigration attorney to provide information on H1B visa, green card, and other employment categories each semester. The workshops provide an overview of the options students have to plan for life beyond their F1 or J1 status.
Tax workshops: ISSS offers tax workshops to help international students understand their  U.S. tax filing requirements, as well as to provide them  with information and instructions about taxable scholarships, U.S. tax treaties, Social Security Number (SSN) and Individual Tax Identification Number (ITIN) application procedures and using the USF purchased tax preparation software, Sprintax.
International Job Success workshops: These workshops are designed to help international students explore international student specific issues and resources in the job search process. These workshops cover topics such as employment authorization options, job search strategies, networking, and discussing work authorization and sponsorship with employers. These workshops look at the US job search process from an international student  perspective and are supplemental to the workshops offered by the USF career centers. 
GoinGlobal is an online resource designed to help international students navigate the complexities of the global job market. The platform provides a wealth of information to help you explore career options and prepare for interviews. GoinGlobal has a rich database of job and internship opportunities around the world, including job application procedures and visa requirements. An H1B Plus database provides millions of visa application listings for American employers seeking to hire international talent in the United States. It further features a collection of country-specific career guides providing information on job search strategies, resume writing, and interviewing techniques specific to individual countries, preparing you for unique cultural and professional expectations of different regions worldwide.
Note that students must be logged into myUSF in order to access GoinGlobal. Find out how you can fully utilize the resource by registering for their training workshops here.