Applications & Leases
Rental Application 
You will need to fill out an application for desired apartments. People may ask for an Application Fee when you apply. The average cost of an application fee is $35, and it is possible you may be required to pay this before applying.
information to Gather
Renter's application from property you're looking at.
Income/Financial records. 
Bank account balance statements. 
Co-signer contact information. 
Reference letters (past housing manager or personal to demonstrate character). 
Financial Aid award letters.
Renter's Resume
A renter's resume lets landlords know that you are serious about renting and responsible. Consider turning in a renter's resume with your rental application. 
Signing a Lease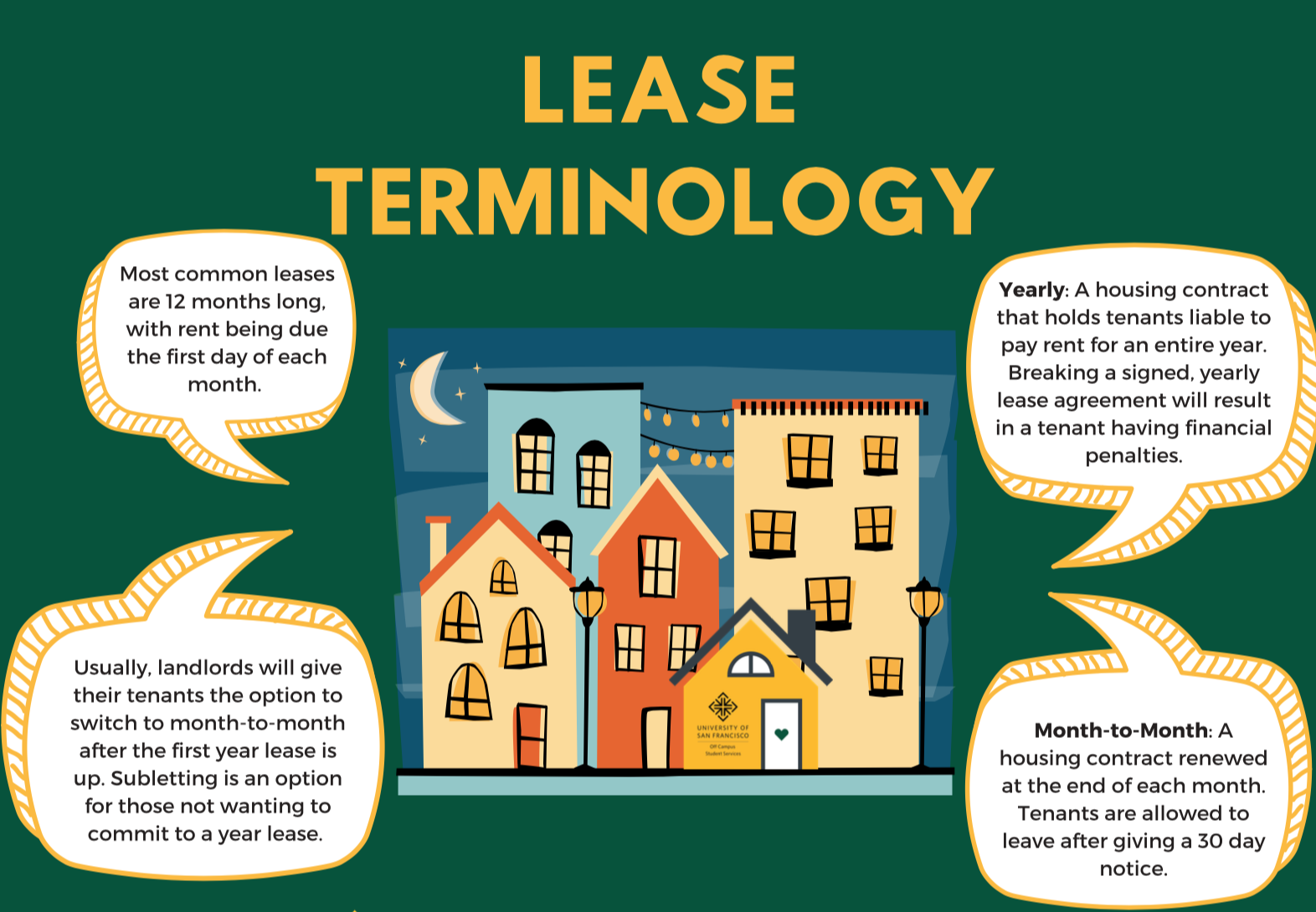 What to know before signing
Termination Options: Understand how you can cancel the agreement before you get into it. 
Monthly Payment: What is the exact amount you need to pay each month, and what utilities does it include? How do you make the payment; to who and where? When exactly do you make the payment? 
How Long the Lease Is: Figure out exactly when the lease starts and when it ends. Also determine what happens when the lease ends (month to month or option to extend). 
Community Rules: Are parties allowed? Is there a noise curfew? Are there penalties for breaking the rules?
Renter's Insurance: Is it required? Note - OCL recommends getting renter's insurance because it is cheap and helpful!
Subletting: If you know you will need to sublet, check the lease to see if this is allowed. Often times in San Francisco, the lease will state subletting is prohibited.
Other Things to Look out for
Landlords must disclose the name, telephone number, and address of any person authorized to manage the premises and/or act on behalf of the landlord for purposes of receiving rent, service of process, notices, and demands.
The landlord must also disclose whether rent payments are to be in cash, by personal check, money order, cashier's check, or through an electronic funds transfer procedure. 
A landlord is prohibited from requiring cash as the sole form of payment for rent and may only demand cash if the tenant bounced a check in the previous three months. 
Non-renewal of a lease does not mean that the tenant has to move. Generally, when the lease term expires, a fixed term lease simply becomes a month-to-month tenancy under the same terms and conditions.
There is no such thing as a "non-refundable deposit" (other terms may include key deposit, cleaning fee, move-in fee, closing costs." All money paid in addition to the monthly rent is refundable.