New Student & Family Orientation (NSFO)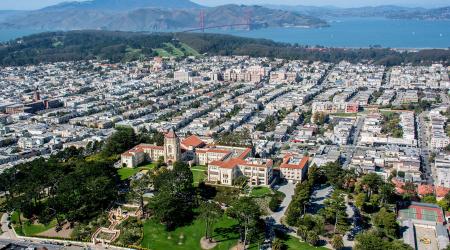 New Student & Family Programs welcomes you and your family to the University of San Francisco (USF). Our office is here to support you and your family as you transition to USF.
Actively participating in NSFO is an essential aspect of facilitating your transition into our USF community. All new first-year and transfer students are required to attend NSFO. Families are welcome to participate in our family orientation program.
Attending NSFO provides new students and families the opportunity to:
Gain a more concrete feel for the campus community
Learn about campus resources at Dons Fest
Connect with faculty from your school/college, staff and current students, including your Orientation Leader (OL)
Learn what it means to be a Don
Spring 2020 Orientation
Orientation will begin on the morning of Friday, January 17, 2020, and conclude at 5:00 pm.
Spring Orientation registration is now open! 
The Spring 2020 Orientation schedule can be found below. 
Download our USF Mobile app for the campus map, latest events, and more! 
Spring 2020 New Student & Family Orientation Schedule  
*indicates activities for new students 
Date
Time
Activity
Location
Description
Thurs., Jan. 16
All Day
New Student Move-In Day
Various Locations
All new students with confirmed on-campus housing may move in on this day.
Thurs., Jan. 16
8:30 am - 1:30 pm
International Student Orientation*
McLaren Complex
This mandatory session will provide important information about your visa category, academic success, cultural adjustment, and more. A light breakfast and full lunch will be provided.
Thurs., Jan. 16
10:00 am - 5:00 pm
Orientation Welcome Center
University Center, First Floor
USF Welcome Team will be available to answer questions and welcome you to USF.
Thurs., Jan. 16
10:00 am - 5:00 pm
One Card
University Center, First Floor
In collaboration with the welcome center, students can pick up their one card - USF Student ID.
Thurs., Jan. 16
12:00 pm - 5:00 pm
Student Financial Services
University Center, Room 503
The USF Financial Services team will be available to answer any questions you have about financial aid and/or student employment.
Thurs., Jan. 16
3:00 pm & 3:30 pm
Campus Tours
University Center, First Floor
New to USF? Let our GO Team leaders show you around your new home! Bring your walking shoes. No RSVP required.
Fri., Jan. 17
8:00 am - 9:00 am
Orientation Check-In
McLaren Lobby
Welcome to USF and your new community! Look for the Get Oriented (GO) Team in green shirts to help guide you during this exciting transition.
Fri., Jan. 17
9:00 am - 9:20 am
University Welcome
McLaren Complex
Your official welcome to USF from Orientation staff and USF President Paul J. Fitzgerald, S.J.
Fri., Jan. 17
9:20 am - 9:40 am
Professor's Perspective
McLaren Complex
A USF faculty member will discuss faculty expectations for the classroom and strategies to facilitate student success.
Fri., Jan. 17
9:40 am - 9:45 am
Introduction to Student Life 
McLaren Complex
Student Life provides essential programs and services that enhance academic success and personal growth. 
Fri., Jan. 17
9:45 am - 10:00 am
Counseling & Psychological Services
McLaren Complex
The health and mental health of students is critical to their success at USF. Learn more about the services and resources available.
Fri., Jan. 17
10:00 am - 10:10 am 
Student Disability Services
McLaren Complex
SDS will share information on how to request services for students with documented disabilities.
Fri., Jan. 17
10:10 am - 10: 20 am
Health Promotion Services
McLaren Complex
Learn more about Health Promotion Services (HPS) and the full range of services and opportunities dedicated to promoting the health and wellness of the USF student body and fostering a vibrant and safe campus community for student success.
Fri., Jan. 17
10:20 am - 10:30 am 
Career Services 
McLaren Complex
Career Services can assist our student's in aligning their interests and strengths to campus involvement, internships, and other work experiences that will prepare them to become career-ready
Fri., Jan. 17
10:30 am - 10:40 am
Transition 
 
Dismiss family members to Family Workshops (see below)
Fri., Jan. 17
10:40 am - 11:30 am
ICARE & Talk About It*
McLaren Complex
Learn about social justice in the community, as we talk about topics of microaggressions, sexual violence prevention, and upstander intervention. We will tie them into the USF values, and find ways to connect them to our lives and the impact that we can create on this campus.
Fri., Jan. 17
11:35 am - 12:30 pm
First-Year & Transfer Student Panels*
McLaren Complex
USF offers students the opportunity to live and learn in one of the most culturally diverse campuses in the country. During this session with the Center for Academic and Student Achievement (CASA), first-year and transfers students will split into different panels. They will be allowed to ask questions to current Dons.
Fri., Jan. 17
12:30 pm - 1:50 pm
Dons Fest / Lunch
University Center First & Second Floors
Check out this resource fair where departments will be on hand to answer your questions and help you learn more at USF. Lunch will be provided in the University Center cafeteria.
Fri., Jan. 17
2:00 pm - 5:00 pm
Orientation to Your Major*

College of Arts & Sciences, McLaren 250 & 251

School of Management, McLaren 252

School of Nursing & Health Professions, Fromm Berman Room

Join the faculty of your college/school for a personalized welcome and introduction to your academic career, including an orientation to your major. Key faculty and staff will introduce themselves and guide you through essential information about your specific academic major/program, including a section for all undeclared majors.
Fri., Jan. 17
7:00 pm - 9:00 pm
Game Night* 
University Center, First Floor/Undercafe 
Wind down after a long day and come hang out with new friends. From board games to video games to tasty snacks, Game Night is sure to have something for you.
 Family Workshops
| Date | Time | Activity | Location | Description  |
| --- | --- | --- | --- | --- |
| Fri., Jan. 17 | 10:40 am - 11:30 pm | Academic Success | Fromm Hall, Xavier Room | Learn how to support your student's academic excellence. The Center for Academic and Student Achievement (CASA), Registrar, and the Learning, Writing and Speaking Centers (LWSC) will offer insight on how you can help your student take advantage of resources at USF to develop helpful habits, lower their stress, and meet all of their academic goals. You'll also learn about the privacy of your student's records and what you need to know about FERPA (Family Educational Rights & Privacy Act). |
| Fri., Jan. 17 | 11:30 am - 12:20 pm | Financing Your Student's Education | Fromm Hall, Xavier Room | Speak to a financial aid representative about tuition, financial aid, or any money matters. The session will conclude with a Q&A opportunity |
| Fri., Jan. 17 | 12:30 pm - 1:50 pm | Dons Fest / Lunch | University Center First & Second Floors | Check out this resource fair where departments will be on hand to answer your questions and help you and your student learn more at USF. Lunch will be provided in the University Center cafeteria. |
| Fri., Jan. 17 | 2:05 pm - 2:10 pm | Welcome to Partners in Transition | Fromm Hall, Xavier Room | Come learn about the many resources on campus available to you and your student to help maintain a safe and healthy lifestyle at USF.  |
| Fri., Jan. 17 | 2:10 pm - 2:30 pm | Study Abroad | Fromm Hall, Xavier Room | Learn more about the study abroad opportunities at USF and how they can enhance your student's USF experience. An advisor will be present to discuss the details about USF Study Abroad. |
| Fri., Jan. 17 | 2:40 pm - 3:00 pm | Student Conduct  | Fromm Hall, Xavier Room | The Office of Student Conduct, Rights and Responsibilities (OSCRR) is responsible for the University's conduct process involving non-academic student misconduct. Here you will learn about their educational approach emphasizing personal accountability and responsibility, OSCRR works to ensure just and prompt resolution of allegations of misconduct. |
| Fri., Jan. 17 | 3:00 pm - 3:20 pm | Safety in the City | Fromm Hall, Xavier Room | Hear from our Campus Public Safety office about how to be empowered upstanders, understand the expectations around conduct and civility, and some basic tips and strategies about being safe both on campus and in the City of San Francisco. |
| Fri., Jan. 17 | 3:30 pm - 4:00 pm | Living On and Off Campus | Fromm Hall, Xavier Room | This session will give families an overview of living on and off campus and how we support your student in terms of support, safety, resources, and learning opportunities |
| Fri., Jan. 17 | 4:00 pm - 5:00 pm | Family Hospitality Space | McLaren Lounge | After a long day, use this time to wind down with other new USF families. Orientation staff will be available to answer any lingering questions that you might have about USF. |