Weeks of Welcome
Surrounding the start of classes will be USF's Weeks of Welcome, or WOW, Monday, Aug. 19 - Sunday, Sept. 1. Freebies, discounts, advising, library tours, free food, ice cream and more – these special events – will offer students, especially new ones, the opportunity to get to know each other, USF, and our San Francisco community.
A WOW mainstay, CAB presents Dons Night Out (DNO), is among the events that will help kick off the academic year on Monday, Aug. 19. This celebration that welcomes students to campus, from 7 p.m. to 10 p.m. in Warrior Memorial Gym, features performances by student groups and bands, games and more. Last year, the crowd estimated at 1,500 students. 
Below you will find the FALL 2019 WOW Schedule:
DATE
T I M E
E V E N T
POSTER CATEGORY
L O C A T I O N 
D E S C R I P T I O N
8/19
5:30pm - 6:30pm
Transfer Student Meetup
Student Meet Ups
Fromm, Maraschi Room
Reception to provide Transfer student with resource and start building community. Meet students from the Transfer Nation-Student Organization.
8/19
6:30pm - 7:30pm
Veteran/Military-Affiliated Student Meetup
Student Meet Ups
Getty Lounge
Students will enjoy appetizers and refreshments as they mingle with fellow new and current veteran/military-affiliated students.
8/19
7:30pm - 10pm
Dons Night Out
Student Meet Ups
Sobrato Center
Join the Campus Activities Board at their annual fall music festival! Hang out with new friends and meet returning students for a great concert, fun activities, unique photo ops, and more. This event is only for the USF community, bring your One Card for entry.
8/20
11am - 2pm
University Ministry Kickoff
Campus Connections
Gleeson Plaza
Join the University Ministry (UM) team for our first event of the year!
Meet the UM staff! Learn how to get involved with UM! Enjoy FREE carnival-themed food and petting zoo! For more info, please email um@usfca.edu.
8/20
11am - 12pm
From Community to the Capitol: Strategies for the Common Good
Campus Connections
Fromm Hall, Broad Conference Room
Want to learn more about opportunities on campus around civic engagement, public service, and community activism? Join the Leo T. McCarthy Center staff to learn strategies on how to make an impact throughout your time at USF and on.
8/20
8pm - 10pm
Target Night
Student Meet Ups
2675 Geary Blvd
Our yearly tradition is exclusive to USF students! 5% off towards your purchase, raffle prizes, and giveaways. Don't miss out! 
8/20
11am - 1pm
Resumania Workshop with Career Services
Things You Should Know
UC 1
Polish your resume before the Part Time Job Fair on August 21. Career counselors will give you the tips and tricks to make your resume stand out.
8/20
6pm - 7pm
Things I Wish I Knew Before San Francisco
Things You Should Know
McLaren 252
Do you have any questions you want to ask before classes start? What do successful students say are the things they wish they knew before they started college? Come to this session to ask a panel of students all of your last minute questions, and learn some tips for success in your first year and beyond! Open to all students. Refreshments will be provided.
8/20
6:15pm - 7:00pm
Cycling
Fitness & Wellness
Koret Aerobics Room
An exhilarating class that allows you to travel to another dimension whilst getting your sweat on! Pedal through hill climbs, sprints, and many other challenging drills and exercises to music for a heart-pumping workout. With guided focus and motivation, instructors create a fun experience for everyone!
8/21
6pm - 7:30pm
LBGTQIA+ Student Social
Student Meet Ups
McLaren 251/252
Are you a student looking for community who identifies as LGBTQIA+? Please join us at the LGBTQIA+ Student Social for games, roundtable discussions, and community building. This event is intended to immerse you in what it means to be an LGBTQIA+ student at USF and raise your awareness of the resources intended to support you during your time here. Refreshments will be provided and there will be an opportunity to win raffle prizes.
8/21
7:30pm - 9pm
Latin Dance Workshop
Student Meet Ups
School of Education 040
Whether you are a beginner or just want an excuse to dance, come out and learn the basics of Latin dancing! We'll be teaching everyone how to dance the basic steps of cumbia, bachata, merengue, and salsa.
8/21
11:30am - 1pm
Part-Time Job Fair 
Things You Should Know
McLaren Conference Center 
On- and off-campus employers offer part-time positions at this event--Federal Work-Study and non-Work-Study. Résumés are recommended. 
8/21
5pm - 6pm
Navigating Muni
Things You Should Know
Fromm Hall, Broad Conference Room
With Muni, you're just a ride away from everywhere in San Francisco. Learn more about how to navigate SF and discover tips to get to your final destination from a student's perspective.
8/21
12:15pm - 1:00pm
Fitness Interval Training (FIT)
Fitness & Wellness
Koret Box Room
This class incorporates kettlebells, TRX Suspension Trainer, battle ropes, body-weight exercises, med balls, sprint intervals and challenging high-intensity circuits to pack a punch to your lunch break! Be prepared to be challenged and break a sweat.
8/22
11:30am - 1pm
Rec Sports Day on the Green
Campus Connections
Gleeson Plaza/Welch Field
Learn more about the Rec Sports programs including Club Sports, Intramurals, Outdoor Adventure Trips, Welcome Weekend Trips, Group Fitness Classes, Personal Training, Aquatics and more! You don't want to be REC-LESS and miss out on FREE tacos and t-shirts! *First 100 receive a special prize.
8/22
11:30am - 1pm
The GREEN ROOM performance cafe OPENING 
Campus Connections
EDUCATION 045 - The GREEN ROOM
As part of the new USF STAGES performance venues initiative, we are opening the doors of The GREEN ROOM: jazz cafe, art gallery, social space, performance venue, maker shop, all-around student space for creating art and connections. The basement of the ED building, under Presentation Theater!
8/22
12pm-1pm
Opening of the Year Interfaith Prayer Service
Campus Connections
Privett Plaza
This Interfaith service celebrates and asks Divine blessing upon the USF community at the start of the academic year. Campus faith partners, clergy, faculty, and students from many faith traditions present in the USF community come together to hear readings from sacred scriptures and pray as a community. All are welcome!
8/22
5pm - 8pm
Opening Celebration for Studio Misión: The Artist Studio as Medium by René Yañez featuring The Great Tortilla Conspiracy and the Chulita Vinyl Club 
Campus Connections

Thacher Gallery, Gleeson Library Geschke Center

Celebrate the opening of the exhibition of Studio Misión: The Artist Studio as Medium by René Yañez. The event includes edible prints created by The Great Tortilla Conspiracy and music by the Chulita Vinyl Club.

Exhibition:
Studio Misión:
The Artist Studio as Medium by René Yañez
August 19-November 4, 2019
Thacher Gallery
Gleeson Library - Geschke Center

Studio Misión offers a look into the world and prolific creative process of San Francisco artist and curator René Yañez, focusing on his final years from 2016 to 2018. Bringing together Yañez's most recent projects and sketchbooks—seldom seen outside of his close circle of friends—the works seen here reveal his state of mind, his medically-induced visions, the faces of the Mission District that meant so much to him, and the politics that he fought to the very end. 
Curated by Rio Yañez Co-presented with Latin American Studies and the Center for Latinx Studies in the Americas (CELASA).
8/22
8pm - 9:30pm
Performing Arts Open House
Campus Connections
Studio Theater, Lone Mountain
Love to perform? Dance, Music, and Theater opportunities are everywhere at USF! Come meet reps from the Performing Arts Department and dozens of student clubs—from Hula Dance Ensemble to USF Voices and the College Players!
8/22
11:45am - 12:15pm
Undocumented and Unafraid at USF: Navigating the University as an Undocumented Student
Student Meet Ups
UC 415
Want to learn more about what it means to be an undocumented student at USF? You and your family members are invited speak to representatives from the USF Task Force to Support Undocumented Students and learn more about the opportunities and resources available to you.
8/22
10:30am - 12:30pm
Off Campus Referral Support Drop In Hours
Things You Should Know
University Center 505
Drop-in support/information for students interested in seeking off-campus mental health services.
8/22
6pm - 7pm
Safety in the City
Things You Should Know
Fromm Hall, Broad Conference Room
Meet with USF's Public Safety as they share tips and strategies about being safe both on campus and in the City of San Francisco
8/22
4:30pm - 5:45pm
Yoga
Fitness & Wellness
Koret Aerobics Room
Emphasizes physical and mental relaxation through a series of postures. This class improves breathing, alignment, balance, strength, and flexibility. Open to all levels.
8/23
6pm - 8pm
Off The Grid Friday Night Food Truck Party*
Student Meet Ups
Fort Mason Center for Arts & Culture
Welcome to California's largest evening Street Food market. Each Friday Off the Grid invites thousands of guests to dine, unwind and connect at their flagship destination market at Fort Mason Center for Arts & Culture (FMCAC). With diverse street food from a rotating lineup of more than 30 of the Bay Area's best mobile food creators, live DJs, entertainment, and weekly themed programming Fridays at Off the Grid are a staple of the FMCAC experience. Check out all your favorite gourmet food vendors in one place! 
*Only open to new students and pre-registration required
8/23
11am - 2pm
Library Inside Out!
Things You Should Know
Gleeson Plaza and Lawn (right in front of the Library's Los Lobos de Loyola statue!)
We're bringing our favorite things inside Gleeson Library | Geschke Center out to Gleeson Plaza/Lawn! Stop by for refreshments, games, prizes, info about the library, or to relax in our outdoor lounge with a book. If the weather's rainy, come on inside Gleeson, we'll set up the festivities on the second floor common area of the library!
8/23
9am - 10am
Core & More
Fitness & Wellness
Koret Aerobics Room
This class is geared towards strengthening your core muscles (abdominals, hips, glutes, low/ upper back, shoulders) with emphasis on proper form to enhance hip and spinal stability. This class utilizes your bodyweight and or equipment such as dumbbells, KBs and bands to take you through a low to moderate intensity class. Everyone and anyone can benefit from this class.
8/24
10am - 1pm
Beach Yoga*
Student Meet Ups
Baker Beach
Rest and reset your mind, body, and spirit and experience the magic of yoga; 75-minutes of mindful movement in nature. Reconnect to the beauty and rhythm of nature as you watch the waves crash at Baker Beach. All levels of experience including new yogis welcome! Just bring a beach towel. 
*Only open to new students and pre-registration required
8/24
6:00 PM
Men's Soccer Game
Student Meet Ups
Negoesco Stadium
Come out and root for our Dons. The first 300 USF students through the gate will receive a free pair of USF Sunglasses! Show your student ID to receive your free sunglasses. Open to ALL students!
8/24
10:30am - 11:20am
Kickboxing Technique
Fitness & Wellness
Koret Box Room
Overview and application of all the various striking techniques in kickboxing. From the ground up, participants will learn to utilize punches and kicks through multiple facets of Kickboxing and striking martial arts. These techniques will be taught through group drills, partner work, and bag/pad work. No sparring will be conducted. It is recommended that you bring your own gloves and wraps although we do have gloves you can borrow.
8/25
7pm - 8:30pm
Mass of the Holy Spirit 
Campus Connections
St. Ignatius Church
The opening mass of the academic year is the Mass of the Holy Spirit, Sunday evening, August 25, at 7 p.m. Please join us for this beautiful liturgy which asks God's blessing for the coming school year. The Rev. Paul J. Fitzgerald, President of USF, will preside for this liturgy. All are welcome! *Only open to new students and pre-registration required
8/25
10am - 2pm
Treasure Island Festival 'Dog Days of Summer'*
Student Meet Ups
Treasure Island
Located in the heart of the bay on Treasure Island TreasureFest is a modern urban market for 15,000+ that houses ~400 curated vendors selling originally-made and designed items, artists, and all things local and unique to the Bay Area including 35+ food trucks and live music! Celebrating all things local. SHOP. EAT. DRINK. PLAY. *Only open to new students and pre-registration required
8/25
11:30am - 12:20pm
Kickboxing Conditioning 
Fitness & Wellness
Koret Box Room
Full body conditioning stressing muscular endurance, flexibility, cardiovascular endurance, and relative strength specific to kickboxing. Through the use of circuits, burnouts, weights, and the application of kickboxing techniques, participants will build a solid foundation for kickboxing.
8/26
11:30am - 1pm
Fall Sustainability Fair
Campus Connections
Gleeson Plaza
Composting, electric buses, and meatless meat? Welcome to San Francisco! Join Sustainable USF for our first ever Fall Sustainability Fair, and discover how fun and fulfilling living a sustainable lifestyle can be! Enjoy free food, play fun games, and win eco-friendly prizes!
8/26
11:45am - 12:45pm
Open House for New & Returning Students - Swig Program in Jewish Studies & Social Justice
Campus Connections
Kalmanovitz Hall, Room 111
Open to all students - current, curious, and future students interested in the Minor in Jewish Studies and Social Justice.
8/26
6:00 PM
ASUSF Meet & Greet
Campus Connections
UC 4th Floor Lounge
Associated Students of the University of San Francisco (ASUSF) Senate advocates for student voices to be heard and carried forward in order to inspire progress and promote positive change in the USF community. Come out and share the love for advocacy and addressing student concerns with ASUSF at our Meet and Greet! 
8/27
11am - 1pm
Off-Campus Student Appreciation w/ Coffee and Donuts
Student Meet Ups
Lo Shiavo
OCL Pop Up Series: Welcome Back/ OC Students: Also gain info on Renter's Insurance/Intro to resources of SF, Disaster preparedness and Apt. Inventory
8/27
6pm - 7:30p
Asian and Asian American Student Welcome
Student Meet Ups
McLaren 251 & 252
Welcome (back) to the USF community! Start your fall semester on the right foot by celebrating the Asian and Asian American community with us! Learn more about campus resources, check out the music/dance performances, and connect with Asian and Asian American student organizations. This event is free and open to all new and returning students, so join us for some yummy Asian snacks and get a chance to win raffle prizes!
8/27
12pm - 1pm
Nutrition Workshop - Diet Myths Debunked
Fitness & Wellness
UC 402/403
Join Health Promotion Services as they debunk the most common nutrition myths so you can feel more confident about your nutritional choices. 
8/28
2:30pm - 4pm
Communication Studies Carnival
Campus Connections
McLaren 251
Join faculty and majors at the Communication Studies Carnival! Learn more about our classes, activities, and opportunities. We'll have carnival food and music!
8/28
6pm - 7pm
Mental Health Matters
Fitness & Wellness
McLaren 252
It is easy to get too caught up in academics and forget about taking care of yourself, so come join us and learn all about mental health. We will explore the various ways to care for your mental health while at USF and even how to look out for your fellow Dons! You can come by yourself and meet new friends or even come as a group. Everyone is welcome and everyone will benefit.
8/29
11:30am - 1pm
Student Leadership and Engagement (SLE) Involvement Fair
Campus Connections
Gleeson Plaza
Come chat with 100+ student organizations and campus departments about ways you can get involved. Meet new friends, keep active, build your leadership skills, and explore your interests!
8/29
6:30pm - 8:30pm 
Meet the Greeks
Campus Connections; Student Meet Ups
McLaren Complex
Want to learn more about social fraternities and sororities at USF? Join us for Meet the Greeks. You'll have an opportunity to meet members of our community and representatives from each of our ten chapters.
8/29
10:30am - 12:30pm
Off Campus Referral Support Drop-In Hours
Things You Should Know
University Center 505
Drop-in support/information for students interested in seeking off-campus mental health services. Drop-in hours recur every Thursday throughout the academic year.
8/30
7pm - 9pm
Lyricist Lounge
Campus Connections
University Center 4th floor lounge 
Share your art or listen to others share theirs! Come through for Lyricist Lounge, a monthly open mic event that encourages and supports the art of spoken word poetry, singing, and other forms of self-expression. This month's theme is "Find Your Voice".
8/30
10am - 4pm
Apply for an Arrupe Immersion
Things You Should Know
University Ministry
Apply for an Arrupe Immersion! Please visit our office for more details on upcoming immersion trips. Arrupe Immersions are local and global experiences designed to open participants' eyes to the realities of the world.
8/31
9am - 5pm
University Ministry New Student Retreat & BBQ
Campus Connections
Golden Gate Park (Meet in Toler Hall 122, University Ministry Office)
A fun day to meet new friends, and explore connections to self, community, values, spirituality, and USF. Students of all faiths (or none) are welcome. Find out what it means to say I Am Jesuit Educated! The day will end with a fun BBQ & lawn games in Golden Gate Park. Register for this event. 
8/31
5pm - 9pm
SF Giants Game*
Student Meet Ups
Oracle Park 
The Giants are proud to invite all fans out to Oracle Park to celebrate the most popular comic strip of all-time, "Peanuts"! Your special event ticket includes a ticket to the Saturday game versus the San Diego Padres and a collector's-edition Peanuts/Giants item!! On this day, we celebrate the influential work of one of the most beloved comic strip authors and illustrators in history, Bay Area-native, Charles M. Schulz. Don't forget to get your picture taken with the three World Series trophies, visit the Giants Highlight Theater to watch last season's highlights, and get loud with ball park fun! *Only open to new students and pre-registration required
8/31
8:30am - 9:20am
Boxing Fundamentals
Fitness & Wellness
Koret Box Room
Learn the basics of boxing, improve coordination and build up your work capacity. This class is for everyone, you will build a solid foundation both in boxing and overall conditioning. No sparring will be conducted. It is recommended that you bring your own gloves and wraps although we do have gloves you can borrow.
8/31
9:30am - 10:20am
Boxing Conditioning
Fitness & Wellness
Koret Box Room
Work on strength and conditioning specific to boxing. Improve your boxing skills, relative strength, muscle endurance and conditioning!
9/1
10am - 1pm
Indoor Miniature Golf
Student Meet Ups
Urban Putt
Located in the heart of San Francisco's Mission district, Urban Putt is the City's first and only indoor miniature golf course. Urban Putt offers guests a fun, only-in-San Francisco experience with top-notch food and drinks, and a fantastical, high-tech 14-hole mini-golf course. Steve Fox–along with a dream team of industrial designers, robotics engineers, welders and artists–has created a technically sophisticated playground for people of all ages, where imagination has free reign and all of the senses are engaged.
9/1
12pm - 3pm
Labor Day Symphony in the Park
Student Meet Ups
Golden Gate Park
The Golden Gate Park Band presents its 137th season in Golden Gate Park's music concourse. That's right, this symphony has been playing free concerts in Golden Gate Park for more than 100 years. These concerts take place in the wonderful setting of historic Golden Gate Park with the DeYoung Museum on one side, the California Academy of Sciences on the other, and the Japanese Tea Garden close at hand. Come and enjoy this "San Francisco treasure". *Only open to new students and pre-registration required
9/1
10am - 11am
Zumba
Fitness & Wellness
Koret Aerobics Room
Full-body workout combining latin dance cardio and strength exercises that focuses on your abs, glutes, arms, and legs using free weights. Before class please grab a yoga mat, hand weights, and a water bottle.
9/5
12pm - 12:45pm
Study Abroad Information Meeting
Things You Show Know
McLaren 252
Learn about all the study abroad opportunities available to you, how to apply, and hear/speak from students who have just returned from abroad! Lunch will be provided.
9/5
4:45pm - 7:45pm
Certified Peer Education Training (Day 1 of 4)
Things You Show Know
UC 402/403
Interested in what it takes to become a peer educator. Learn more and get certified by the BACCHUS Initiatives of NASPA through the Health Promotion Services (HPS). All students who complete the training will be invited to join the HPS Health Outreach Team. Great on resumes! RSVP for this event to hold your spot.  
9/5
4pm - 5pm
Create Art & Craft Friendships
Fitness & Wellness
UC 501
Learn to paint like a pro with a free Paint by Numbers kit provided by Health Promotion Services, and use the hour to interweave with other students and join their close knit community. This is an ongoing program, every Thursday from September 5th - November 21st.
9/7
10am - 3pm
San Francisco Zoo
Student Meet Ups
San Francisco Zoo
There's a lot to see in this urban oasis nestled against the Pacific Ocean; the San Francisco Zoo & Gardens is an urban oasis home to more than 2,000 exotic, endangered, and rescued animals. Covering 100 acres of land, the Zoo offers visitors the chance to get up close to some of the most beautiful and fascinating creatures on the planet and majestic peaceful gardens full of native and foreign plants. *Only open to new students and pre-registration required
9/8
11:00 AM
Museum of 3D Illusions
Student Meet Ups
Fisherman's Wharf
The world-class Museum of 3D Illusions has finally arrived in San Francisco! Don't miss out on this amazing experience; one of the hottest and latest attractions in SF! With over 40 completely interactive 3D painting exhibits, the Museum of 3D Illusions is the place where guests can let their imaginations run wild and experience a photo-op unlike any other! *Only open to new students and pre-registration required
Welcome Weekends
Welcome Weekends are trips for incoming first-year and transfer students. These fun, free outings take place during the beginning of each semester, designed to help new students connect with communities of support on campus. Welcome Weekend trip leaders help students learn to use their MUNI pass to discover local destinations, historic landmarks, and fun attractions. 
Learn more about Welcome Weekends.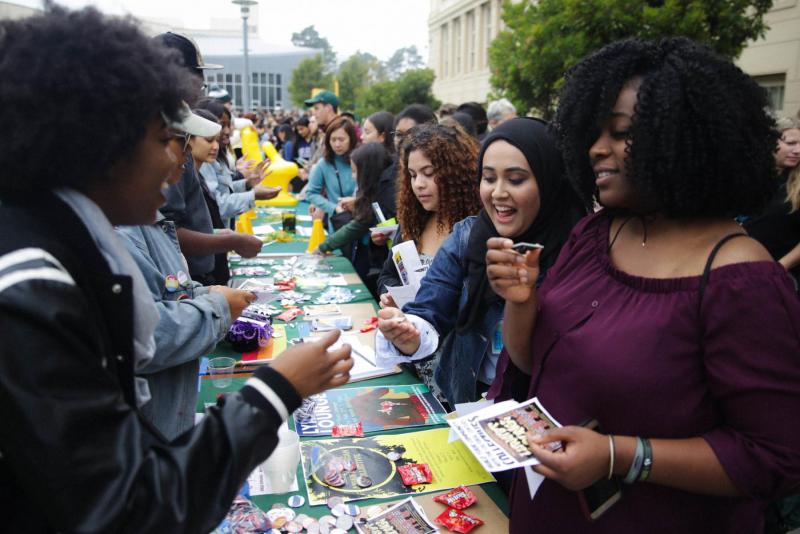 Certain events will be photographed and/or video recorded for archival, educational, and related promotional purposes. By attending or participating in this event, you grant USF the full unrestricted rights to your photograph, voice and likeness in any manner or media whatsoever worldwide for educational marketing purposes. If you do not wish to be photographed or video recorded, please inform the camera person at the start of each event.