Office Of Sustainability Student Team
Nice to meet you! We at the Office of Sustainability are a combination of students and staff from a multitude of backgrounds, majors, and experiences. Our student team is here to provide support and education to the USF community to reduce environmental harm done by our campus, and to empower community members with life-long green habits and knowledge. 
Richard Hsu
sustainability COORDINATOR
Richard Hsu has led the USF Office of Sustainability since its inception in 2015, collaborating with campus stakeholders to implement building-level submetering and energy analytics, enable access to bikeshare and electric vehicle charging, and expand campus recycling and composting. He also launched the Sustainability Specialist student internship program, co-hosts the annual USF Sustainability Design Challenge student competition, and advises USF's chapter of the Food Recovery Network. His current interests include electrification of buildings and transportation, renewable energy storage, and regenerative design. When outdoors, he enjoys hiking and backpacking. When indoors, he prefers tabletop and PC gaming. Richard is an alumnus of the Master of Science in Environmental Management (MSEM) program at USF and Climate Corp Bay Area. He completed his undergraduate studies at UC San Diego with a B.A. in Environmental Policy with a concentration in Environmental Chemistry.
---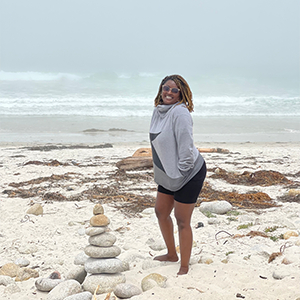 Valere Ossie
Sustainability Specialist
Bonjour! My name is Valere , I am a second year graduate student in Environmental Management. I have an interest in sustainable development and environmental health, helping others to find solutions to create a better life. I see myself as an eco-entrepreneur (long-term goal) or working in a sustainability team for an international company to lower its carbon footprint.  I  love spending good time with good people and watching criminal shows ( I am a nice person, don't worry ;) ! 
---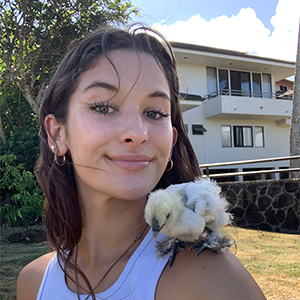 Malia Boksanski
Sustainability Specialist
Hello! My name is Malia Boksanski and I am a third year student double majoring in Environmental Science and Environmental Studies. I am passionate about food justice and conservation efforts here in the Bay Area as well as back home in Hawaii.
Check out my newsletter article on California's Drought 2022.
---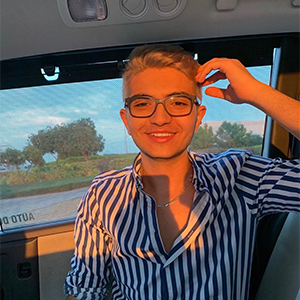 Yazan Tadros
Sustainability Specialist
I am Yazan. I major in business and minor in theatre. I am passionate about helping create brighter futures for the coming generations in terms of equality, equity, and sustainability. Some of my career goals include starting a chain line of successful and sustainable business that will be all fair trade and ethical!
---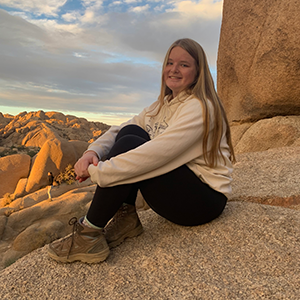 Lauren Crane
Sustainability Specialist
Hello! I'm Lauren and I'm a first year Politics Major with a minor in Environmental Studies and I'm super excited to be working as a Sustainability Specialist here at USF! I'm really passionate about Environmental Justice and would love to pursue Environmental Policy Making in my future. I love getting out in nature and practicing sustainability and can't wait to help bring more sustainable practices to the USF community.
---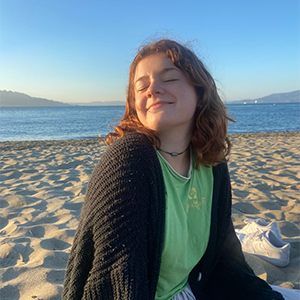 Ana Zurcher
Sustainability Specialist
Hi! My name's Ana and I'm a freshman at USF. I'm studying sociology and I'm very passionate about climate justice and community service. I hope to pursue a law or social work degree after I graduate! Some of my favorite things: being outside, tea, crocheting, pasta, and reading. 
---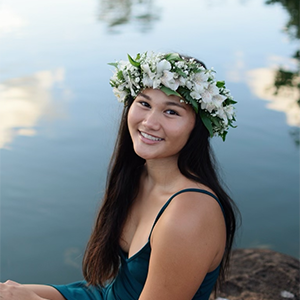 Napua Canales
dIGITAL CONTENT MANAGER
Aloha mai kākou! I'm Napua, a second-year Marketing major and Environmental Studies minor. I'm very passionate about giving back to the land that cares for and nurtures us, all while creating friendships and uplifting my community in any way. In my free time I enjoy swimming at the beach and dancing (ballet, hula, & ori Tahiti)! After I graduate, I hope to pursue a marketing career in non-profit organizations or in the promotion of renewable energy sources. 
Check out my LinkedIn!
---
Daniela Uribe
Sustainability Specialist
Hey everyone I'm Danni. I'm a third year environmental studies student here at USF. I'm passionate about equitable access to environmental resources and I'm also into conservation work. I'm a part of BIPOC Students for the Environment here on campus. In my free time I enjoy hiking, cooking, and knitting.
---
Beatrice Johnson-Drysdale
Sustainability Specialist
Hello! I'm Beatrice Johnson-Drysdale, a third-year Engineering major with a concentration in Sustainable Civil Engineering. I am passionate about the built environment and increasing diversity in environmental and engineering spaces. My long-term objective after graduation is to develop ecologically sensitive buildings and structures while maintaining functionality and preserving aesthetics.
Check out my LinkedIn!
---
Zoe Binder
Sustainability Specialist
Hello! I'm Zoe and I'm a senior English and environmental studies double major, with minors in classical studies and urban agriculture. I believe that storytelling is one of the most important practices in environmentalism. Our stories influence our culture and vice versa — they represent everything we can imagine the world to be! We need all kinds of stories from all kinds of people to help us shift society toward a more sustainable future. Here's a story — about the importance of stories — that shifted my worldview: Cloud Cuckoo Land by Anthony Doerr.
---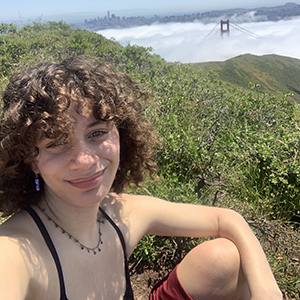 Celia Celimene
Sustainability Specialist
Hello, my name is Celia, and I am a fourth year Environmental Studies and Anthropology minor! I am motivated by my passion for food security and environmental justice, and in the future I would love to work on the reformation of the agricultural system. In my free time, I love to have adventures! Anything from an impromptu hike across the city, to a plane across the ocean.
---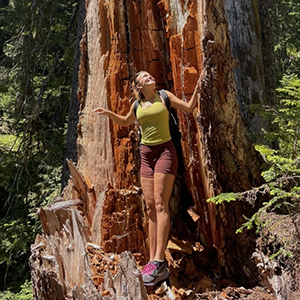 Izy Well
Sustainability Specialist
Hello! My name is Izy Well, and I am a second year Environmental Studies and Education student. I chose this field because I love spending time outdoors and I hope I can share this joy with young people through a career in outdoor education! I am excited to work to make sustainability both fun and meaningful on campus! In my free time I love to go on runs at Lands End, rock climb, cook, make collages, and hang out with friends.