Sustainability Design Challenge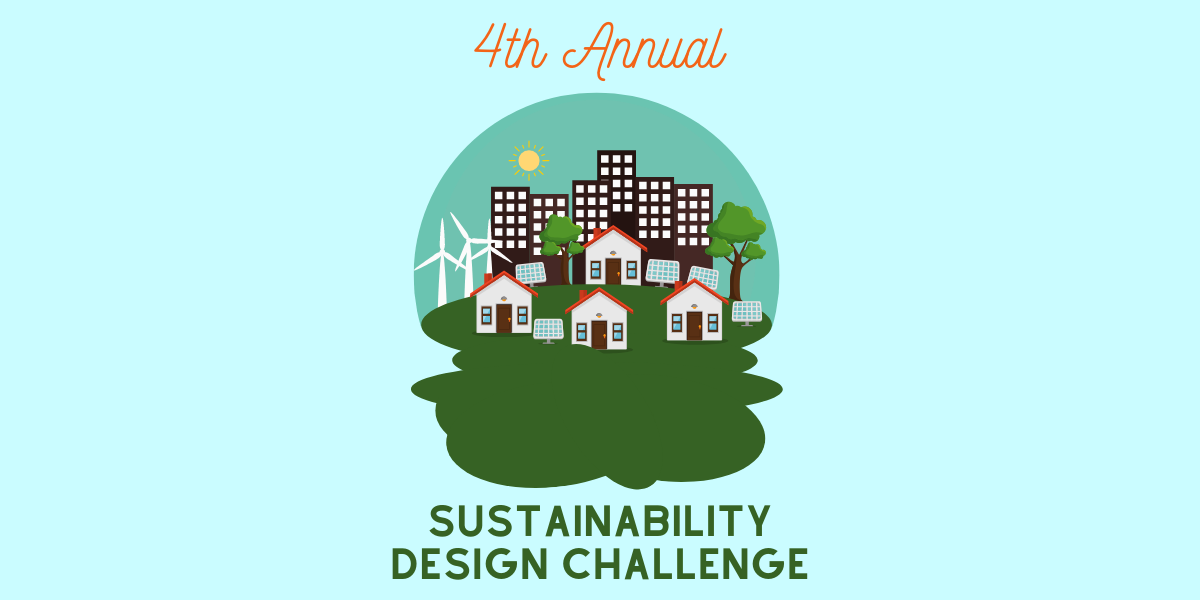 Design, build, hack, or prototype sustainability projects for USF and beyond!
Update:
2019 Winners and All Team Proposals now posted!
---
What is the Sustainability Design Challenge?
What is a design challenge?
You are presented with a problem, and you work in a team to find a solution.
What's the goal?
To propose a solution that will help promote good habits of environmental sustainability here on our campus. Your solution will likely be in the form of a concept proposal and development plan that addresses one of the priority areas identified.
What kind of solution?
The format is up to your team. Maybe it's a physical thing, or a smartphone app, or an educational campaign. No limit to the form your solution can take!
Who's on a team?
Teams will be multidisciplinary, representing at least two areas of study: arts/humanities, sciences/health care, and business/social science.
How are proposals judged?
Your team's proposal will be judged on its feasibility, impact, and innovation by a panel of judges expert in the fields of sustainability, design and social impact.
---
Sustainability Design Challenge 2019: Top 3 Teams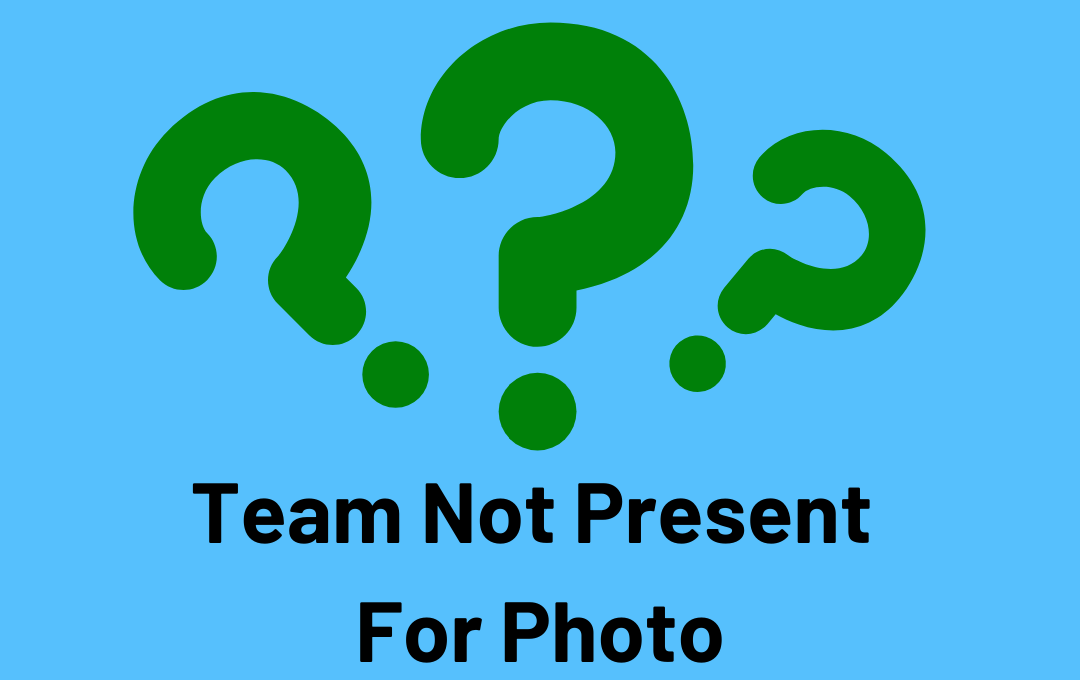 Concept: Traffic Light Labels on Cafeteria Food
We propose labelling prepared food in the cafeteria with traffic light labels about carbon emissions to make student food choices more sustainable. We would like to put them up right after summer and winter break. Research by Verplanken and Roy (2016) suggests that students will be more receptive to changing their behavior based on new information after a major life change like moving. We therefore want to focus on the return from summer and winter breaks, when many students will be changing living circumstances entirely. We hypothesize that putting up cafeteria traffic light labels after breaks will make our food choices more sustainable and reduce our carbon footprint. We propose this intervention because food production and consumption are significant sources of carbon emissions. A survey we did of current USF students indicated that students would be more likely to eat more sustainably if they were given information and support to help make a change. Our results also demonstrate that students would be willing to eat less red meat and choose a vegan option if it was labeled. To create the signs communicating these things, we will get information about upcoming cooked meals from the cafeteria staff. Then we will approximate the weight of carbon dioxide produced by making the ingredients of each dish. We will compare the available entrees' carbon scores, sort them into three evenly sized groups based on emissions level, and assign the meals in each group a red, amber, or green light accordingly. Our project will be relatively low in cost. It will take the time and energy of our team and of cafeteria workers who would need to share recipes and menus with us. It will also cost money to print and laminate the traffic light signs. However, we believe it will increase sustainable eating and thus improve student health and save the university money.

Concept: Fog Nets on Campus
California was in a severe drought for about 8 years from 2011 to 2017 ("California").
According the Sustainability coordinator of USF, Richard Hsu, The University of San Francisco used about 49.4 million gallons of water per year which is equivalent to 1 million, 16.9oz water bottles per day and specifically 6.6 million gallons for irrigation. Within the past California has dealt with severe water loss starting around 2000 and  started to increase in 2011 till 2019. Knowing about the droughts in the past can help us prove that implementing fog nets can help prepare USF for future purposes especially because USF has a lot of landscape and gardens that need water maintenance. Especially due to climate change, we aren't sure if another drought can occur anytime soon. We would like to implement fog nets, an eco-friendly way to collect fog that can create a reliable source of water. Wind will carry fog through the nets that will catch water that will drip down to a water reserve tank to be stored.
These Fog nets would need to be maintained. The nets need to be changed to ensure cleanliness of water. Water tanks would also need to be cleaned periodically. Students can be involved in this process. Various clubs and organizations involved could be (facilities, The Sustainability Club, and The Gardening club). In a study done by Astin, Sax, and Avalos, they looked at the long term affects of volunteering. They found that students that did volunteer work in college were more likely to do volunteer work after college graduation (Sax). This will not only provide short term benefits on students but also provide long term benefits as they continue these pro-enviromental behaviors past their time here at USF.
Though the University of San Francisco has made many innovative improvements in efforts to become more sustainable, they have not yet utilized one of the most major weather elements unique to San Francisco, fog.  Fog harvesting allows us to fully exploit the resources given in our environment and utilize it for our campus.  This would be a step towards improving our campus to become more sustainable for the future.  
 Other campuses have installed these fog nets. One of which being the University of South Africa and even California State University Monterey Bay (CITE). The "University of South Africa" installed,  "70m²", and they produced, "3,800 liters a day" (Quezada).
Our prototype will be a relatively small fog net, 1.8 x 1.8meters, installed near our school's garden or behind Lone Mountain.  In addition, the installation will not disrupt the environment because the structure and materials of the fog nets are environmentally friendly and safe for wildlife.  If successful, this can become a more visual and creative installation involving the student body and local Bay Area artists.

Concept: Cafeteria App
We plan to make the cafeteria more convenient by creating a digital interface between students and the cafeteria. This will make it easier for students to control their diet, reduce the waste they produce, and promote environmental protection all while improving the efficiency of the cafeteria.

The cafeteria is an indispensable part of campus daily life. However, as students, we still see some areas that could be improved. For instance, the lines are often long and the ingredients and recipes of the meals offered are often vague. In addition, international students are also unsure how to classify waste due to the cultural differences. To solve this issue, we have designed a mobile app since as well-designed app is something convenient and manageable for students and staff alike. Specifically, the app will have three main features: Users can order and manage their meals with the press of a button, meal information and ingredients can be viewed instantly, and the waste classification of each item can be explained in the app.

Besides the key features of the app, discounts and games can also be included to further entice students to use it. We want the app to be familiar and intuitive to students, so the user interface will be designed to mimic other popular apps. We envision that the main cost of this project will come from the art and interface design, as well as the web server. There will also need to be changes in the cafeteria to allow for the addition of online ordering and pick up, but these costs would be relatively minimal.

In contrast, the potential savings and earnings of such an app are significant. This would increase the efficiency of the cafeteria, make it more convenient for students to use, and reduce the occupancy overload of the cafeteria during peak hours. In addition, our own polling of the student body across all major demographics suggests that students are very interested in such an app. 
 
---
Sustainability Design Challenge 2018: Top 3 Teams
Concept: Plastic Water Bottle Disincentive
The problem that we are trying to assess is the large use of bottled water in USF. Bottled water costs 2000 times more than tap water. In addition to being costlier bottled water's taste deteriorates and there are various health risks to consuming bottled water (United States Environmental Protection Agency [EPA], 2017a). Not only might one be hurting one's pocket, enjoyment and health, buying bottled water contributes to ocean debris as well as being the one of the top three trash item found during Coastal CleanUp Day, with 988,965 plastic bottles collected (Ocean Conservancy, 2018a). Choice architecture dictates that design can affect behavior. Cafeterias are a common place in which choice architecture is applied usually to promote healthy eating by for example placing healthy food in hard to reach places or inconvenient places. Our idea is to use choice architecture to disincentivize the purchase of bottled water in the USF cafeteria by placing bottled water in harder to reach places and spots. As part of the young new field of behavioral economics, choice architecture is a strategy that is used in many scandinavian cafeterias and other progressive places. This is an idea that is truly revolutionary in that it is so multidisciplinary.

 In addition a survey was conducted at the University of San Francisco to find out the extent to which choice architecture could affect the behavior in the cafeteria with the goal of decreasing the use of bottled waters to help the environment. We created a logo to help the recognition of water fountains and water dispensers already provided to students. We also came up with the idea to add on the location of water fountains to an existing map on the USF website that shows the places where bike racks, LED light  and disabled-friendly facilities are available. Our project costs $0. Yes, NO COSTS, and it can be implemented as fast as in an hour! With the cost being none, even the slightest effects will outweigh the cost. The effects of choice architecture successfully changing consumer behavior is well supported by empirical data.
Concept: Flexi Donation App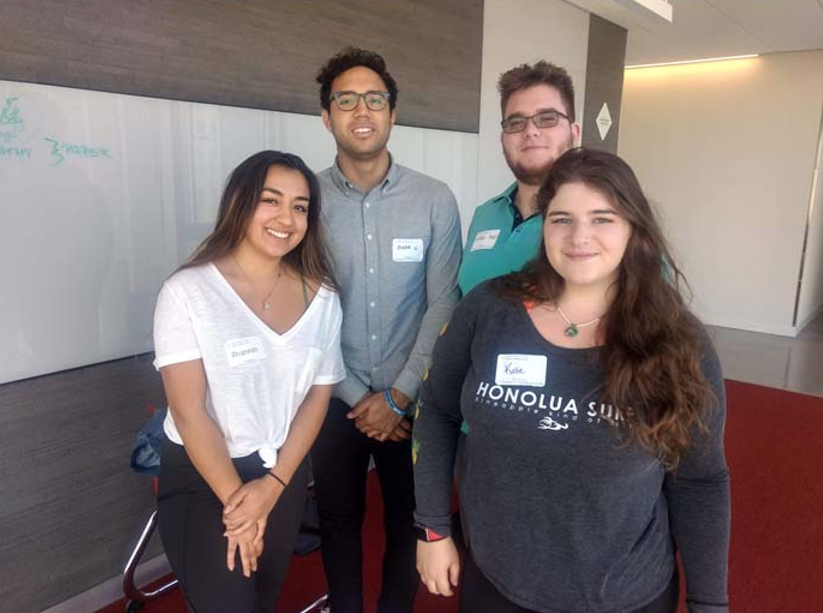 One of the biggest problems is food insecurity. Nationally 36% of university students are food insecure. Here at USF 2,500 people live on campus, and on average have 400 dollars excess on their meal plans at the end of each semester. Our focus is on social sustainability, especially enhanced livability. If people's basic needs are met they will be able to have more opportunities to better themselves as well as their communities. Unused flexi tends to lead to less environmentally friendly decisions and with this we could reduce food waste in the cafeteria as well as bringing people to a place where composting and recycling are more accessible. We have a solution to these excess funds as well as food insecurity, Plate. Plate is a fully designed fully functional app that incentives users to donate unused flexi to those who need help. This allows us to give food to those who need it while reducing waste, we are also creating a sustainable community where students aren't worried about their basic needs. This app is absolutely free, there is no cost associated with it. We can easily grow beyond our campus to make our entire nation more sustainable.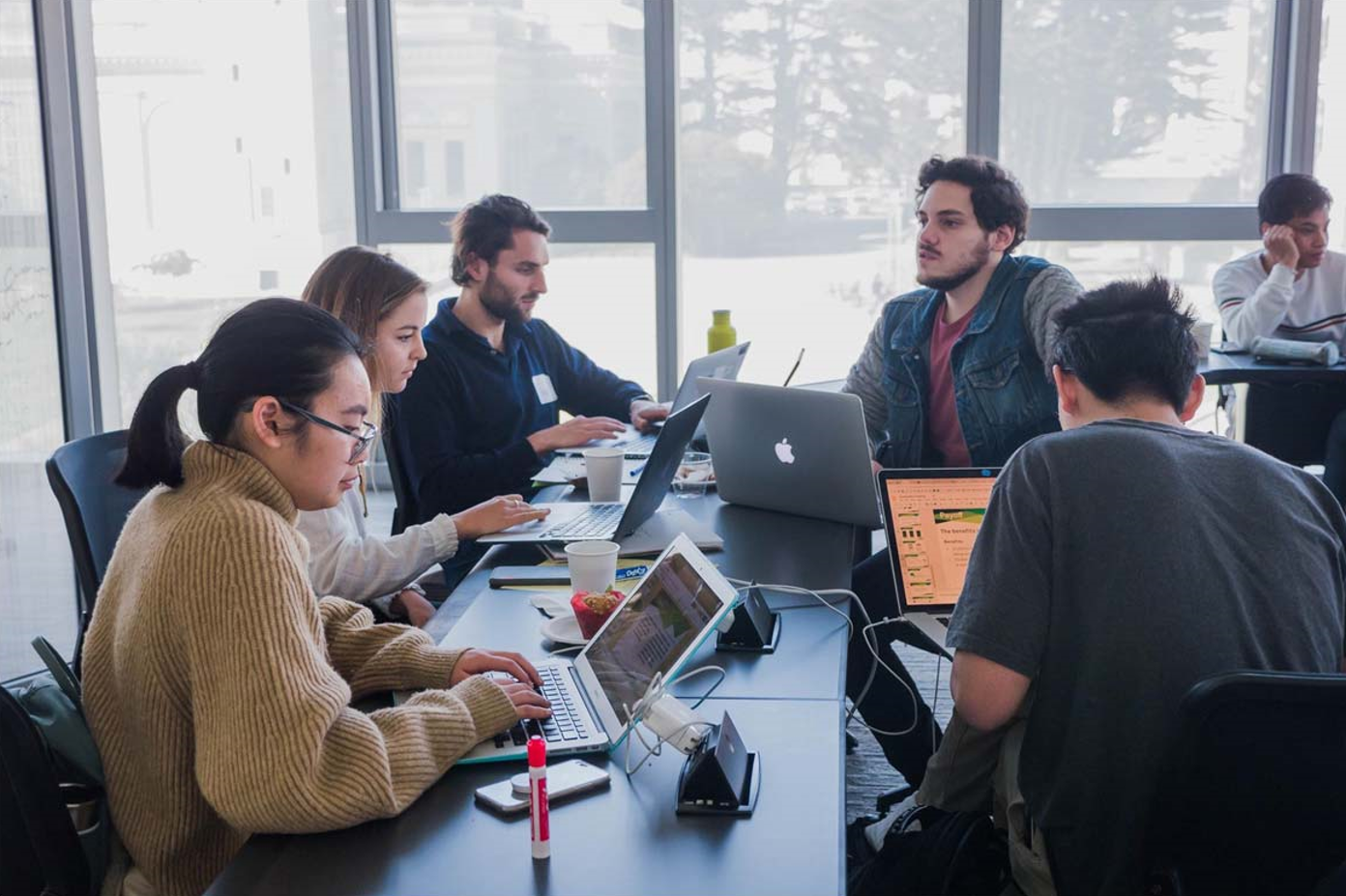 Concept: Don's Quiz
Our team created a survey to find out USF student's current attitudes and beliefs around sustainability, and found that students guide and encourage their peers to lead more sustainable behaviors such as recycling, taking shorter showers, etc. however, our data also revealed that students feel that they do not have sufficient knowledge on the subject and therefore aren't confident in leading peers. Students also reported that they felt USF needed to promote education and awareness regarding sustainability. We then asked how they preferred this education to be facilitated, and a significant majority chose via a mobile application. So, we built a prototype for a mobile application that functions on a basic level.

Our idea is for an interactive trivia game that includes trivia questions centered around environmental science, USF's use/waste statistics, etc. Students will be able to compete against one another, or even against faculty! We have included a feature that allows students to create questions that will then be approved (or not) by students/professors in the Environmental Studies. Furthermore, we have been discussing rewards that will include possible internship opportunities at Hienrich Boll Stiftung, opportunities to attend conferences (provided by connections through the Sustainability Office at USF), and possible extra credit/day late passes given on a one-to-one basis depending on the professor. Our idea does not require funding, but it will require labor to maintain the mobile application and also to monitor and vet questions. We propose that this duty can be taken care of by students in the Environmental Studies department, or an environmental club on campus. 
---
Sustainability Design Challenge 2017: Top 3 Teams
Concept: Reusable Cafeteria Containers
On average our cafeteria goes through 5,000 transactions a day. Many of these transactions are food taken to-go in compostable containers. But are these containers really sustainable? We are proposing to implement a reusable container system to replace the compostable containers. Reusable containers use far less energy and resources over their life cycles in comparison to disposable ones. One-time use compostable containers are not only wasteful from an environmental standpoint, but come with health hazards associated with the production process that harnesses fertilizers and pesticides. The cost of buying compostable containers per school year (estimated at $26,000) far outweighs the cost of a one-time purchase of the proposed bento boxes (estimated at $50,000) which have a life span of two to three years. Reusable containers given to freshmen students through the GIFT fund will be used to take food from the cafeteria through a checkout system implementing barcode technology. After use, the student will return the container to a station in the cafeteria where it will be checked back in and washed. If the student chooses to take food to-go again, they will be able to check out another container. This process would bring awareness to students on the importance of reusing over composting in terms of energy consumption. This practical and cost-effective initiative would be beneficial in reducing USF's carbon footprint to benefit future generations! 
Concept: Food Recovery and Sustainability Education
There are thousands of pounds of food being wasted in the average restaurant, and USF cafeteria serving 1500 meals a day, there is even a higher amount of food being wasted. There are about 7 and a half thousand homeless in San Francisco who have become accustomed to hunger. Instead of sending delicious food to the landfill, our solution would be solving two problems: wasting food and hunger. Our solution, we have students participate in a class very similar to urban community garden outreach, where they meet once a week and proactively reach out to the community. This class would help to incentivize students using volunteering hours and address the schedule system so that students are consistently serving the platform. 

 
Concept: One Card Activated Dorm Lights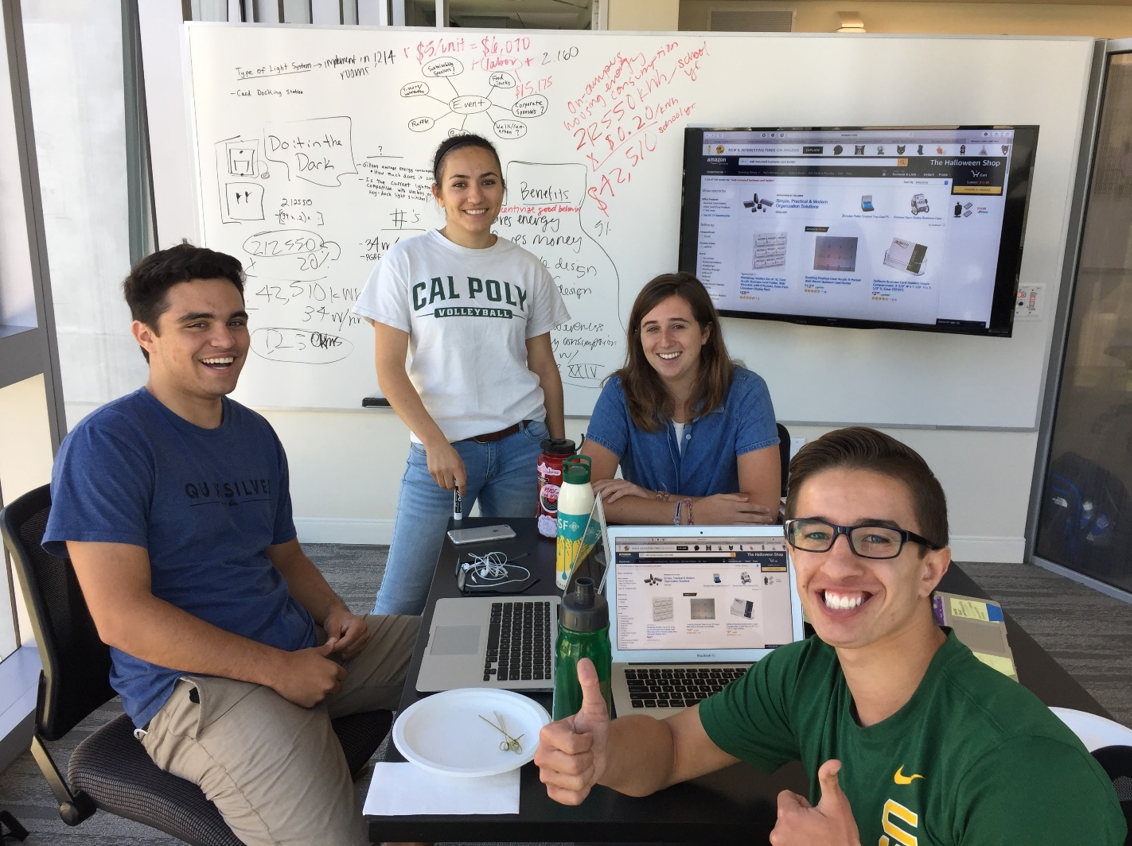 The current lighting system in the USF dorms is incredibly wasteful. Because students are not personally responsible for the utilities in their room, they have no incentive to conserve lighting energy. This is wasteful to USF's budget, contributes unnecessarily to USF's carbon footprint, and teaches students to be irresponsible with resources. A simple solution to this problem is to make it impossible for students to leave the lights on when they leave the room. A card activated lighting system will accomplish this goal. Students will place their One Card in the cardholder when they enter the room which will allow the lights to be turned on and when they leave they take their card with them, turning off the lights and saving energy. This card system is relatively inexpensive to implement and the money saved will pay back the implementation cost within two to eight years. However, before the system pays for itself, it will be funded by a Kickstarter campaign. An Outdoor Sustainability Event will take place on campus before the Kickstarter to raise awareness. The Outdoor Sustainability event will take place annually to fund future sustainability projects and continue to raise awareness for the need for sustainability on campus. The One Card activated lighting system will save USF thousands of dollars every year while also reducing the college's carbon footprint. The system is easy and relatively cheap to implement and is convenient to use. This system will also teach the students of USF to be more responsible with their resources, a skill they will take beyond USF to become more environmentally conscious throughout their life.