Interested in Joining an Economics Honors Society?
Omicron Delta Epsilon
Omicron Delta Epsilon is one of the world's largest academic honor societies and has more than 680 chapters located in Australia, Canada, Egypt,

France, Kazakhstan, Mexico, Puerto Rico, South Africa, United Arab Emirates, the United Kingdom, and the United States. 
The Alpha Chi Chapter of California at the University of San Francisco aims to recognize scholastic attainment and honor outstanding achievements in economics, establish closer ties between students and faculty in economics within and among colleges and universities, publicize its official journal, The American Economist, and sponsor panels at professional meetings as well as the Irving Fisher and Frank W. Taussig competitions.
Admission Requirements:
Completion of 12 credit hours of economic courses
Attainment of a Grade Point Average of 3.0 or better in economics courses and an overall Grade Point Average of at least 3.0
Students should be making the study of Economics one of their major interests
For more information on the Alpha Chi Chapter of Omicron Delta Epsilon, please contact Professor Michael Jonas, the Faculty Advisor, at mrjonas@usfca.edu 
Women and Diversity in Economics
A new organization at USF aims to support and advance diversity and female representation within economics. The group will highlight research, lead discussions, and develop student and alumni networks of support, with an aim to making economics welcome to all.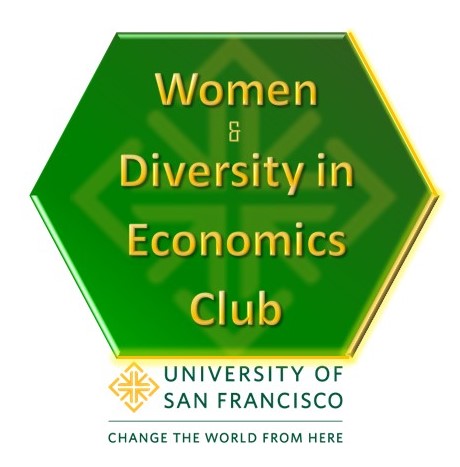 Membership is open to both undergraduate and graduate students at USF.
Questions or want to join? Please contact:
FC Propensity to Score
The Department of Economics intramural soccer team, FC Propensity to Score, was formed by IDEC students looking to relieve stress and bond outside the classroom. The team made it to the playoff finals in Spring 2019 and Fall 2019. 
While in-person intramural sports are paused right now to follow Covid-19 guidelines, we hope that Propensity to Score will return to the field this spring. Stay tuned for updates on the team.