Graduate Program Student Ambassadors
Through their personal experience as graduate students in our Applied Economics and International and Development Economics programs, our Student Ambassadors can connect with prospective students to answer questions and help navigate resources available at USF and in the Economics department.
If you are a prospective or admitted student, please feel free to email our Student Ambassadors. 
Student Ambassadors will not be able to provide guidance on specific questions regarding applications and admissions policies and procedures, or any questions that involve specific personal information. Please contact the Admissions Team, via econ@usfca.edu (for MS AE) or idec@usfca.edu (for MS IDEC), for these types of questions.
Shiv Garge
Applied Economics MS Program Ambassador 
Contact Shiv at sgarge@dons.usfca.edu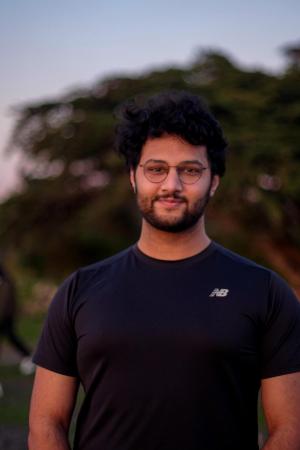 "Hi, there! I'm Shiv, a University of San Francisco Applied Economics program student. I am originally from the United Kingdom, where I recently finished my bachelor's in Business Management and Economics. I was an engineer at Samsung in London for three years during my undergrad, which equipped me with invaluable professional experience. My time in a professional work environment exposed me to the importance of data in our daily lives. Additionally, how this data ties in with my education in economics. I was determined to pursue a masters in economics but wanted a program that incorporates modern tools in data science and analysis. The MSAE programs highlight the union of data and economic theory in a way that enriches the students to answer complex questions in innovative and creative ways. This was that special something that brought me to the MSAE program. The stand-out aspects of the MSAE program would be the classes on mathematical economics and machine learning. You get to implement the theory and see how it works first hand which is highly satisfying. The economics departs also has exceptionally talented faculty who provide numerous opportunities for research or guidance depending on where you want to be in the future. Data is the currency of the twenty-first century, and economics is everpresent in our lives. Understanding and deepening your knowledge of the two will allow you to thrive in a new digital economy that starts at USF!
"
Where do you call home? Albany, California (Not the biggest fan of London's weather)
Why did you choose to pursue a master's degree in Applied Economics? Economics and data are a part of everyone's daily lives. Deepening my knowledge in both equips me to answer complex questions in academia or elsewhere, providing me with a solid foundation to thrive in a digital economy.
What have been some of the highlights of your experience so far in the program? The machine learning and mathematical economics classes are challenging but the most rewarding. Additionally, the opportunity to collaborate on research with top-tier faculty helps improve my research and data skills.
How do you like living and attending classes in San Francisco? The world is in a new digital age, and San Francisco is the beating heart. As a result, there are numerous opportunities for internships, research, conferences, etc. You can interact with many talented individuals from various disciplines and sectors, helping broaden your horizons. On a personal front, San Francisco will always have something for you outside the classroom. Excellent hikes, great food, immersive history, vibrant cultures, and not to mention some of the best views and sunsets in the world!
Bryce Everett
International and Development Economics MS Program Ambassador
Contact Bryce at bceverett@dons.usfca.edu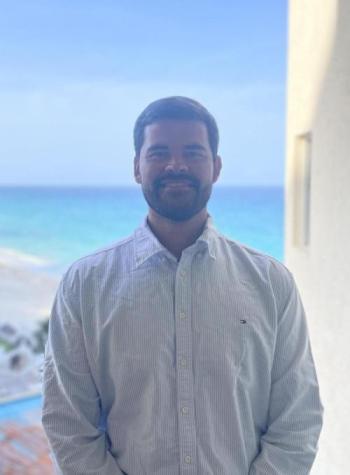 Hello there! I'm Bryce and I'm a graduate student in the International and Development Economics program here at USF. I'm from Sacramento, California and I attended undergrad at the University of Hawaii at Manoa and Sacramento State University. My experience at these institutions broadened my perspective and introduced me to a variety of new ideas within the discipline. This led me to look into graduate programs and ultimately USF. I chose the IDEC program because I'm passionate about development and I wanted to take advantage of the opportunity to travel and conduct impactful research. The IDEC program will prepare you to enter the field with experience in causal methods and research design, econometric competency, and the confidence to utilize your newly acquired skills to make a meaningful impact in whatever you choose to pursue. The professors in the economics department are inspirational and accessible, allowing you to thrive on your path to graduation. The University of San Francisco takes learning to the next level with their hands-on approach and a substantial amount of resources at your disposal. I'm excited to welcome you so please reach out if you have any questions or would like to hear more about the IDEC program!
Where do you call home?  Rancho Cordova, California
Why did you choose to pursue a master's degree in International and Development Economics? I believe that economics is a broad discipline that has an impact on the daily lives of all people. I chose to study international and development economics because I want to help the people who need it the most. With millions of people living in extreme poverty around the world, I see this program as a way of equipping myself with the necessary skills to make a positive difference in somebody's life one day.
What have been some of the highlights of your experience so far in the program? The students and faculty here at USF have been incredible. I've made like-minded friends who've inspired me to succeed and worked with professors who are passionate about teaching in addition to their impressive research agendas.
How do you like living and attending classes in San Francisco? I've loved my time in this city. There are things to do every day, both academic and extracurricular. You'll find every kind of person here and opportunities are plentiful if you're looking.