Who We Are
Our Team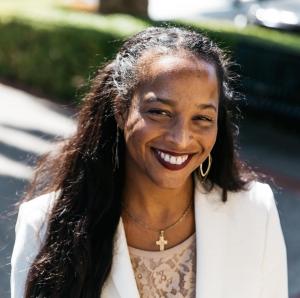 Dr. Mary J. Wardell-Ghirarduzzi
Vice Provost and Chief Diversity Officer
Phone: (415) 422-2821 | Email: mjwardell@usfca.edu
Pronouns: she/her/hers
Recognized as a 2017 Most Influential Woman by the San Francisco Business Times, Mary Wardell-Ghirarduzzi brings passion for creating more equitable, inclusive and caring campus climate and culture for all. Serving as USF's chief diversity officer (CDO), she is an executive leader skilled at building organizational capacity focused on learning and belonging with over 20 years experience in academic affairs, student life, community engagement, and equity and inclusion. Currently she is the Vice Provost for Diversity and Community Engagement and an adjunct professor of organizations, communication and leadership at the University of San Francisco.
Mary has created strategic new initiatives including: Diversity Scholar & Visiting Professor, Diverse Workforce Initiative, Stakeholder Community Forums (such as Latinas in Leadership), the DiversityTalks series, and diversity intensives (And Still We Rise and Allies in the Academy) for greater intercultural and interpersonal understanding. Appointed by Mayor Edwin Lee to serve as the President of the San Francisco Library Commission stewarding a budget of $124M for a system of 28 libraries, Mary has impacted the futures of thousands of college students as well as hundreds of thousands of residents through access to resources and educational pathways at one of the Bay Areas' most celebrated anchor institutions. She also serves on the executive boards of the Urban Libraries Council in Washington, D.C, the San Francisco Interfaith Council and Saint Ignatius College Preparatory.  
Prior to her Vice Provost/ CDO role, Mary served as the USF Associate Vice President and Dean of Students leading and supporting campus-wide student services, including behavioral intervention and crisis response; she was the chief student affairs officer at Otis College of Art and Design in Los Angeles, and the Assistant Dean of Students at the California State University, San Marcos.  She was awarded the San Francisco Human Rights Commission's Hero Award for her commitment to social justice and civil rights.  Vice Provost Wardell has a bachelor's in communication from the University of the Pacific, a masters' in counseling and social justice education from San Diego State University and a doctorate in education from Pepperdine University.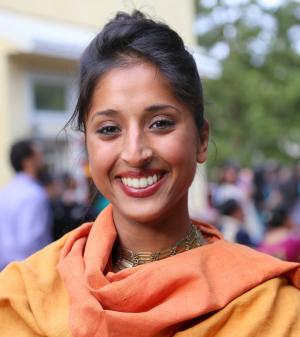 Ria DasGupta
Diversity and Community Relations Program Manager
Phone: (415) 422-2828 | Email: aadasgupta@usfca.edu
Pronouns: she/her/hers
Ria (Ariana) DasGupta moved to the Bay Area from New Jersey in 2014. In 2010, she earned an MA in Women's and Gender Studies from Rutgers University, where her studies focused on women's human rights in the context of neoliberalism. In 2008, she graduated summa cum laude from Douglass College, the women's college of Rutgers University, with a BA in History/Political Science and a minor in Women's and Gender Studies.
Prior to her move to the Bay Area, Ria was an Interim Assistant Dean for Douglass Residential College. In her position, she developed women's leadership, global engagement and wellness programs for the college's undergraduate population. Until 2011, she was a Program Assistant for the Center for Women's Global Leadership, where she had begun as an undergraduate volunteer.
Ria is currently a doctoral student at USF in the department of International and Multicultural Education. In her free time, she dances professionally and runs a contemporary Indian dance company.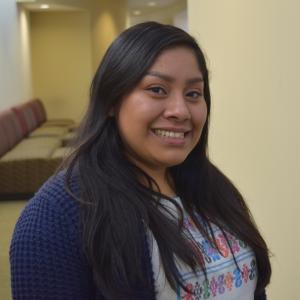 Gladys A. Perez
Program Assistant
Phone: (415) 422-2683 | Email: gaperez5@usfca.edu
Pronouns: she/her/hers
As the daughter of immigrant parents from Oaxaca, Mexico, Gladys A. Perez is a proud Bay Area native, first-generation college graduate, and artist.
After completing her Bachelor's in Sociology at USF, Gladys joined the administrative staff of the College of Arts & Sciences in 2015 where she helped foster community among faculty and students through supporting Latinx academic programs and events. Since then she has remained heavily involved in the university by serving as the staff advisor for the student club Latinas Unidas, being an active member of the Task Force for Undocumented Students, and providing support as a Process Advocate for the Bias Education and Resource Team (BERT).
A soon to be double-Don, Gladys is completing her MA in International & Multicultural Education in the School of Education where her research interest includes immigration, (counter) storytelling, and creative writing. She hopes to continue her work in higher education to help students explore their experiences through creative writing in order to create a more inclusive university community. Outside of USF, she pursues creative writing and painting to honor her immigrant and indigenous roots.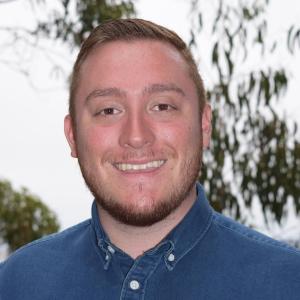 Flavio G. Bravo
Graduate Campus Climate Intern
Email: fgbravo@dons.usfca.edu
Pronouns: he/him/his
As the Graduate Campus Climate Intern, Flavio develops ongoing methods to make the results of the campus climate survey accessible to the entire USF community. Prior his role with DECO, Flavio served as a live-in volunteer at the Oakland Catholic Worker accompanying recently arrived migrants from Latin America resettle in the Bay Area. Most recently, Flavio returned from seven months in Mexico where he studied abroad at the la Universidad Iberoamericana in Mexico City and interned with the Ignacio Ellacuría Human Rights Institute in Cholula, Puebla.
 
He holds a Bachelor's degree from Loyola University Chicago in Philosophy of Social Justice & Political Science and is in his final year in USF's Master in Migration Studies program.
During his time at Loyola Chicago, Flavio collaborated with others across campus to establish the Magis Scholarship Fund for undocumented students who do not qualify for federal financial aid despite demonstrating high financial need. The creation of this scholarship inspired students nationwide to lead similar initiatives, such as the creation of the Magis Fellowship for undergraduate undocumented students here at USF.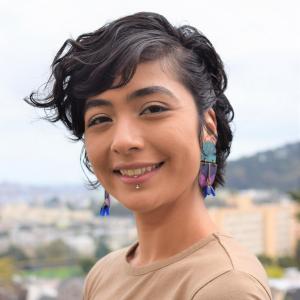 Liz Lopez
Graduate Communications Intern
Email: elopez20@dons.usfca.edu
Pronouns: she/her/hers and they/them/theirs
Liz Lopez is originally from South Central, Los Angeles and currently lives in Vallejo, California. She identifies as a first-gen, Brown, queer scholar and artist with a disability and a daughter of Mexican immigrants. She graduated from UC Davis with a bachelor's degree in Chicana/o Studies with a focus in Social Policy emphasis and Education minor. Liz attributes most of her foundational social justice values through her community involvement in her undergraduate career as a Peer Advising Counselor at the Educational Opportunity Program and a Community Organizer at the Women's Resources and Research Center. 
Liz is completing her MA in Higher Education and Student Affairs at the University of San Francisco with the School of Education. She currently is a Graduate Representative within the Universal Access and Design Working Group, Food Pantry Committee, and is the Graduate Liaison for the Students with Disabilities Coalition. She hopes to continue to address issues of access and equity within a higher education context primarily impacting marginalized scholars. She loves to connect through pets, food, traveling and casual conversations on how to work towards collective liberation.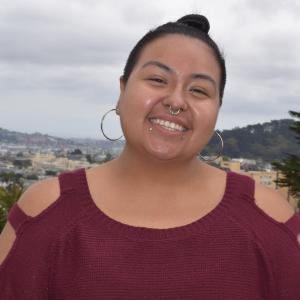 Joanna Villegas
HESA Graduate Intern
Email: jvillegas3@dons.usfca.edu
Pronouns: they/them/theirs
Joanna Villegas is a scholar, educator, poet and performance artist existing loudly as a self-identified fat femme queer non-binary xicana. They are a transfer and first-generation scholar, child of Mexican immigrant parents, born and raised in Barrio Logan in San Diego, Ca. Joanna earned a Bachelor of Arts in English and Chican[x] Studies from the University of California, Davis in 2013. From 2014-2018 Joanna served as an advocate for LGBTQIA+ Issues with the UC Davis Lesbian Gay Bisexual Transgender Queer Intersex Asexual Resource Center. Joanna is currently a graduate scholar at USF in the School of Education, Higher Education and Student Affairs program. Joanna is committed to social equity and holistic education that celebrates and centers the identities, experiences, and hxstory of underserved, underrepresented, and marginalized peoples in our communities. 
Background
The office was established in 2011 as a key priority for former Provost and Vice President for Academic Affairs, Dr. Jennifer E. Turpin. Dr. Mary Wardell-Ghirarduzzi was appointed to lead the new area by developing an office dedicated to the institutional goals of diversity, inclusion, and equity.
One of the office's greatest accomplishments has been to connect and articulate these institutional goals directly to the University mission of teaching, learning and service in the Jesuit Catholic tradition. This is an important and fundamental distinction on how we understand diversity, multiculturalism and pluralism in the 21st century as a learning institution. Diversity and inclusion is integral (and not an add-on) to our methods of teaching, learning, and engaging others in service. The more students, staff, and faculty who understand our Jesuit identity and the Ignatian principles that teach us how to become more aware and accepting of self and others, the more we will become the model of inclusive excellence and engagement as an American Jesuit Catholic university.
Other accomplishments of the Office of Diversity Engagement and Community Outreach include:
the establishment of the Diversity Scholar and Visiting Professor program and the Stakeholder Community Forum;
the expansion of the Gerardo Marín Diversity Fellowships (Dissertation Fellowship and Postdoctoral Fellowship);
the creation of the Diversity Speaker Series, where local leaders come to campus to share their knowledge and experience.