2019 Go Move Challenge: Final Recap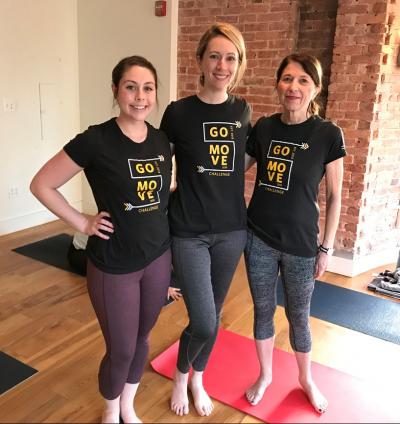 Published Friday, March 1
The results of the 7th annual Go Move Challenge are in! Congratulations to: 
Santa Clara University for earning the most minutes 530,149 of movement
Saint Peter's University (again!) for earning the highest minutes 1040 of movement per participant (892 last year)
REGION

East Coast - Saint Peter's University
Mid-West - Creighton University
West Coast - Santa Clara University
South - Xavier University
For many AJCU institutions, the month of February has become synonymous with movement, and this year was no exception. Faculty and staff from 24 Jesuit institutions committed to tracking every minute of their intentional, physical activity for the past 28 days, and the collective numbers are impressive:
| | |
| --- | --- |
| Participating AJCU institutions | 24 |
| Total Participants | 2,972 |
| Total Minutes of Movement:   | 2,972,142 |
| Avg. Monthly Minutes Per Person:   | 1000 |
| Avg. Daily Minutes Per Person:  | 38 |
To see what numbers your institution accumulated, visit the Go Move Challenge website. Thank you to everyone for participating and finishing strong!
Group Effort
Beyond the competition and with the help of social media, the Go Move Challenge fosters camaraderie and new connections among AJCU colleagues while engaging in heart-healthy, physical exercise. Over 300 participants joined the Go Move Challenge Group on Facebook to share inspiring pictures, videos, and words of encouragement with their colleagues across the nation.
"As newcomers to the Go Move Challenge, AJCU entered the competition hoping to have fun and boost office morale. We did just that by practicing yoga together and encouraging each other to stay active." - AJCU Team
"When you don't think you have enough time to exercise, Mother Nature provides 4-5" of snow to shovel!" - Jenny Tilleman, Creighton University.
"I love the annual challenge and have participated all 7 years. It gives me a reason to move more and is a great incentive. Having the challenge at this time of the year helps to push me to exercise outside and walk(even in the rain) for sometimes 3-4 hours at a time. I also enjoyed the lunch time walks through Golden Gate Park that we did as a team." - Diane Marbello, University of San Francisco.
"Marquette kicked off the Go Move Challenge with our Winter Office Olympics Event. One of the events even included a team bobsled race (office style of course-rolling desk chairs linked together with jump ropes). We also incorporated some Go move events into our Mission Week events. Those that commit to the challenge, really step it up. We have had some obstacles with the cold temperatures, and Marquette even shut down for a few days, but I know there are people who are getting their movement in with shoveling. We made it part of our company wide challenges through our wellness vendor and we have over 500 people enrolled!" - Kristin Kipp, Marquette University.
Weekly Recaps
As we have been reporting each week, participants have been as excited as ever to share their feedback on how the Go Move Challenge has positively influenced their month of February and beyond. If you missed any stories from previous weeks, you can access them, along with pictures, at any time:
What Moves You?
A few of our top participants with the most minutes of movement shared how they consistently earned many minutes throughout the month:
"With this being Santa Clara University's 7th year participating in the GO MOVE Challenge, we knew we needed to go big - and close was not going to cut it this time. Last year we incorporated a friendly department contest in addition to the GO MOVE Challenge. Our first year, six department teams signed up, and this year we ended up with 247 employees making up 52 teams - How amazing is that! We knew SCU was in it to win it! Our employees could be found out on campus during their lunches walking, working out in the gym, and taking exercise classes before and after work. There were weekend gatherings for hikes, running, and ski trips. We even had an employee get in her minutes for the challenge all the way from Malta where was spending a semester as a Fulbright Scholar! Each and every SCU Employee who participated rose to the challenge of making sure SCU gave it their best college try and should be very proud of what they accomplished this year!" - Debby Merryman, Santa Clara University
"I start everyday with a 3-5k run around Tow Lake (or Koret if it's raining). I had NEVER ran in my life until last year, ever! Later in the day, I make a point of walking a few more miles, or in the worst of cases, I go after dinner in my neighborhood. I also hiked out in nature, using walking for sightseeing or getting to places rather than driving or taking public transportation. For example, I was in Boston for a conference and couldn't run, so I walked to all the sessions and back for meals, accumulating over 25,000 steps per day." - Alexandra Amati, University of San Francisco.
"The Go Move Challenge has motivated me to take advantage of opportunities to sneak in extra active minutes, like walking to work or going for hikes on the weekend. The friendly competition has created a fun incentive for me to be more active, and being able to see my minutes for the month has encouraged me to keep at it!  The best part about the challenge has been the chance to bond with my co-workers outside of the office by attending a yoga class together." - Shelby Lauter, AJCU
Running with fellow SCU colleagues. - Cruz Medina, Santa Clara University
"Students and employees taking Fitness 101 classes at the Rec Center." - Matt Chelsey, University of Detroit Mercy
Stay Connected
Although the challenge is over, all participants are encouraged to share your stories and connect on social media. For information on next year's challenge, contact the Go Move Challenge administrator, Suzy Kisylia, at skisylia@usfca.edu.