Safety When Living Off Campus
Wherever you live, it is important to be aware of the possible natural disaster risks that affect your area. In San Francisco, we live on the San Andreas fault, making the city prone to earthquakes. 
Here is a poster demonstrating some safety precautions you can take in order to be safe during an earthquake: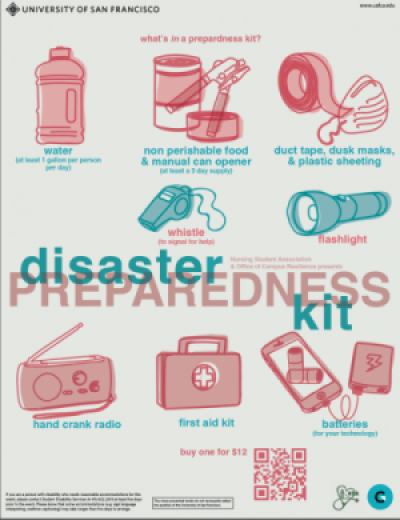 Check out these links to learn more about disaster preparedness:
USF's Disaster Preparedness Page
California Earthquake Authority
Another safety issue people living in their own apartments come across is mold. Mold thrives in warm, damp places, and often grows quickly in basements, attics, and other parts of buildings with poor ventilation and humidity problems. There is currently no federal law covering a landlord's responsibilities when it comes to mold. Also, aside from disclosure requirements (as discussed below), California doesn't have any laws that specifically address a landlord's duties or liability when it comes to mold prevention and remediation. In San Francisco, however, mold is a "public health nuisance" (no different than trash accumulation or a pest infestation), which means tenants have the right to sue their landlords for violating city nuisance laws if they fail to remove any "visible or otherwise demonstrable mold" located anywhere "in the interiors of any buildings."
If you come across mold in your apartment, there are resources to help you out. Feel free to come into our office and we can discuss you options with you. Here is a link to a page detailing how to handle repair problems when living on your own.