2027 Strategic Plan - June 2023 Update
The following is a copy of the content presented in a Strategic Plan Update PowerPoint presentation to the Academic Affairs Committee of the Board of Trustees on June 12, 2023.
Speakers
Anastasia Vrachnos, Vice Provost of Global Education, Immersions and Strategic Initiatives
Christopher Brooks, Professor of Computer Science and Engineering, College of Arts and Sciences 
Action items and progress towards goals
Addressing short-term imperatives
Rebuilding enrollments via Strategic Enrollment Plan (ISEP)
Task force on undergraduate retention and student success 
Comprehensive graduate enrollment strategy 
Design and launch high-demand new programs
Planning for long-term success
Masonic Campus renovation - occupy by AY 24
Core curriculum redesign process – new core curriculum by fall 2024 
Ann Getty Institute of Art & Design
Entrepreneurship & Innovation Initiative
Strategic Plan "Top Five"
Action Items
Rebuild enrollments and improve retention
Diversify revenue streams 
Evolve our education so that it's future ready 
Strengthen our community 
Tell our story in our words 

student outcomes and ROI
impact in sf and global reach
faith that does justice
Broader Impact
De-siloing, and construction of new neural pathways
Deeper conversation and examination of our Jesuit identity and how we infuse it into everything we do.
Strengthening community through consultative, participatory process
Note: An organization is more like an organism than a cathedral; these efforts need to be nurtured and sustained.
Complexity and Impact Chart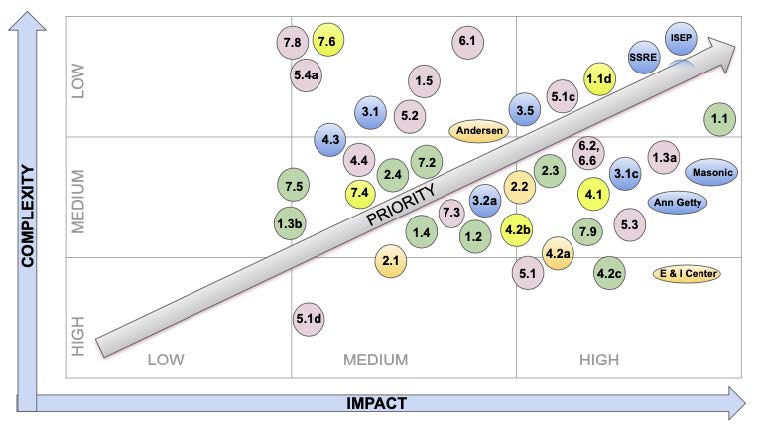 The graphic presents each of the recommendations on a grid characterizing their complexity (meaning cost, difficulty to accomplish, or other barriers) and impact. (Please see the SPAC Integration Document/Appendix 2 for numberings). Within this graphic, recommendations are color-coded according to strategic plan themes. This is a qualitative figure intended to allow the reader to visualize the recommendations; 'complexity' and 'impact' are not metrics with numeric values, and the relative position of two points is not meant to imply a ranking between them.
Next Steps
Looking ahead:
Prioritize high-impact, low cost ideas and implement within existing resource envelopes
Incorporate Leadership priorities and initiatives after discernment
Work with development and OCG to identify donor and grant-writing opportunities 
Streamline SPAC structure to guide implementation next year
Ensure each priority goal has KPIs and assessment for every recommendation (August/Sept)
Refine and adapt goals and implementation plan (on-going)